By: Kim Hasty
The work that Jesus did with the loaves and the fishes is the undeniable gold standard for feeding the multitude, but Jason Hairr and his crew were doing a formidable job one recent morning trying to pull off a fairly impressive task themselves.
By just after sunrise, Hairr had 500 hot dogs sizzling on the mammoth grill at his Southern Coals Country Style Kitchen. His regular crew and some extra friends who had volunteered to help were working in assembly-line fashion, placing the hot dogs into buns, wrapping them in foil, doling out servings of baby carrots, and then plopping everything, plus a cheese stick and a fruit cup, into brown paper lunch bags.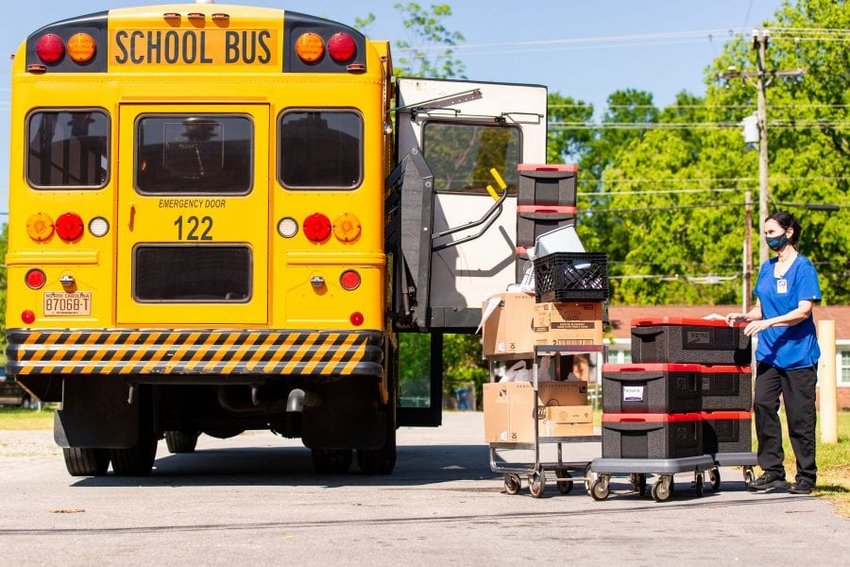 By 9:30, Hairr's enormous trailer, equipped with both heating and cooling capabilities, would be pulling onto Raeford Road and heading to Spring Lake, where the crew began handing out the bagged lunches to schoolchildren and their families even before the scheduled time of 11 o'clock. Earlier in the month, Hairr had cooked barbecue on site at another location and passed out plates.
"He was a blessing from the beginning, and he continues to be," said Beth Maynard, executive director of Child Nutrition for Cumberland County Schools. "He has definitely been a wonderful community partner."
It may take a village to raise a child, but it takes nothing less than a well-coordinated and heroic effort to keep a community of children fed during a pandemic. In Cumberland County, it was critical that Maynard and her staff of cafeteria supervisors and staff managed to mobilize quickly.
North Carolina recognizes the first week in May as National School Nutrition Employee Appreciation Week, and never, it seems, has there been a more appropriate time to recognize those who have been asked to figure out solutions to a problem they never could have foreseen.
They couldn't have done it, Maynard said, without the help of Jason Hairr and others.
"I knew there was a need in Cumberland County," Hairr said. "I believe if we can help others, then that's what we're supposed to do."
On the afternoon of Friday, March 14, Gov. Roy Cooper issued his executive order announcing that schools would close the following Monday due to concerns over the coronavirus.
Maynard and her supervisors spent the weekend preparing for the sudden task of feeding the thousands of children who depend on school lunches and breakfasts to meet their nutritional needs.
"We're excellent at getting kids through a cafeteria line quickly," said supervisor Linda Johnson. "We all have great food safety skills. But in 24 years, I've never seen anything like this."
First up was the problem of securing enough Styrofoam to-go trays, which are rarely if ever used for school lunches. Now they would need 15,000 of them every day to maintain food safety. It was a problem compounded by the fact that schools all over the country needed the same items. Hairr was helpful then, as well, coming up with 7,500 of the trays.
"Bag lunches tend to be mostly cold," Maynard said. "We wanted to provide hot lunches as much as possible. The first couple of days, there was a lot of calling back and forth trying to figure out how we were going to get trays."
They would go on to set up operation at 16 sites, serving plate lunches and bag breakfasts. Each day from 11 a.m. to 1 p.m., families pull up in cars, and cafeteria workers and volunteers give them their meals curbside.
But how to feed children who can't get to one of the sites? Maynard and her staff solved that problem by using buses and large coolers, so that workers can deliver meals to neighborhoods.
"One of the most satisfying things that's ever happened to me was being on one of those buses," Johnson said. "Those children saw the bus and came running."
While Maynard and her staff were working to perfect their operation, people like James Whitaker, owner of Sammio's Restaurant on Raeford Road, were wondering how they could help. He knew he would never be able to serve thousands of lunches.
"But I saw what Jason was doing, so I got in contact with the school system too," he said.
He and Louis Frangos, who owns Sammio's of Hope Mills, each arranged to serve 550 plates of spaghetti for dinner. Whitaker set up operation at Douglas Byrd High School and Frangos did the same thing at C. Wayne Collier in Hope Mills. All the plates at both locations were gone in less than an hour.
Whitaker again served spaghetti plates in April, this time for lunch at E.E. Smith High School in partnership with the Greater Fayetteville Area Chapter of the National Panhellenic Council and the North Carolina Farm Bureau Insurance Group.
"I love to help people, especially kids, and food is an easy way to do it," Whitaker said. "I can't imagine a kid going hungry."