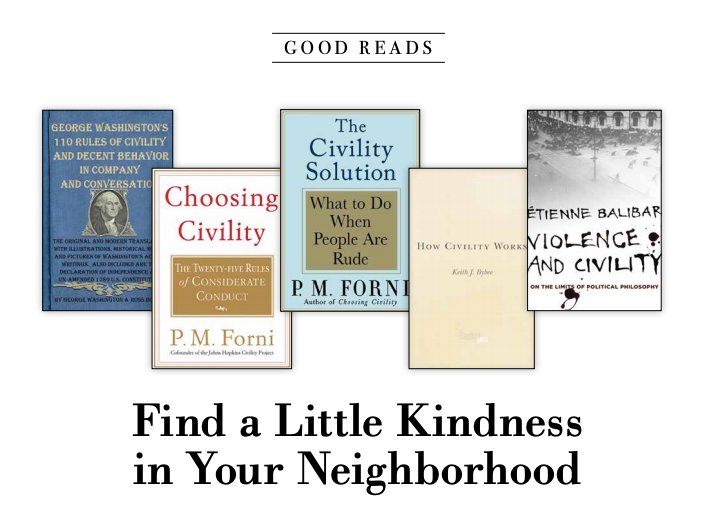 I used to love a lively political discussion. Now I completely steer away from it unless I know the person with whom I am speaking is of a similar political persuasion. There are so many topics we just can't talk about with family and friends anymore. What a shame this is! Politics is defined as "a set of activities related to the governing of a country, state or community." How can this be done without dialogue and debate? The lack of civility in this discourse has caused many to shy away from not only talking about it but stepping into the political arena.
Civility is in jeopardy these days. Good manners in dialogue and debate about political issues have been jettisoned and are now reduced to yelling matches or the throwing out of petty one-liners by pundits or comedians. Politicians think nothing of denigrating their political opponents or fellow candidates and sometimes even the people who attend their rallies. Unfortunately, this seems to give permission to many people to emulate that kind of behavior.
So, I started looking at books that address the problem of civility in our society today and also some that offer solutions to the problem. It was a comfort to read real ways we can move away from toxic dialogue to a more civil approach to the issues that affect our lives today.
"110 Rules of Civility & Decent Behavior in Company and Conversation," by George Washington
When George Washington was 16, he copied these rules by hand as an exercise for his tutor. Originally composed by French Jesuits in 1595, these rules may seem outdated today, but they still remind us to focus on other people rather than the narrow focus of our own self-interest. These are manners that we all could well learn from and should be willing to practice for the sake of a civil society and living together in harmony. Many can benefit from reminders like "Reproach none for the Infirmities of Nature…" or "Show not yourself glad at the Misfortune of another though he were your enemy."
"Choosing Civility: The Twenty-Five Rules of Considerate Conduct," by P. M. Forni
The author, a professor at Johns Hopkins University, was principal founder of the school's Civility Project. This book expands on the simple concepts of civil behavior, like "Speak Kindly" and "Keep It Down." He said, "Acts of violence are often the result of an exchange of acts of rudeness that spiral out of control" and "Disrespect can lead to bloodshed; by keeping the levels of incivility down we keep the levels of violence down." He wrote a second book with suggestions on dealing with acts of incivility:
"The Civility Solution: What to do When People are Rude," by P.M. Forni, recognizes that rudeness begets rudeness, and Dr. Forni presents solutions to many situations of bad behavior. This simple but logical book helps us deal with bullying, rude internet behavior or hurtful conversations in an appropriate manner that can break the cycle of rude behavior.
"How Civility Works," by Keith Bybee, calls for good manners in public conduct. In a society where speaking one's mind without inhibition is touted, Bybee contends that civility is a matter of people trying to get along for the sake of getting along. While some people try to claim that one person's civility is another person's incivility, Bybee is committed to an egalitarian form of civility, based on mutual respect and equal consideration.
"Violence and Civility," by Étienne Balibar, examines the necessity of civility in political struggles. He contends that without civility, political change will merely end up reproducing the oppression and cruelty to which they are opposed, and all that changes are the names of the oppressed and the oppressor. Civility or antiviolence can create a space where the politics of change is possible.
"Civility: Manners, Morals, and the Etiquette of Democracy," by Stephen L. Carter
Carter, a Yale law professor, argues that civility is a casualty of our postmodern society because, habituated to overwhelming self-indulgence, we have forgotten the obligations we owe each other. He contends that neither liberals nor conservatives can solve this problem alone. Taking inspiration from the Abolitionist sermons of the 19th century, Carter proposes to rebuild our public and private lives by remembering the basic tenant of all major world religions – to love one another. He studies the fundamental institutions in our society – including family, churches, and schools – to illustrate how each one can do more to promote the virtue of civility.
"Mastering Civility: A Manifesto for the Workplace," by Christine Porath
Incivility in the workplace is not just unpleasant, it is also counterproductive. Porath examines the damaging effects on leaders and organizations and offers suggestions on what to do about it. Using scientific research, Porath combines evidence from popular culture and the fields of neuroscience, medicine and psychology to remind us of what we can do to improve the quality of our workplaces. Compelling stories are offered to show how even the smallest changes in behavior can have the greatest effects on relationships, teams, and entire companies.
Perhaps these books seem like too much to start with on this topic. To start in a lighter manner, how about a book about Mister Rogers? Many of you probably have already seen "A Beautiful Day in the Neighborhood," the Tom Hanks movie about Mister Rogers. If you haven't, go see it now and then pick one of the many books about this amazing man. Here are two:
A Beautiful Day in the Neighborhood: Neighborly Words of Wisdom from Mister Rogers, by Fred Rogers with an essay by Tom Junod
Updated from its original publication as "You Are Special," this collection features the movie tie-in with a definitive portrait of this national icon. We can read Mister Roger's own words for living your best, kindest life and this book is an important treasure for all his fans.
"Everything I Need to Know I Learned from Mister Rogers' Neighborhood: Wonderful Wisdom from Everyone's Favorite Neighbor," by Melissa Wagner, with Fred Rogers Productions and illustrations by Max Dalton.
Although geared toward children, this book is appropriate for all ages. I watched all of Mister Rogers' shows with my children when they were growing up, and I think I loved him as much as they did. This lovely book combines delightful illustrations with Fred Rogers' quotes that "touch on themes of kindness, empathy, self-care, respect and love."
One thing that all these books have in common is the idea that kindness and love are necessary to foster civility among us. It's difficult to undo the damage done by incivility, but it will never happen if we don't try. Choose a book that might speak to you, find a quiet spot, and take a little time to remind yourself about kindness and love and get started on your journey to "a beautiful day in your neighborhood."
Diane Parfitt
City Center Gallery & Books