BY: KIM HASTY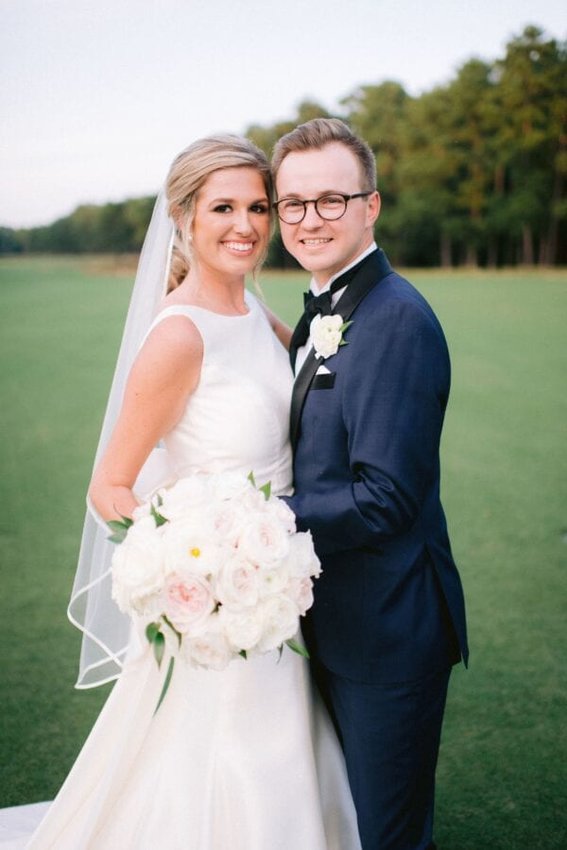 The instant bond between Maggie Fleishman and Bryce Thompson was so strong that even a global pandemic couldn't cause it to fade. They fell in love when both were working for Peter Millar, a men's clothing store that specializes in golf apparel. And since they both love golf, it was a natural choice to have their wedding in Pinehurst, known as "The Cradle of American Golf."

"I grew up playing on the high school golf team, and when we had state tournaments it was always a treat to come to Pinehurst," Maggie said. "Both of our families share the love of golf. Spending time on the golf course with my dad is one of my favorite memories growing up."

Due to the social distancing concerns that have affected many weddings in 2020, Maggie and Bryce opted for a smaller event than the one they had originally planned. Still, they managed to pull off a celebration to remember. The ceremony took place on the first tee box at the famed Pinehurst No. 2 course, where the
most legendary of golfers have watched as tee shots sailed off down the fairway.

Maggie, a 2013 graduate of Fayetteville's Terry Sanford High School and a 2017 graduate of N.C. State, wore a soft trumpet Sareh Nouri gown of Mikado silk with a
boat neckline and a U-shaped back. Her dress was accented with a chapel train and detachable cathedral bow train. Her something blue was a pair of Swarovski
crystal earrings, and her grandmother, Ellie Fleishman, gave her a pendant that has been handed down for generations, and that her sister, Hannah Fleishman Consky, also wore on her wedding day. Bryce gave her a delicate diamond band from Fink's Jewelers.

The wedding party consisted of seven bridesmaids and two honorary bridesmaids, who were either Maggie's lifelong best friends or family members. Bryce, who is from Charlotte and is also a 2017 graduate of N.C. State, had seven groomsmen, and his dad, Chris Thompson, was his best man. Dr. Sam Fleishman, father of the bride, walked his daughter down the aisle. Maggie's sister Hannah served as both matron of honor and wedding officiant. The mother of the bride is Sharon Fleishman, and the mother of the groom is Vickie Thompson.