BY: JANET GIBSON
PHOTOGRAPHY BY: CINDY BURNHAM
We could tell you that Luigi's has some of the best steaks in town, Chilean sea bass which will transport you to another dimension, perfect pasta topped with red sauce from an old family recipe and more Wine Spectator awards than wall space.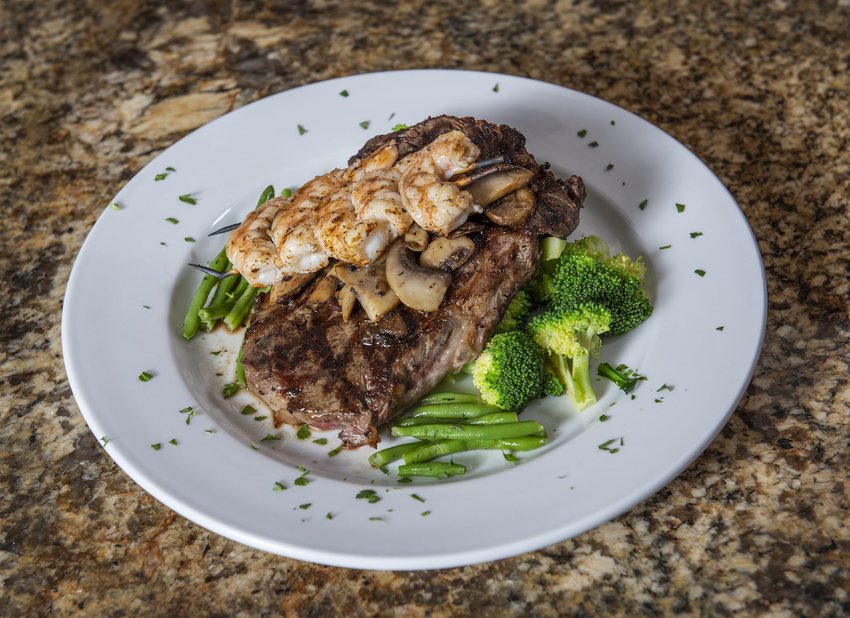 But what we really want to say is the Fayetteville landmark serves up something that feeds our souls: memories.
Since 1982, Luigi's has topped many lists for celebrations of all kinds – birthdays, anniversaries, getting engaged, graduations, promotions and holidays. As the Twilight Zone that is 2020 comes to an end (collective sigh), we are reminded that life is short and every day is a special occasion.
So, we do something here that we normally avoid in the restaurant stories … we insert the "I." Because it's too important. It's personal.
For several years in a row, my family threw a surprise birthday party for our beloved mother at Luigi's. And every time we pulled up to the parking lot, Mama put her hands up to her mouth and said in her sweet German accent that she couldn't believe it! She thought we were going shopping for deals at Hamrick's across the street.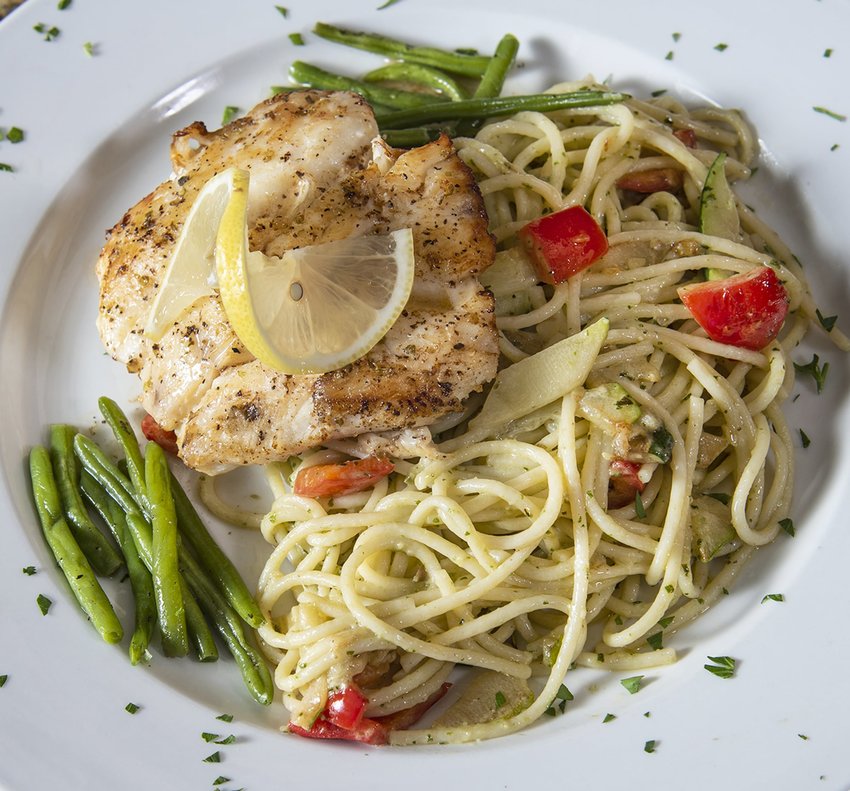 Family would always be waiting in the wings. One year, my niece Holly flew in from Hollywood. I thought Mama was going to faint right then and there, on the patio, even before her
favorite lasagna arrived. The staff at Luigi's always made Mama feel like a queen.
After Mama went into a nursing home, my two sisters and I began a tradition of driving one to three hours from our homes to meet at Luigi's every few months before visiting our mom together. We would literally break bread – the crunchy kind dipped in a heart-healthy olive oil/balsamic/spice blend – and talk about how Mama was progressing through the stages of Parkinson's, alternating her sweet, loving ways with some understandable ornery demands. We also would catch up with happenings in our own lives. More than once, our luncheon involved some wine.
Here, they call us "The 3 Sisters" – the blonde, brunette and redhead who are nothing if not predictable in our orders. Rosie and Bobbie split the excellent eggplant Parmigiana, broccoli on the side "with ranch dressing for dipping" and a petite Greek salad. I adore the Greek salad, chopped, and topped with grilled salmon. If you toss in extra black olives, I'll love you forever. We enjoy all the servers, and especially Raymond, a tall, elegant man from Kenya who lights up a room.
We started getting takeout to bring the birthday party to Mama. I'll always remember picking up the order a few years ago. The perpetually smiling and animated Derrick Bledsoe, one of the longtime managers, helped me carry the food to my car. Large aluminum pans of lasagna, fettucine Alfredo with chicken, spaghetti with meatballs, tossed salad, homemade dressings, fresh bread …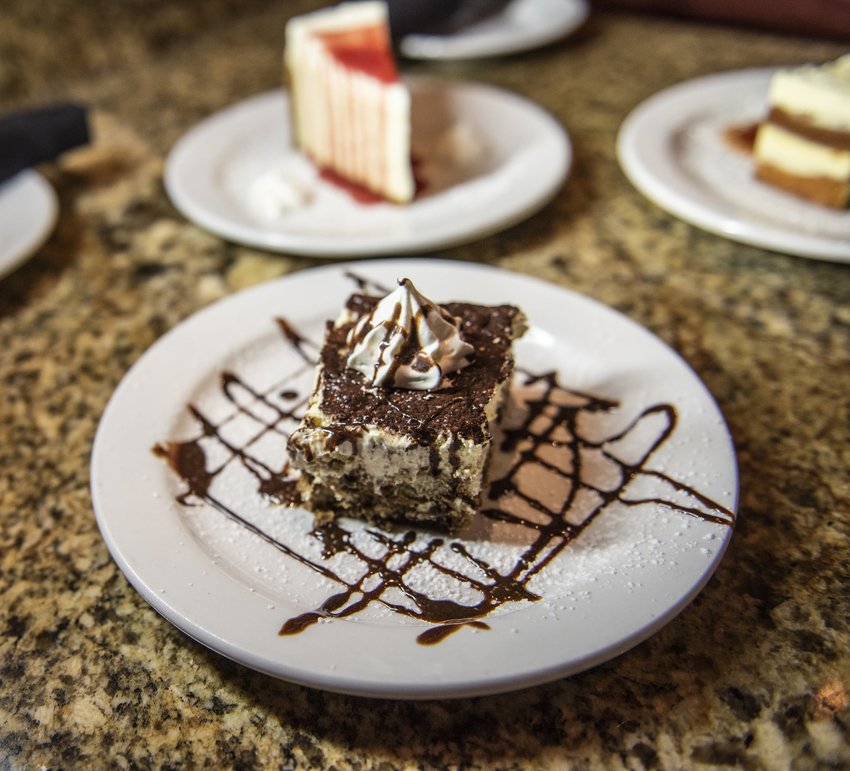 "Wait!" Derrick said, as he headed back into the kitchen and quickly returned. "A little something extra … cheesecake for Mama!"
A little something extra. Isn't that the Luigi's way? And topped with strawberry purée and a birthday candle. "You remembered."
I fed the cake to Mama that day, and she enjoyed every bite. It was her last slice of birthday cake.
Kindness has a beautiful way of lingering, and I just know one of the reasons Mama loved Luigi's is that the family who started it all were immigrants like her. Kind, hard-working people who wanted to make a good life for their children.
Peter Parrous and his wife, Ethel, came to America from Greece. After a stint in the military, Pete started the original Luigi's circa 1958 in the 400 block of Hay Street. People came from far and wide to enjoy the spaghetti with a meat sauce based on a recipe from his mother. Other Fayetteville restaurants followed, from pizza to chicken joints, and finally, a new Luigi's in the early '80s.
On Aug. 6, 1993, a 22-year-old soldier walked in through the back door wielding a pump shotgun and wearing a hunting vest. He began shooting, killing four people, including Pete and Ethel Parrous. He injured eight others, including the Parrouses' daughter Connie Parrous Kotsopoulos. The tragedy made national news, and the gunman is serving a life sentence.
It took some time, but the couple's children have managed to carry on with strength and grace – and the family business continues to evolve, even in these current trying times. The Parrouses' only son, Nick, wears several hats. Watching him create in the kitchen is a wonder to behold – as is his outspoken passion for food and wine. He speaks eloquently about the finer points of their "Beef Program," with the "upper echelon" of hand-cut, aged meats and the history of the wines they offer – nearly 3,000 bottles in two cellars.
Nick's sister Linda Parrous Higgins skillfully works the front of the house. Connie Kotsopoulos is behind the scenes in the office. Her husband, Tony Kotsopoulos, was a mainstay in both the kitchen and dining room for years until his recent retirement at age 70. The family tradition continues with their son-in-law, Nate Ernst, who is assisting in the kitchen and with day-to-day operations. He jokes about "being thrown into the fire" earlier this year, just before the pandemic hit, forcing them all to redefine how they handle business and protect their customers and staff. (Side note: The oldest Parrous sister, Kiki Manis, owns The Coffee Scene locations.)
"Our staff becomes part of our family, and that's the way we like it," says Nick.
Many of their people don't just stay for years, but for decades. Take Brandon Brown. He started as a busboy at 17 and is now the head cook at age 40.
Whether a first-timer, a longtime regular or a member of their work family, you feel the love. Walking into Luigi's is like a warm hug, even in the era of social distancing.
THE PLACE:
Luigi's Italian Chophouse & Bar, 528 N. McPherson Church Road, Fayetteville, 910-864-1810. Masks are required to enter and when moving about the restaurant. At press time, Luigi's was practicing social distancing by closing off select seating areas and limiting the number of customers to 155, or 50 percent of capacity. Wine tastings and live bands will resume after COVID-19 restrictions are lifted. Takeout and catering are available. For more details, to view a menu or make reservations, visit luigisnc.com.
SPECIALTIES:
When we say, "It's all good," believe it. Start your Luigi's experience with shareable appetizers of lightly fried calamari with marinara sauce for dipping, a three-cheese pizza, an addictive crab dip or house-made She Crab soup. Also, supremely fresh salads, including a Greek, which we prefer as a half-order, chopped to marry the flavors, and topped with grilled salmon or chicken. The Caesar is the real deal – with anchovies in the dressing.
For the main course, pasta lovers can't get enough of the fettuccine Alfredo (add chicken) or old-fashioned spaghetti with meatballs or meat sauce, or simply the marinara if going vegetarian. Gluten-free pasta is available for a $3 upcharge. Chicken dishes include the fabulous Marsala and a tasty selection topped with artichokes. The owners are especially proud of their "Beef Program," which includes "some of the top echelon beef brands in the country," such as Certified Angus Beef, Buckhead Beef, Sterling Silver Premium and Linz – all aged a minimum of 28 days for added tenderness and flavor. A strict commitment to quality also extends to pork, lamb, seafood and more. If the Chilean sea bass is offered as a daily special, try it. The mild fish, which may be served over a bed of sautéed spinach or with risotto, is pricey ($38), but worth every penny.
WINES, SPIRITS & DESSERTS:
Luigi's is known for its vast selection of wines and has been honored with multiple Wine Spectator awards. The restaurant's wine cellars contain about 3,000 bottles, including popular or rare finds from Italy, California, France, Australia, South Africa, Chile and other countries. Prices range from $30 to $600 a bottle. The bar features a "cocktail of the month" and a variety of popular libations. Memorable desserts include crème brûlée, tiramisu, cheesecake topped with strawberry purée, and limoncello cake.
PRICES:
Can vary widely, depending on what you order. Salads start at $11. Many entrées are $20 or less. Steaks, from $27 to $39, are served with one side item.
HOURS:
Holiday hours are in effect through Dec. 31. Lunch Monday through Friday, 11:30 a.m. to 2:30 p.m. Dinner Monday through Thursday, 5 to 9 p.m., until 10 p.m. on Friday. The restaurant is open continuously from noon to 10 p.m. on Saturday and noon to 9 p.m. on Sunday.