BY: JANET GIBSON
PHOTOGRAPHY BY: CINDY BURNHAM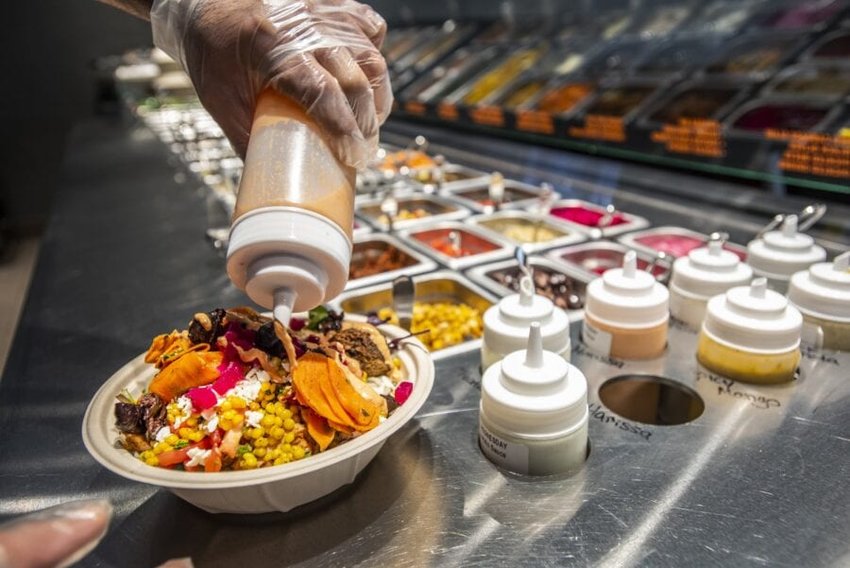 As many of us resolve to get healthier in 2021 – along with shedding excess pounds – could a solution lie in something round?
My husky late father loved to eat. The higher the food on his plate, the happier he became.
Mama, who was more fastidious about presentation, shook her head. She didn't have to say a word to get a guts-honest reaction out of the big guy: "It all goes in the same place!"
Daddy would have loved one of today's hottest food trends: Bowls.
Not for the unadventurous or anyone with OCD who cringes at the mere thought of their foods "touching," bowl meals remind us that the interest is in the mix.
For those resolving in 2021 to eat healthier and drop some pounds, well-chosen bowls just might be the way to go.
And they're easy enough to find.
From the frozen foods case to many of our favorite restaurants, the choices in bowl-based meals are ever-expanding.
Several variations cater to those who follow a keto or low-carb "lifestyle" – and are created around a serving of protein, such as poultry, beef, fish or tofu. Add in modest amounts of "good fats" (think EVOO and avocado).
Other bowl choices might highlight the "good carbs," including brown rice or legumes. Vegetarian, vegan and gluten-free options are plentiful. No matter how nutrient-filled, though, sodium count is always something to watch.
We visited four local establishments to get a reading on some of the healthiest (and tastiest) bowls. In the era of COVID-19, all the restaurants have instituted strict safety measures, including frequent sanitizing, socially distanced tables and masks. All offer takeout and curbside pickup; ask about various home-delivery services. Two of the restaurants, Bowls On A Roll and Clean Eatz, provide affordably priced "meal prep" services – healthy meals-to-go for the week – that have been recommended by some local doctors for patients who are fighting diabetes, high blood pressure or weight issues.
MEZEH MEDITERRANEAN GRILL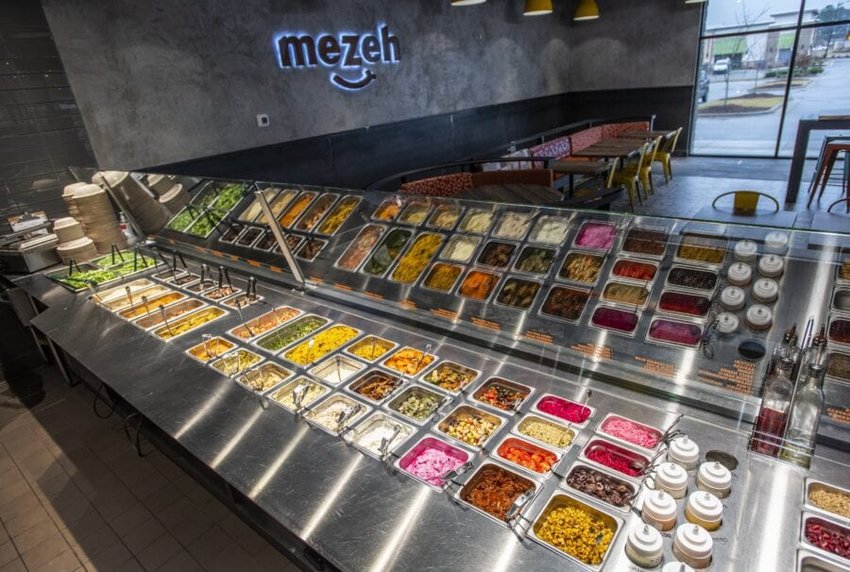 Mezeh stays on the brain. It must be the curious blend of herbs and spices that is pure addiction. The scents travel through the beautifully lit dining room, as if on an epicurean magic carpet, while spirited Middle Eastern music plays – perhaps a bit audible for conversation, but we go with it. Mezeh is mesmerizing.
We already expected big things based on all the social media buzz from Haymount matrons to in-the-know millennials. They rave about the recently opened restaurant, which is part of a fast-growing chain that originated in the D.C. area. Now we are here, and it's about to go down!
Imagine a mile-long salad bar set behind clear protective panels. And guys and gals in masks and plastic gloves toss on the toppings per your request. The supremely fresh choices are mind-boggling. And get this. We're told that there are no limits on the toppings. Build a mountain, if you like.
My dining partner is Tina Raines, the busy director of marketing and strategic communications for Fayetteville State University. Tina recently lost 35 pounds in about four months just by eating healthier, a bit of intermittent fasting, drinking gallons of water and walking 10,000 steps daily. She looks fantastic, as always.
We choose to start our bowls with a large dose of greens, a little basmati rice and spicy chicken shawarma (other protein choices include a less-spicy chicken kebab, steak shawarma, shredded lamb and falafel). The toppings run the gamut from tabbouleh to lemon-mint carrots, sun-dried tomato salad to pickled turnips. We also like the cilantro hummus – and the caramelized eggplant is the stuff of dreams.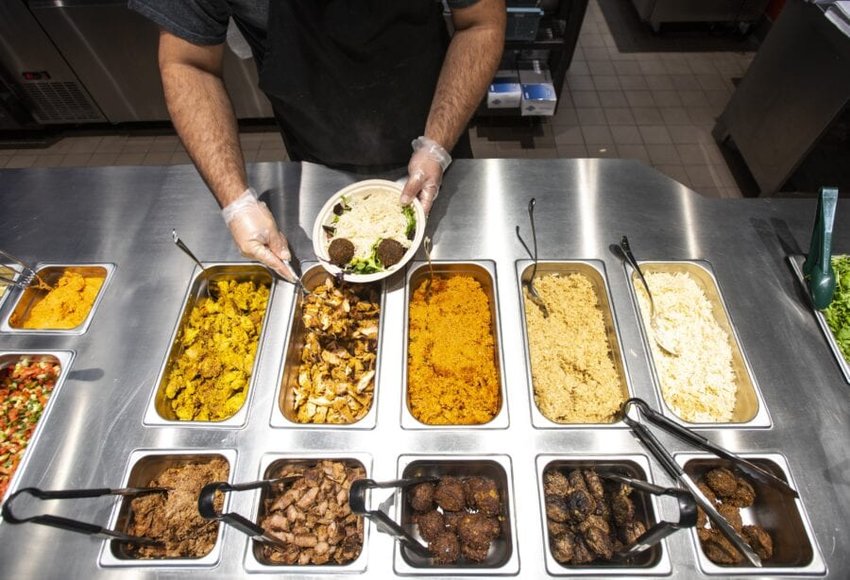 Our bowls, topped with cilantro vinaigrette, may not be mountains. But respectable hills, nonetheless.
Tina puts it another way, "It's a flavor explosion!" She admits a week later to returning twice. Once for me, with more trips planned. Lunch for two is about $26, including an impressive selection of nonalcoholic fountain beverages. Check out the outdoor patio on nice days.
Find Mezeh at 2770 Freedom Parkway Drive (in the shopping center off Cliffdale Road, near Skibo), 910-965-0393. Visit mezeh.com for more details about delicious bowl suggestions and calorie counts.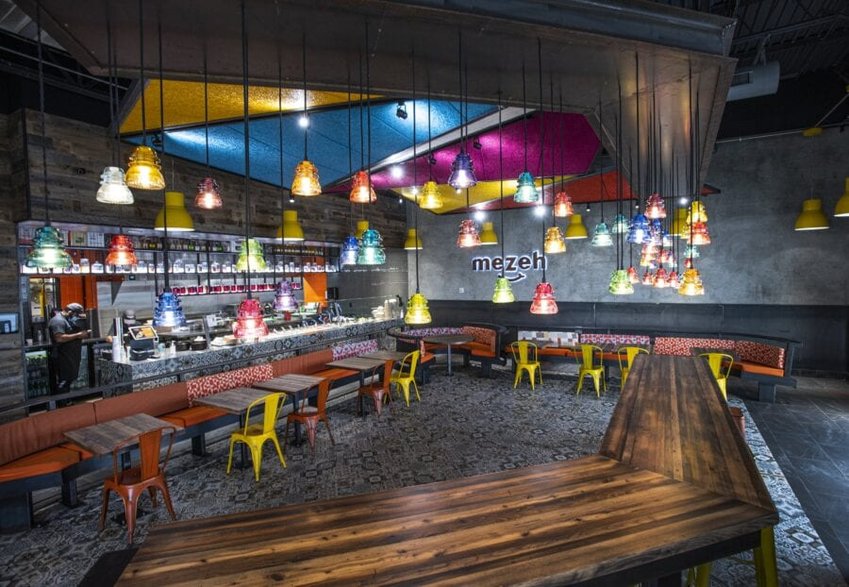 BOWLS ON A ROLL
Bowls On A Roll promises ample portions of flavorful meals for under 500 calories. But, for real? On a recent weekend evening, my tastetesters are a father and son, ages 51 and 18, who can be a bit picky about texture, flavor and freshness. Both quickly declare an enthusiastic thumbs-up for the Cheeseburger Bowl ($10.99 each). Don't have the heart to tell them it's only 412 calories.
The genius behind Bowls On A Roll is the nutritionist owner, Von Turks-Kling, who lost 137 pounds 11 years ago and has kept it off. Talk about transformation! The mom of three also became a personal trainer. (Fun fact: Husband, John, is general manager of Mezeh, so they're a bowls kind of family.)
Von says every fresh ingredient in the bowls is weighed or measured – with no added salt, sugar or trans fats. The most popular selection is the Taco Bowl ($10.99), which is a favorite of superstar Realtor Tiffany Pennink, who is picking up her "go-to" lunch on a recent Friday afternoon. The keto-friendly bowl is an aesthetically pleasing blend of lean ground taco meat, brown rice, lettuce, onions, tomatoes, jalapeños, mixed cheeses and tortilla strips, with a house-made spicy cream and salsa. Calories: 432.
Meanwhile, someone else is contemplating the Greek-inspired Gladiator Bowl but ends up ordering – and polishing off – a cheesy chicken Taquito Bowl. It's a fantastically light and filling choice. Blown away to learn that this much taste, complete with a side of Spanish rice, logs in at only 324 calories with 43 grams of protein, 11 grams of carbs and 12 grams fat!
Definitely Instagram worthy.
Bowls On A Roll is located in a refurbished building where Baskin-Robbins ice cream operated for years. It is actually "three businesses in one": a bistro with a variety of sandwiches, salads and smoothies; a mealprep store (get 21 meals for $132, for example) and, parked outside, there's a popular food truck, which was the genesis of this bountiful endeavor. Don't walk. Run.
Bowls On A Roll is at 306 Owen Drive, Fayetteville, 910-491-6755, www.bowlsonarollcom.
CLEAN EATZ
Keep your stove clean and your refrigerator or freezer filled. Leave the cooking to Clean Eatz.
Two local besties, Kristian Kelly and Melody Cox, bought into the rapidly growing franchise eatery/meal prep business in 2016. They have expanded with a second location in Greensboro.
The Fayetteville business, situated in Westwood Shopping Center, fills an expansive space with a cool gym-like vibe. Maybe it's just the framed posters – my favorite being "SUCK IT UP and someday you don't have to SUCK IT IN."
A buff soldier shops the frozen foods case for microwave meals to-go, and seriously, he is probably spending less than he would at the grocery store.
My taste-testers (aka "the boys") dig the Bison Bowl that's delivered to them. To enhance the experience, they recommend generously topping the meat with teriyaki sauce. A salmon bowl – chosen with a green trifecta of asparagus, brussels sprouts and edamame – also is quite delicious.
Bowls, which come in small, medium or large, range from about $9 to $12 each.
First, choose your base (brown rice, quinoa/ kale blend, sweet potato chunks or protein noodles), up to three veggies, a protein (black bean burger is an option), a sauce and a spice.
Clean Eatz is at 229 Westwood Shopping Center in Fayetteville, 910-868-3438. Check out their meal prep plans, which come in five, 10, 15 and 21-meal models, by registering on cleaneatz.com.
CORELIFE EATERY
Lisa Geddie, the general manager of Coldwell Banker Advantage, first turned me on to CoreLife Eatery. She mentioned that it's also a favorite of Fayetteville broker-in-charge Alan Tucker and the CBA real estate crowd. So, I knew it must be good. It didn't disappoint. As soon as we get in line, life-size photos of bowl choices challenge our decision-making abilities. A bowl with steak, bacon and blue cheese, punctuated with ample vegetables, is just the ticket for lunch. And, on another occasion, the tuna poke bowl for dinner. Bestselling bowl? Southwest chicken. Most bowls are about $10 to $12.
The CoreLife chain's founders pride themselves on exceptionally fresh food items. All chicken is free of antibiotics, and no artificial colors or high-fructose corn syrup are ever used.
There's plenty of room for social distancing in a large dining room. The staff is friendly, happily answering questions while delivering service with a smile.
CoreLife Eatery is at 2804 Freedom Parkway Drive (a stone's throw from Mezeh and Sprouts grocery), which is a testament to how important healthy eating options have become in our area.
Call 910-475-1895, corelifeeatery.com.