By: Janet Gibson
Photography by: Cindy Burnham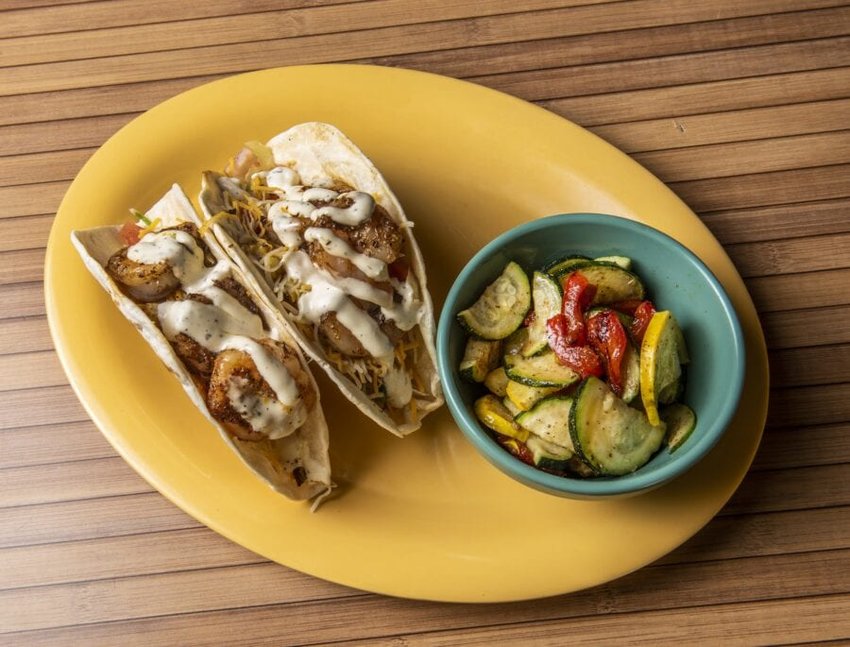 Let's face it, who couldn't use a tropical vacation right about now? A place where the grouper is fresh, your biggest decision is a margarita or mai tai, and Bob Marley reggae music magnifies the feel-good vibe.
The only things missing are sand and a cabana boy who fans you with a giant palm frond.
That's because the popular destination just happens to be in Fayetteville's Haymount neighborhood. Latitude 35 Bar & Grill is the next best thing to Key West or a Caribbean cruise – with prices that won't break the bank. And, just maybe, a part of your staycation itinerary.
It's like our own version of Jimmy Buffett's Margaritaville or Tommy Bahama eateries, but without the touristy element. Rather, locals have been frequenting the laid-back watering hole for a decade after two longtime friends, David Crumpler and Tommie Purser, purchased the former Highlander. Menu favorites include shrimp or mahi tacos, fish and chips and a fantastic weekend brunch that's generous on the omelets, paancakes and French toast. Everything is served with an extra helping of hospitality.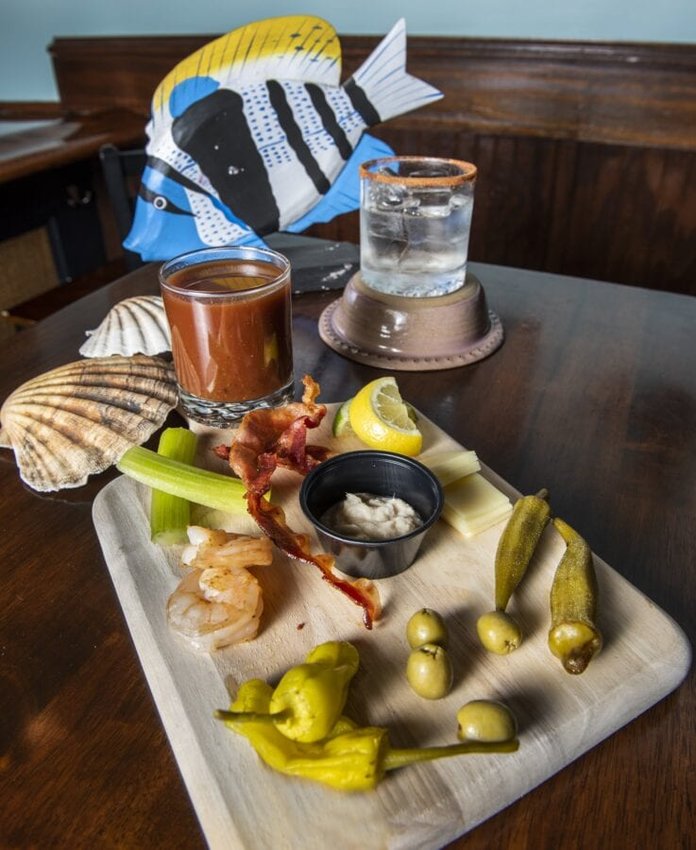 On a recent afternoon, we settle into the tropical-themed dog-friendly covered patio where the breeze conjures images of chillaxing oceanside. The only sounds of civilization are the occasional grinding of construction equipment next door at Cape Fear Regional Theatre as it undergoes an eagerly anticipated renovation.
As coronavirus restrictions slowly ease, a renewed energy fills the air. Bring on the tropical mimosas! Ten of the drinks were sold before the end of lunchtime the day before, declares Scott Schnieders, Latitude's happy-go-lucky general manager.
Well, it was Hump Day. Guess they're all on Island Time. The refreshing cocktail is a mix of Malibu coconut rum,
champagne, pineapple juice and grenadine, garnished with an orange slice and a maraschino cherry.

The sun casts a golden glow on the table shared with photographer Cindy Burnham, an avid scuba diver (she and videographer husband Rick Allen literally swim with sharks).
Burnham, the world traveler, is nothing if not picky about seafood. Executive Chef Jessica Watkins earns the double thumbs-up from us.
Especially tasty are the grilled shrimp tacos drizzled with an addictive cilantro-lime aioli and the "Ultimate Fish Sandwich," a large serving of grouper which has been dipped into a beer batter, coated in cornflakes and deep-fried to a golden brown. The slightly sweet fish is served on a toasted roll with the usual accoutrements.
A mural of a spread-winged parrot by local artist Mark Dodd occupies a brick wall overlooking our table. Other artful touches include overhead thatching, chairs in rainbow colors and board art with funny sayings such as "I'm on a tequila diet. So far I've lost 2 days" and "Born to fish … forced to work."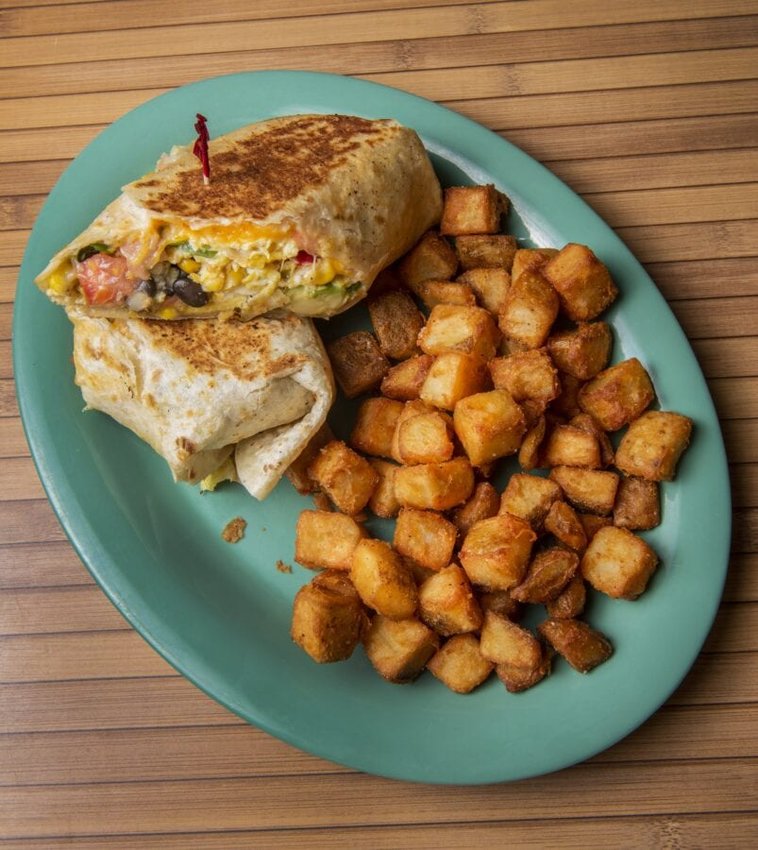 Speaking of which, when we connect with co-owner David Crumpler, it's because he is returning a call from his sailboat. He says something about having been in the Virgin
Islands with his wife, Jennifer, but now is close enough to Puerto Rico to get a signal as they make their way back to Fort Lauderdale. (Are those waves in the background?) His passion comes through for creating a tropical "escape" for the folks in Fayetteville. His staff will tell you he's even been known to bring home a fresh catch to serve at the restaurant.
But it's not just the alfresco experience that keeps us returning to Latitude. We also enjoy dining indoors – in a space filled with warm woods, ceiling fans and nautical or
beach-inspired art that doesn't go overboard. On a recent Friday afternoon, my dining companions are Janice and James Melvin. It's not the couple's first visit to Latitude. Their office, Vine & Branch Capital, a financial services company, is just a stone's throw away. We ask our affable server, Ryenne, for a recommendation on an appetizer to share, and she doesn't hesitate. "It's not tropical," she says, adding that she would order the popular Southwest egg rolls. Within minutes, we are savoring the crunchiness followed by a filling of smoked chicken, black beans, corn, jack cheese, red bell peppers and spinach, with a remoulade for dipping.
For an entrée, Janice orders grilled chicken tacos with crispy sweet potato fries, and there's enough to pack up for leftovers.

James approves of his Philly cheese steak with enough fries to feed himself and a flock of seagulls.

My choice is the shrimp and cheese grits, topped with a creamy sauce and chock-full of shrimp, andouille sausage, bacon and chopped green onions. It's a rich choice for lunch, but worth every bite. As we chat, happy music with an island beat plays at a pleasing timbre, folks enjoy conversations at socially distanced tables and the sounds of light laughter emanate from the bar.

We may be in Fayetteville, but it feels delightfully like Florida to me. Latitude 35 Bar & Grill is open every day but Monday. Hours are Tuesday, Wednesday and Thursday from 11:30 a.m. until 10 p.m., Friday until midnight.

Saturday/Sunday breakfast/brunch begins at 9 a.m. The restaurant stays open until 11 p.m. on Saturday and 10 p.m. on Sunday. Entrées average $9 to $15. Reservations are recommended for parties of 10 or more. The address is 1217 Hay St., on Haymount Hill, 910-485-4777.