BY: DIANE PARFITT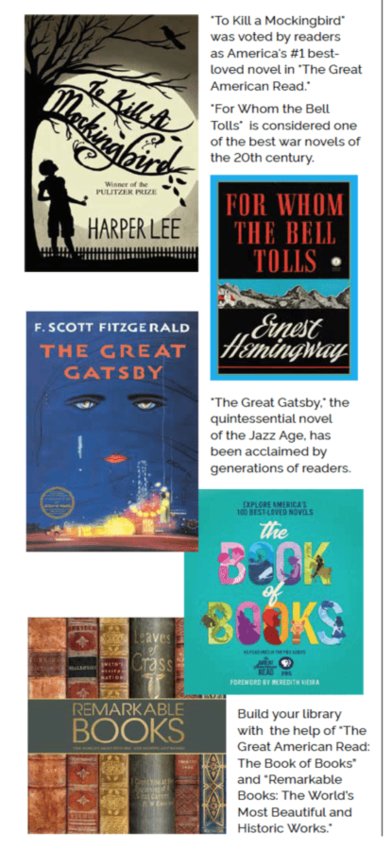 On TV news shows today, many of the experts and politicians are being interviewed remotely at home on Zoom or similar web conferencing.
The majority of them are sitting in their home library in front of a bookcase. I like trying to read the titles because they often reflect the political preferences of the person or at least their taste in books. Authors have been known to look to see if they can spot their own book on the shelf, and a home library has become a bit of a status symbol!
The most important motivation to own a personal home library is a love of books and a desire to be surrounded by them. Another reason is to set an example for your children.
Studies have shown that children who are raised with easy access to books have higher literacy and communication skills as adults. And what better way to encourage this than to have a library close at hand?
All you need to start your home library is a bookshelf and a list of books you have read and loved or wish to read. I'm not talking about those paperback beach reads with which we all love to curl up. I'm talking about the important books that meant something to you in your life or those that are considered truly worthy of being called classics.
First, go through all the books beside your bed or sitting on tables that you haven't looked at in awhile. If some are books you are never going to read, now is the time to clean house and donate them to a school, thrift shop or your favorite used bookstore. Save all the ones that are special to you and that you want to keep.
Now you can start building your own unique, personal home library. It should reflect you and your personality, those things you are passionate about and those things you want to learn about. I always say to start with your absolute most favorite books.
For me, that would be "TO KILL A MOCKINGBIRD," one of American's most treasured novels.
For a young couple who came into the bookstore awhile ago, their favorite was "FOR WHOM THE BELL TOLLS" by Ernest Hemingway. It had a very special meaning to them, and they wanted the oldest copy they could afford as a wedding present to each other. After doing some research, we found a second edition in good condition that met their requirements. They were on their way to building their own personal library and a life together.
Also, think about those books that were transformational for you; the ones you read in high school or college that still stick with you. A young girl came into the store the other day and asked if we had a copy of "THE GREAT GATSBY" by F. Scott Fitzgerald. She had read it in the eighth grade and really connected with the novel, so much so that she had already read it several times. She loved sharing it with others, and thus no longer had her own copy. I told her she was a very special person to have been able to "get it" at such an early age. We had a copy in our store and she was over the moon to be able to have her own copy again.
Start with the classics, but add a variety of books, including fiction, nonfiction, biographies and so important contemporary literature. Even picture books (coffee table books) on art, civilization or faraway places make a great addition to any library. You need not buy new books unless you want to because there are many sources for used books, especially local used bookstores. Hardback versus paperback? I prefer hardback books because they are easier to hold and read, especially in bed, but there are some nice trade paperback books (not the mass-market paperbacks) which would be fine in your collection. There are also some gorgeous reprints of classics in leather-bound additions that truly add a touch of distinction to your library.
Remember, you can get help building your library from a local independent books store or from references like "THE GREAT AMERICAN READ: THE BOOK OF BOOKS." It was created as a followup to the PBS 2018 seres which engaged viewers in voting for the best-loved novels. This is a beautifully illustrated book and presents the entire list of the top 100 books with fascinating information about each book and its author, as well as little-known facts.
It includes articles about banned books, influential illustrators, and lists other reading recommendations. (Spoiler alert: my favorite, "To Kill a Mockingbird," came out on top!) Another guide for building your library is "REMARKABLE BOOKS: THE WORLD'S MOST BEAUTIFUL AND HISTORIC WORKS," published by Penguin Random House. Spanning the history of the written word, from 3000 BCE to the modern day, it explores the growth of human knowledge and the evolution of books. Fantastic illustrations and pictures provide us with the visual beauty of books and their impact on history. In addition to the classics and other novels, it includes examples of diaries, plays, poems, dictionaries and religious texts.
I hope this will help you get started on your own personal library. One of life's greatest joys is to be surrounded by books to read over and over again, to share with friends and to bestow upon our children and grandchildren.
Diane Parfitt can be contacted at citycentergallerybooks@gmail.com.