Defying the unusually warm weather, the Winter Lightening Sleds are stacked and ready to go at even the slightest hint of snow in the Sandhills.
The brightly colored 48-inch polyethylene sleds with molded runners are only a minute sampling of varied seasonal products offered by Bell's Seed Store, which is located at 230 East Russell Street, in the heart of the blue-collar commercial district in downtown Fayetteville.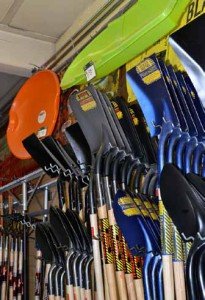 The lettering on the Kelly-green awning in the front of the store says it all, "Serving Fayetteville Since 1919." The third generation family-owned store proudly heralds itself as Fayetteville's downtown garden center. Stewart Bell is the third Bell family member to operate the store started by his grandfather, William M. Bell in 1919.
Other than the awning, there's nothing tres chic about Bell's Store except for the down home service one might expect to find in a place like Bedford Falls, the fictional town in the classic Christmas story of "It's a Wonderful Life."
Bell's, for example, delivered Christmas trees again this year, just like every year. Just pick one out, pay for it and it's on its way to your home. Then there's that personal attention not often found at the big box stores. In fact, Bell's employees greet everyone crossing the store's threshold, some by their first name. "We concentrate on good service and we concentrate on good prices," said Stewart Bell.
Among those ready to help you find that humane critter trap, thick center country ham or even a bag of ice melt is Angie Smith, a transplanted Michigan native turned Fayettevillian. She earned her horticulture degree from Fayetteville Technical Community College four years ago and soon after found a home at Bell's working with commercial landscapers, helping them find the optimum shrub or tree and, of course, flowers for that special project.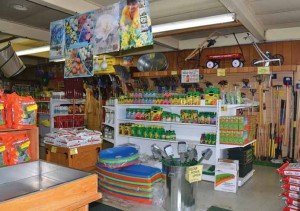 Walking into the store is like stepping back in time when general stores carried everything a customer needed to sustain life. There's the initial odor of garden fertilizers and potting soils; the bin overflowing with pecans; bird seed; thistle seed; squirrel buffet; local produce and homemade products to include peach salsa, country hams and honey; and flags – lots of flags.
Bell's General Manager Jeff Thompson (not of local radio fame) says the store dedicates much of its inventory to flags. The store's offerings include not only a variety of American flags but also flags for the Armed Services as well as MIA flags, North Carolina state flags, Christian flags, Canadian flags and a World War II commemorative flag.
Then there is the Big Green Egg, the ceramic outdoor cooker that is a grill, an oven and a smoker all rolled into one. Bell's is only one of three local Green Egg distributors within a 25-mile radius.
Thompson, who became Bell's general manager about 12 years ago, said the items offered by the store vary from year to year. "It's a trial and error to see what sells," he said. The key to Bell's success is having the right products at the right time. For example, erosion control products sell well in the winter, especially with all the construction occurring in the Fayetteville area.
In the spring, it's fertilizers, flowers or shrubs.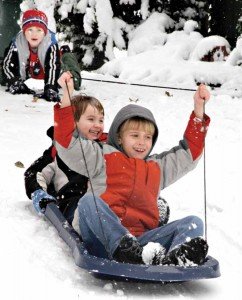 Bell's also enjoys a unique customer base, says Stewart Bell. "We cater to the homeowner and to the contractor.
We have a diverse base of customers and along with our service and competitive pricing; we can compete with the big box stores."
There are those who have been Bell's customers for years and then there are those who recently discovered that there is a garden center in downtown Fayetteville. Thompson said there's a constant stream of old and new customers.
Former City Councilman Johnny Dawkins said his family has conducted business with Bell's since the 1940s. "My granddad's lumber company was just down the street from Bell's Store. The Bells are bucking the trend of family-owned store competing against the big box store," Along with his father, the late Mayor J. L.
Dawkins, Johnny Dawkins said his family prefers to shop at locally owned family businesses.
Along with service and good pricing, Stewart Bell says his employees are also ready to provide advice.
Thompson, who bills himself as the "Blooming Idiot", incorporates gardening tips on the radio commercials in the spring. He's also known to give Crepe Myrtle pruning tips on YouTube.
Bell's also has a presence on the social network, Facebook, where it has amassed 2,404 "friends." "It's free and people love it," Thompson said.
Despite its notoriety, Bell's doesn't do much traditional advertising.
"Sure, we don't do a lot of advertising other than what we buy with coop dollars, but our method is word of mouth. A customer recommends us to his neighbor and we then have another customer," Thompson said.