Dr. Jennifer Green has joined with Gov. Roy Cooper in urging community residents to schedule a COVID-19 vaccination, particularly in wake of the escalating Delta variant virus cases.
"We urge you to get vaccinated," Green, director for Cumberland County Public Health, was saying on Aug. 3 as the governor was in town to encourage the vaccine for all. "Community transmission in Cumberland County is high."
The COVID-19 positive test rate is at 15.4 percent, according to Green, and the target rate recommended by the World Health Organization is 5 percent. There have been 32,787 cases and 336 deaths in Cumberland County, according to a county news release, since the beginning of the pandemic.
"All of our metrics are moving in the wrong direction," Green told county commissioners a day before the governor's visit.
But, the governor says, immunization works.
"Vaccines will get us to the other side of this pandemic," Cooper says. "Vaccines will keep people healthier, and vaccines will help our economic recovery."
***
"Bill," Katherine Fasul writes in an email about our CitiyView Magazine edition for August about the 60th anniversary of the Kentucky Fried Chicken at the Hillcrest Drive-In restaurant site on Bragg Boulevard, "I can't tell you how much I enjoyed the article. It was great, and I loved it. Many, many thanks for writing the article. I loved the end about my mother never cooking any more fried chicken for us. Again, thank you." The Hillcrest Drive-In was founded on Aug. 2, 1961, by Miss Fasul's father, the late Nick Fasul, and his nephew Steve Paris.
***
"I just read your story about my father in Cityview," Sylvia Crisp-Williams writes in an email about our August 3, 2021, CityView Newsletter regarding her father, retired Fayetteville City Councilman Bill Crisp, who died at age 81 on July 28, 2021. "I thank you. The ability to read about his hard work and know that people really saw and appreciated him has really benefited me in my grieving process. My Pop went out of this world knowing he was genuinely loved by many. I thank you again."
***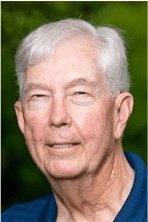 Dr. David Hedgecoe would remind those attending his father's memorial service Sunday at Haymount United Methodist Church of all that he learned from Dr. Joel Hedgecoe about dentistry, and that a fish aquarium under any circumstance just wasn't in their dental practice future together. That his sister loved their father with all of her heart and their relationship was out of a storybook. That every grandson was his father's favorite, and that Joel Hedgecoe loved his wife Margaret Inman Hedegcoe more than life itself, and Margaret Inman Hedgecoe loved Joel Hedgecoe back.
"One my last vivid memories of my parents together was when I was walking with my Dad and my Mom in front of his house," David Hedgecoe would say. "Dad was struggling a little bit, both physically and emotionally. Mom said simply, 'Hold my hand.' And she offered her hand to him, and Dad reached out and embraced her. Over this past year, Mom has been side by side with him, and encouraging him along the way. He loved Mom more than anything. He worshiped the ground she walked on."
Dr. Joel Hedgecoe died at age 78 on Aug. 10, 2021.
Bill Kirby Jr. can be reached at bkirby@cityviewnc.com, billkirby49@gmail.com or 910-624-1961