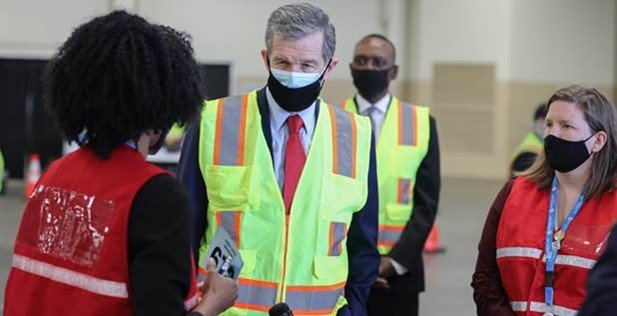 Cumberland County Health Director Dr. Jennifer Green, left, welcomes Gov. Roy Cooper to the Cumberland County vaccination venue at The Crown Complex. (Contributed Photo – Cumberland County)[/caption]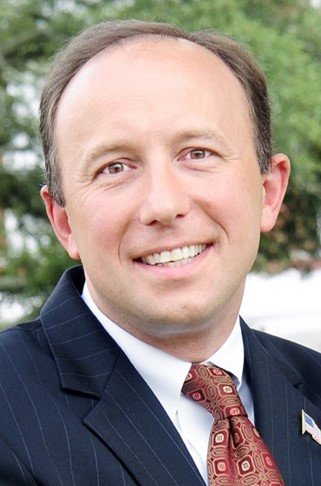 Mike Nagowski delivered a heartfelt virtual video message on March 11, marking the one-year anniversary of the global COVID-19 health pandemic, and it was replete with promising news and gratitude.
"This March 11 marks the anniversary of the health pandemic," the chief executive officer for Cape Fear Valley Health said, "and we are on the road to recovery, thanks to vaccinations that began rolling out on December 15. We are in a steady decline, and Cape Fear Valley Health is leading the way, where we have administered about 90,000 vaccine doses."
But, Nagowski said, we cannot celebrate "without taking a moment to remember those we have lost," and noting that more than 280 county residents have died from complication of the coronavirus.
His message was not without thanks, either.
"To our health care workers, thank you for your tireless efforts, your long hours for doing it all under immeasurable stress," Nagowski said. "You are all health care heroes. To our community, thank you for patiently supporting our health care workers and for understanding visitation restrictions. For masking up, staying home and making the best choices to keep yourself and your family well. And thank you for your letters, cards and donations.
"All of our lives have been forever changed by this pandemic, and we pray the next year anniversary will find our community in a much healthier situation," Nagowski said. "Until then and beyond, Cape Fear Valley Health will continue to be here for our region, fulfilling our mission to provide excellent health care for all of our patients."
***
Dr. Jennifer Green joined with Cumberland County Commissioners chairman Charles Evans to welcome Gov. Roy Cooper and Dr. Mandy Cohen, secretary for the N.C. Department of Health and Human Services, both who stopped by the county COVID-19 vaccination clinic on March 5, at the Crown's Charlie Rose Agri-Expo Center.
"We are proud to show them an example of the heroic efforts of public health staff and our critical team of partners that are helping us make our community safer — one shot at a time," Green says in a county news release.
Cohen had plenty of praise for the efforts of Green and the county.
"I particularly want thank Dr. Green and the rest of the public health department and all of their staff for doing such a terrific job in getting the vaccine in arms, not just quickly, but also equitably" Cohen said in the release.
All good news from Dr. Green and Mike Nagowski as this community works to fight its way out of the health pandemic.
***
"I was shocked and deeply saddened to learn of the passing of Dr. Frank Stout," Phil Barnard writes in an email about the retired orthodontist and businessman who died at age 77 on March 6. "Dr. Stout was my orthodontist when I was a child, and we had reconnected a few years ago after all that time. He indulged my love of Fayetteville history by allowing me access to hundreds of his photos from the beginnings of Eutaw Shopping Center, which was my favorite place to visit when I was growing up.
"My wife and I had just visited with him recently at his newly remodeled office on Fairway Drive. He was so very proud of how everything turned out. And he was the absolute picture of health, which made the news so much harder to accept.
"Dr. Stout was a great joy to be around," Barnard said. "His passing leaves a huge void in the Fayetteville community. My deepest condolences to his family."
Many of us in this community, Mr. Barnard, share your thoughts. Dr. Stout put braces on thousands of young folks in this community and also carried on his late father's business ventures at the Bordeaux Motor Inn and Convention Center, the Bordeaux Recreation Center and the 10-story Apartel on Bragg Boulevard adjacent to his Eutaw Shopping Center. And he was an outstanding tailback (No. 16) for the 1961 Fayetteville High School football team. An all-around good guy, and I, too, will miss Dr. Frank Palmer Stout.
***
"Bill, I really appreciate you taking the time to write the article honoring my Aunt Sue," Jessica Canaday writes in an email about our March 9 column about Sue Canaday Hubbard, who died at age 77 on Feb. 17, 2021, after being diagnosed with COVID-19. "Thank you for helping convey what she meant not only to our family, but our community as well."


***
Jack McGinley and Ray McDougal are among the inductees-elect for the 2021 Fayetteville Sports Club Hall of Fame, and the sports club got it right in selection of McGinley and McDougal in the legend category.
McGinley was a pitcher who helped lead Wake Forest University to the 1955 NCAA National Championship. He later coached at Fayetteville High School and became an outstanding principal at old Reid Ross High School.
McDougal was a former Fayetteville State University football and golf coach, leading his golf teams to 15 CIAA championships.
Other inductees include former Seventy-First High School girls' basketball standout Sheila Boles; Terry Sanford High School tennis standout Blair Sutton Craig; and Seventy-First High School football kicking specialist Alex Gaines, whose field goal lifted the Falcons to the 1986 N.C. High School Athletic Association 4-A state title.
Bill Kirby Jr. can be reached at bkirby@cityviewnc.com, billkirby49@gmail.com or 910-624-1961