By Kim Hasty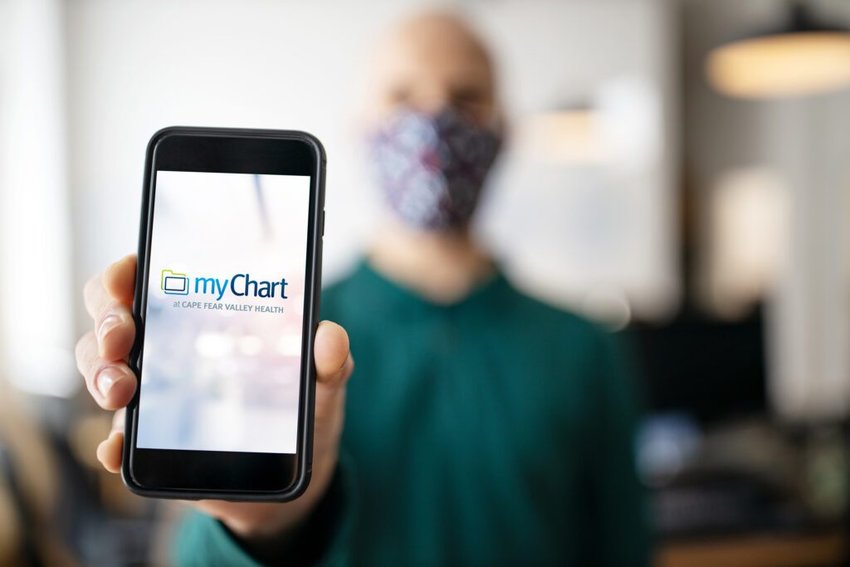 Tracy Muhammad, MD, can attest to the lifesaving connection that technology has made possible for doctors and their patients. Last year, due to the COVID pandemic, Cape Fear Valley Health implemented telehealth visits, adding the opportunity for patients to check in with their doctors by video. The visits are available through myChart, Cape Fear Valley's patient portal app.
"When COVID hit, my practice skyrocketed with telehealth," said Dr. Muhammad, a board-certified internist at Cape Fear Valley's Continuity Clinic on Walter Reed Road. "Many of my patients were afraid to come in because they didn't want to be exposed to COVID. But they realized that it was very important for them to continue their care, especially those with chronic diseases such as diabetes, COPD and hypertension."
That point sometimes became critical, she said.
"I had a patient at the beginning of COVID who would schedule telehealth visits just about every day, which was really unlike him," she said. "He was worried because he was working and often around groups of people."
Dr. Muhammad said that the patient became short of breath over a period of two days, and through telehealth, she was able to instruct him to undergo a COVID test immediately.
"He tested positive, and his oxygen level was down to 84 percent," she said. "He was admitted to the COVID unit, and it saved his life."
"They can be a lifeline, you know, telehealth and myChart for patients," Dr. Muhammad said.
Both myChart and telehealth enable physicians to monitor patients for whom interpreting blood pressure readings and insulin levels are vitally important. Neither service, however, is reserved solely for critical care situations.
Ambulatory Informatics Director Fallon Jones said Cape Fear Valley is continually adding more features to the myChart app and looking for ways to optimize its convenience for doctors and patients. She said it's "a free, user-friendly service that gives patients the means to communicate directly with the established primary care physician."
The app allows patients to perform common tasks such as renewing prescriptions, scheduling or canceling appointments and reviewing test results. Instead of waiting for days to receive a call or letter with the results of a test, patients are able to receive the results through the app.
Patients can keep track of medications and immunizations through the app, as well. For those who received COVID-19 vaccines from Cape Fear Valley Health, proof of vaccination is accessible within the myChart app. Patients are also able to send messages to their physicians directly through the app.
Dr. Muhammad said her senior patients seem to be comfortable with managing the simple technology involved in downloading the myChart app and using it to schedule both in-person and telehealth visits.
"But for anyone who has trouble, our front desk is available to help them log in
to connect to their physician," she said. "It's not as difficult as one might think. Seniors actually find it easier and more convenient for themselves."
Dr. Muhammad said the surge of new COVID cases has again made people leery of communal areas such as waiting rooms.
"Patients are more likely now to want to do a telehealth visit, especially those with chronic disease or cancer," Dr. Muhammad said. "They realize if they are around other people, and they catch something they could decline faster. It is important for the patient to have more autonomy and be able to feel more control. Even in an environment where now no one is real control."
For lab tests, Muhammad is able to customize appointments to her patients' schedules.
"Patients are amenable to coming in for labs, and I've been able to have patients go to the labs at a time that was convenient for them," she said. "Once I get the results, I call them or email to let them know what's going on. And if you do come to the lab, we can also give you your COVID vaccine."
Ultimately, the myChart app and telehealth services are designed to make it easier for patients to stay healthy. Dr. Muhammad, who usually reserves one afternoon a week for telehealth visits, said that studies have shown that video visits can be as effective as in-person visits. Even for new patients, she said, that doctor-patient relationship can be established through telehealth.
"There's no reason to avoid being in contact with your health care provider," she said. "It's important to see your doctor and get some guidance as to how well you are doing. Don't avoid your doctor visits. We really want to see you."