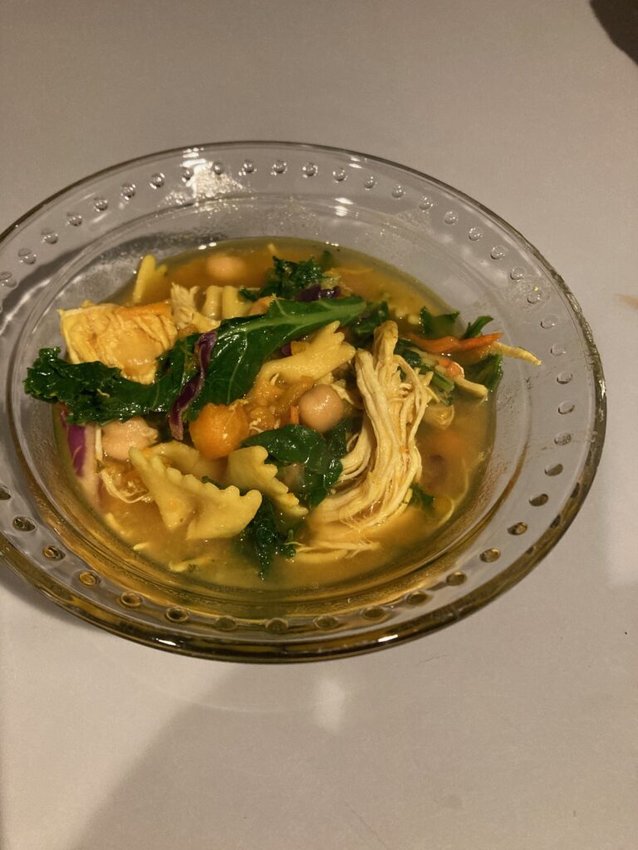 Thanks to local realtor Rebecca Fowler Lillich for the inspiration for this healthy chicken soup recipe that we tweaked just a bit. You can add or subtract ingredients to suit your tastes, and the result will still be delicious.
If you believe that a good chicken soup can ward off or treat the symptoms of cold and flu season, this is one that uses a variety of healthy ingredients. It's perfect for chilly fall and winter evenings, and leftovers are great for lunch the next day.
Healing Soup
1 onion (Lillich uses two, but some of us aren't all that crazy about onions)
2 cloves garlic (We used two teaspoons of the minced garlic that comes in a jar. Lillich uses "loads of raw garlic")
8 stalks of celery, diced
1 bag of baby carrots, diced
Fresh ginger (optional, but we liked this addition. Ginger root is available near the potatoes, garlic and onions section of the produce aisle and is easy to grate with a spoon.)
4 cooked chicken breasts, shredded. (A rotisserie chicken would also work)
2 32-ounce containers chicken broth (Reduced-sodium is fine. Vegetable broth is fine. We used one container of regular chicken broth and one container of roasted chicken broth.)
1 large sweet potato, diced
16-ounces pasta (we used farfalle, or bowties)
2 large zucchini squash, sliced
Bag of kale
Place first five ingredients into a large skillet lightly coated with olive oil. Sauté for a few minutes.
In large cooking pot, add broth. Add contents of skillet along with sweet potato, chicken and a 16-ounce box of pasta.
Cook until sweet potatoes and pasta are softened. Add zucchini. At the end, add a large bushel of chopped fresh kale and cook a few minutes longer, until kale has wilted. Add water as needed for desired consistency.
Season to taste with salt or seasoned salt, pepper, turmeric (we used lots), celery salt, cumin, parsley, cilantro. A little curry powder would work, as well.