By: Kim Hasty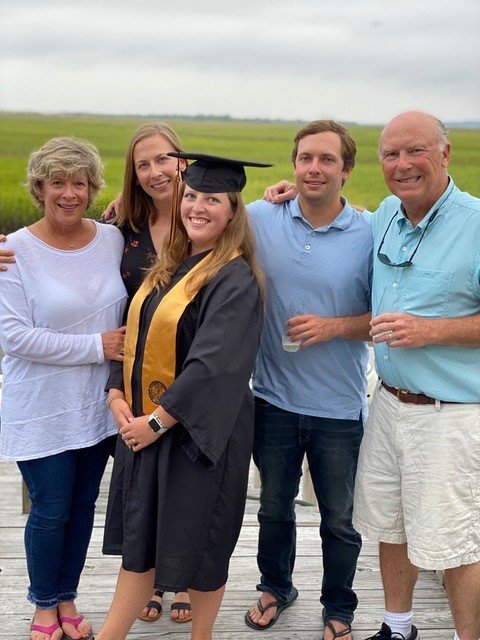 Knox Barker's coffee cakes are made of flour, butter, sour cream and memories.
"The cake was my mother's recipe," she said. "We would only have the cake when we went to the beach for our annual family vacation. I don't know how I made it all those years with only having it once a year. Fritos, Cap'n Crunch cereal and sour cream coffee cake, we only had those when we were on vacation."
The coffee cakes are delicious on their own, but Barker eventually began to add her own special touches to a secret family recipe that really isn't that much of a secret.
"All the women in my family know how to make it," she said. "Probably half of North Carolina knows how to make it."
But no one makes them quite like she does with her homespun Coffee Cakes in Bloom business. She and her husband, Fayetteville native Dan Barker, live in Greensboro, where they raised their three children and where she spent years participating in school bake sales.
"There would be this sea of brown cakes," she said. "You would hate to see one of them lingering around at the end. So I started putting a ribbon tied with some boxwood sprigs on mine. And then it became a ribbon tied with nandina and boxwood."
Her children grew older, and she began experimenting with ways to place lovely natural arrangements in the center of her coffee cakes, many consisting of flowers and greenery picked from her own yard. In 2015, just before Memorial Day, she sent out a group email to friends offering her cakes for sale.
"Like friends are, they were supportive and excited," she said. "And they've continued to be."
Her business has, well, blossomed.
She figured out a method for keeping the flowers fresh in tiny waterproof cups with florist foam. And because the cakes do not require refrigeration, she is able to box them up and send them to customers far and wide, complete with a sweet note.
"They are just as delicious after being frozen as they are freshly baked," she said. "People enjoy having them when they have houseguests or when they are being houseguests. It's nice that you can enjoy the cake right away or they can go right in the freezer. And you have a little floral memento for a bedside table."
Her busiest times are during the Thanksgiving and Christmas holidays, but her customers order for all occasions, from bereavement, for birthdays and for weekend getaways.
"At my core, I've always thought of myself as a creative person," she said. "This has enabled me to combine my interest in gardening with my interest in food presentation. It's just a mom-and-pop thing … with just mom."
For more information or to place an order, find @coffeecakesinbloom on Instagram.