By Gaby Kienitz
During WWII, villagers in England removed or painted out road signs to confound outsiders in finding their way, and thus to hamper potential enemy reconnaissance and invasions. The city of Fayetteville manages to do that every day with the road signs still in place and entirely visible. All over Fayetteville, there are roads and streets that change their name along the length. Drivers may start on Skibo Road, then find themselves on Pamalee Drive, and finally on County Club Drive. McPherson Church Road and Yadkin Road are but one stretch of asphalt. It's no better downtown, where Gillespie Street becomes Green Street for a few blocks and then turns into Ramsey Street as it continues north. Why are the streets of Fayetteville so confusing?
The answer to that question, like the street names, is complicated. Tradition, planning (or lack thereof), geography, growth, and hefty doses of ego and obstinance, all play parts in the answer. Fayetteville got an early start on the road to confusion, when the town itself went through several name changes. Back in the mid-1700's, the area we think of as downtown Fayettteville, was a town called Cross Creek. In 1762, a new county seat for Cumberland was laid out in a neat grid on empty land along the western bank of the Cape Fear River, just over a mile away from Cross Creek. In 1778, Cross Creek and Campbellton were combined to form Upper and Lower Campbellton. In May 1783, there was a weak suggestion that Upper and Lower Campbellton be renamed Milton, but by the fall of 1783, the triumphant name of Fayetteville was chosen in honor of the Marquis de Lafayette, the French aristocrat and military officer, whose support was crucial to the patriot cause during the American Revolution.
During the five years that the flourishing merchant town went through several name changes, a handful of local leading citizens had been commissioned to lay out and name new roads befitting a bustling county seat. That never happened. The language of the act from 1783 authorizing the naming of Fayetteville tells the story:
"an Act for appointing the several persons therein named to lay out the streets… and it is found by experience that appointing commissioners for the purposes aforesaid who reside in the said town, will not answer the intention of this Act, the jarring interest of different parties preventing them from agreeing upon any one plan…."
Strip away the legislative language, and what it says is: "we've learned that when we ask a bunch of locals to lay out and name streets, they can't agree on how to get the job done, so now we have to ask outsiders." The previous commissioners were demoted to being in charge of street maintenance and cleaning, and a new group of commissioners was selected to lay out and name the streets. Four of the seven new commissioners named came from neighboring counties, but local citizens refused to be routed, and ultimately three local men were added.
We don't know for certain what the original commissioners couldn't agree on, but likely, one major factor was who would have the honor of naming the new streets. The commissioners cleverly solved the problem of too many names and not enough locations, by considering each street segment that connected major points as having a distinct beginning and end, even if the street continued in the same direction beyond. After a few months, the commissioners gleefully reported that they had laid out six principal streets and two public squares. Unsurprisingly, four of the new streets carried the last names of four commissioners; two local and two outsiders.
The commissioners' solution had established a tradition of giving new names to newly created street segments even if they extended from a previously named street. The commissioners took this practice one step further when they renamed one of the earliest roads established in Cross Creek, one that had existed for decades before 1783. The result was two different names, Old Street and Bow Street, because the road had been bisected by a new principal street (Green Street). In 1846, a street connecting Union and Donaldson was cut across the wedge of land between Maiden Lane and Hay Street, it became Anderson Street. Over the time, streets were inserted into the local landscape, and the number of street names grew larger than the actual number of streets.
In downtown Fayetteville, many streets were given the last names of leading citizens as a mark of honor. The one gentleman who preferred to forgo the honor was James Hogg, an 18th century, wealthy, Scottish immigrant who became a merchant, politician, and philanthropist after arriving in North Carolina. He and his family lived for only a year in Fayetteville, but donated land to the county for the public square upon which the county courthouse was built in the late 1700's; he also donated land for Cross Creek Cemetery. The public square was given his first name – James' Square. The reason for this is that James Hogg clearly disliked his surname. He later petitioned the state legislature to change his children's last name to his wife's maiden name, Alves. Unfortunately, not only was the last name Hogg obliterated by the gentleman who was born to it, but ultimately, progress obliterated the public square. It's now the busy intersection of Ramsey, Green, Rowan, and Grove.
Progress also brought changes to the townships outside of Fayetteville's city boundaries, which remained fairly small until the 20th century. Private land developers bought acres of family farms dotted along the country roads on the outskirts of Fayetteville and divided them into suburban lots. The developers had the unrestricted privilege of naming the streets in the new community. Much like downtown Fayetteville, as the number of communities grew, new roads were built, sometimes connecting two previously named roads. The residents of each community were determined to keep the name of their section of road, and wouldn't agree on one name. Until 1968, no planning board existed for either Fayetteville or Cumberland County, and it wasn't until the last 30 years that the joint planning board finally required developers to continue the name of a road if their new road connected to an existing one. But, that didn't stop Fayetteville from breaking its own rules in 2004 in order to name a street after a respected local citizen. A one block, curved section of Franklin Street from Gillespie to Person was renamed Ottis F. Jones Parkway. The traditions of Fayetteville can't quite be suppressed.
History has been described as a series of messy and difficult events, and that description is apt for the map of Fayetteville. But like the old saying goes, "you don't know where you're going, unless you know where you've been." Sure, Fayetteville could make it easy for visitors and newcomers by reducing the number of street names, but in doing so, the act of unearthing these stories might be erased. Lucky for us, the story of Fayetteville is literally written into our streets.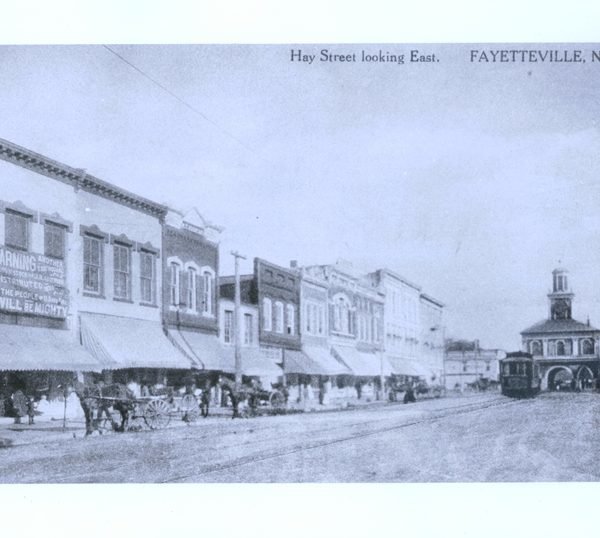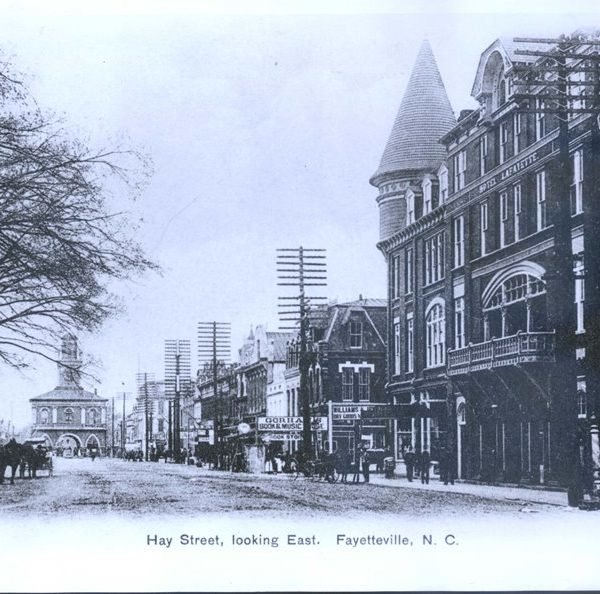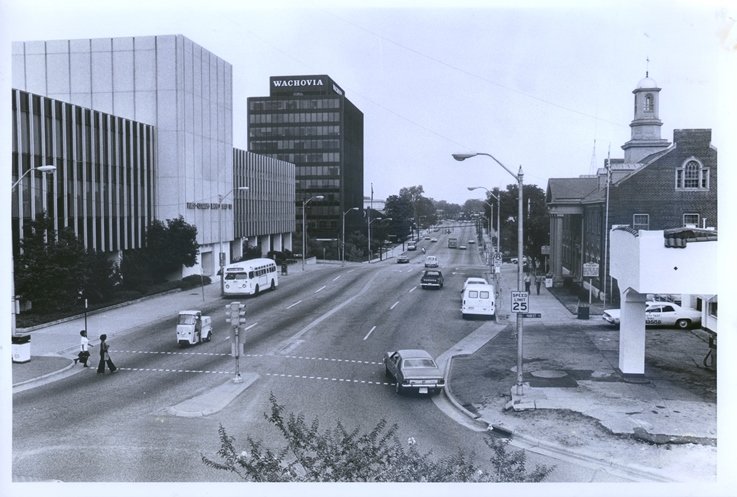 GABY KIENITZ
Gaby Kienitz has spent 25 years helping people discover and preserve history. She used to work in museums, but now she works in a library. Sometimes, you'll find her traveling the streets in style – guiding historic carriage tours.