It isn't every day you find a place where you can buy a book of postage stamps, a mismatched set of luggage, a bouquet of artificial flowers and a scoop of some of the best homemade ice cream in town. But you can at Andy's Ice Cream inside the Cedar Creek Road Post Office at 804 Cedar Creek Road. For Andy Jackson, it didn't start with a love of ice cream; it started with a love of tractors and the old John Deere "hit and miss" engi
ne he used to power his churn. He learned some of the secrets to homemade ice cream from the Amish in his native Lancaster, Ohio. The rest he learned from Tommy Gross of Gross Farms outside Sanford, who advised him never to skimp on the quality of his ingredients. "I've been to ice cream shops all over the country," Jackson said. "They have big fancy buildings and marble countertops. But they spent all their money on the building instead of concentrating on the ice cream."
These days, he buys his ice cream mix from Jackson Dairy in Dunn – "16 percent butterfat," he said – and adds peaches, blueberries or strawberries that have been enhanced by his wife of 40 years, Hyon. He ships his chocolate in from Forbes Chocolate, the Cleveland, Ohio company that's been in business since 1901. Before the pandemic hit, Jackson was invited to tractor shows and other events to sell his ice cream, but, of course, those kinds of things have been put on hold. Still, he has a steady flow of customers, including those who like a scoop not long after their morning coffee. "They come in and ask, 'Andy, is it too early for ice cream?' " he said. Of course, it's never too early for ice cream. After all, as one of the signs hanging on the wall, says: "You can't buy happiness, but you can buy ice cream."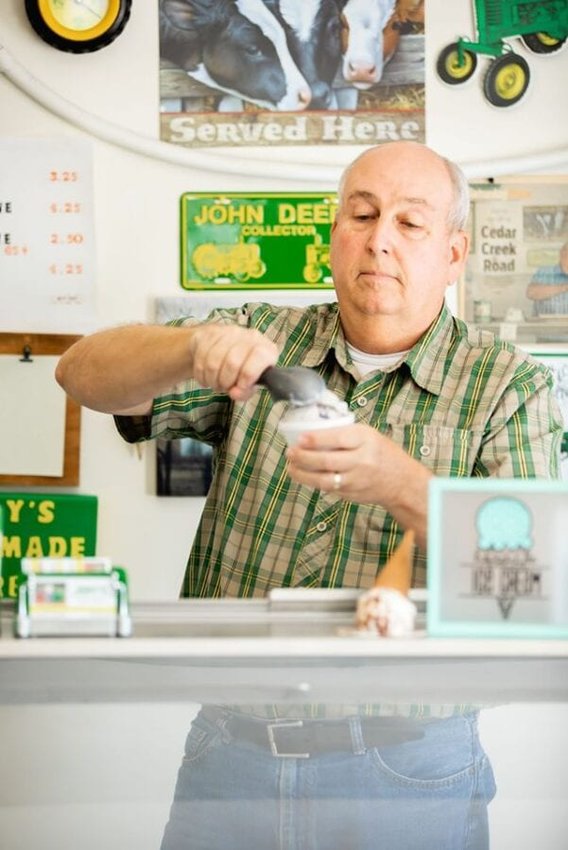 You may already know
about national ice cream franchises such as Cold Stone Creamery, Baskin-Robbins, Freddy's Frozen Custard, and Dairy Queen, all of which have locations in Fayetteville. But in addition to the places featured on these pages, we wanted to let you know about a few other spots you can get the scoop on delicious cones.
Deep Creek Outfitters
, at 1122 Person St., sells firearms and fishing gear, and also has a grill that serves up burgers and chicken cheesesteak sandwiches. Deep Creek also serves up 15 flavors of Hershey's ice cream.
Scrub Oaks Contemporary American Pub
, at 5780 Ramsey Street, has full menu lunch and dinner menus, but recently added homemade ice cream to the menu, including flavors like chocolate peanut butter and banana pudding.
Haymount Exxon
, 1208 Fort Bragg Road, is well-known by locals for the generous serving of Columbo frozen yogurt served each day in a variety of flavors.