By Kim Hasty
Filled with pops of cheerful color, family heirlooms, wedding gifts and repurposed pieces, Hannah and Boston Kennedy's home is the perfect place for reclaiming a sense of calm in a world that can seem uncertain these days.
The young couple both put in long hours in their healthcare professions: Hannah is a respiratory therapist with the Harnett Health System, and Boston is an emergency medical technician with Chatham First Health.
But when they do find that they have some time off, their home offers a happy retreat. Whether spending time out on the deck that Boston and his dad built, or enjoying the open floorplan filled with natural light that Hannah's mom and sister helped decorate, everywhere they look, something or other inspires a smile.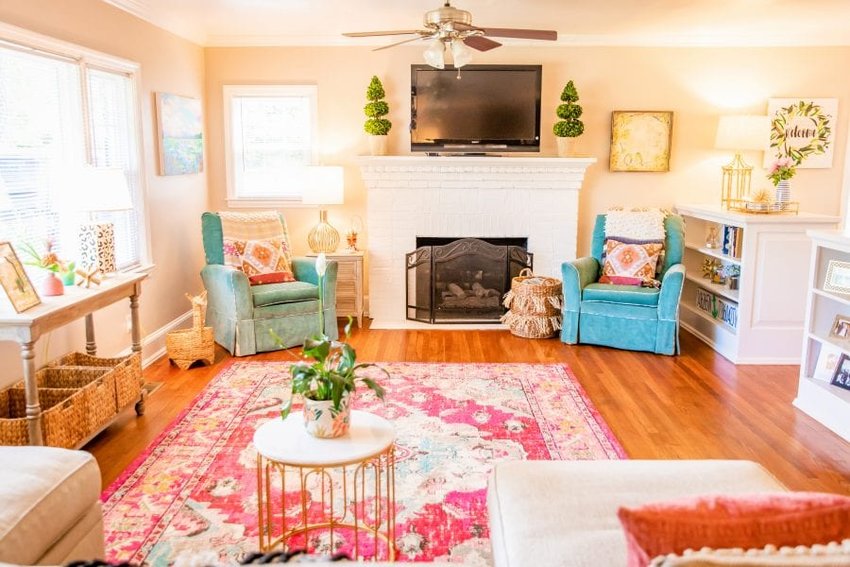 "It occurred to me, looking around, that my home is full of stuff from everybody who loves me," Hannah said.
They knew the three-bedroom, two-bath Forest Lakes ranch house was the one for them the same way they knew right away they were right for each other. They met in Greenville in 2013 and had been practically inseparable right up to their March 2019 wedding in Wilmington.
Hannah said she had always hoped eventually to move back to Fayetteville, where she has fond memories of a childhood spent with extended family members living close by. The Kennedys were drawn to their home's proximity to family and large backyard, perfect for relaxing and watching their pooches, Cooper and Pa, play.
Built in 1952 and featuring convenient built-in pieces, the home already had been updated with stainless steel appliances, granite countertops and new flooring. Touches such as painting the brick fireplace helped make it their own, though they enjoyed keeping some of the home's cute and quirky features, like the old-fashioned nook at the end of the hall that once housed a rotary phone and windows over some of the interior doors.
Hannah's eye for color makes their home pop, a talent she shares with her sister, Kathryn Morketter, who owns a color-filled home of her own nearby. Both girls were inspired by their mother, Frances Morketter, who owns Betty Kelly's Gift Shop in Haymount.
"They are having the best time with their little house,'' Frances Morketter said. "I love the charm of their house."
While it helps to have a mother who knows a thing or two about the latest in home furnishings and accessories, the home's character also is enhanced by vintage family pieces and unusual finds. A dresser that once belonged to Betty Kelly – Hannah's late grandmother, and namesake and founder of the gift shop – is painted mint green and accents the guestroom.
"My mother always said that the best piece of furniture you can have is a dresser," Frances Morketter said. "It can go in any room in the house."
Boston's mother gave them their upholstered master bed, a modern piece that looks at home next to a heavy chest that belonged to Hannah's fraternal grandmother. Two chairs in the family room represent a stunning coup. Upholstered in turquoise-colored fabric with a kick pleat in a contrasting fabric, the chairs came at the irresistible purchase price of free.
"We thought the sign was referring to the pillows being free," Hannah said.
While the home is filled with color, neutral walls offer a blank canvas and versatile backdrop. The various styles of furniture, accessories, oriental rugs and artwork combine for a style that looks lovely without being overly formal.
"I don't ever feel like my stuff has to match," Hannah said. "I've never bought a matching set."