by Kirsten Harr
Many people think of driving to the beach, heading for the city or escaping to the mountains when they want to take time off from work to relax. When Fayetteville resident Billy Wellons wants to relax, he gets on I-95 North and drives five miles to Falcon, North Carolina. Though ocean waves are enticing, over 100 miles separate Falcon from the closest beach. The big city feel is not what draws Billy to Falcon; Falcon is a small town with a population well under 400. Mountainous terrain is certainly not what Falcon is known for, the elevation there is only 141 feet. So, what draws Billy to Falcon after a busy day or week in the office? It is what lies on his family's 280-acre plot of land: his man cave.
Billy, a native of Dunn, North Carolina, has fond memories of visiting his grandparents in Falcon. From the time he was five-years-old until he graduated high school, he went to visit his grandparents there at least once or twice a week and lived there in the summer time to work on the farm. Billy remembers working long hours on the farm with a mule and sled and how excited he was when his grandfather bought him his first tractor. He also has fond memories of churning homemade ice cream with seasonal fruit every Wednesday night with his mother, father and three brothers.
His mother, a native of Falcon, grew up right down the road from where Billy escapes to now and he purchased her family's old property in 1984. Billy's mother named the house, which was built in 1910, "The Gathering Place."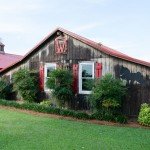 The house earned its name after Billy's mother and father began a family tradition of gathering at the farm every Christmas and Thanksgiving. To this day, the family has not missed having a Wellons Family Christmas at The Gathering Place.
Across from The Wellons' Family Gathering Place, sits an old barn built about 30 years after the house. Any visitor on the property may expect to find a few of the 32 Tennessee walking horses Billy raises inside the property's other barn, but this particular barn is off limits to horses.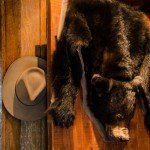 Though he was tempted to tear the barn down when they first purchased the land, Billy's father convinced him to keep it. In the almost 30 years since the Wellons family purchased the property, the building has transitioned from a traditional barn to an apartment. Ten years ago, Billy took the barn and made it all his own. He wanted to keep the integrity of the barn and maintain its original structure. The timbers and exterior of the barn are exactly the same as when it was built over forty years ago. The original brown wooden interior gives the man cave the perfect blend of a barn and a hunting lodge. Today, a bear skin hangs on the door, handcrafted wooden furniture adorns the space, mounted ducks hunted by Billy hang on the walls and a Ducks Unlimited leather chair sits in front of a fireplace. The space is, undoubtedly, designed for and by a hunting man.
"I clean it up, and I look after it," said Billy. "It's my own personal man cave." This man cave has everything Billy needs, including a living room, television, full kitchen, full bathroom and a bedroom. The only thing missing from the space is a telephone, which Billy says he intentionally left out. "I have a cell phone," he said. "But this is the place I come to relax, get by myself, be quiet, and have a good time."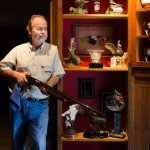 Billy and his wife have an agreement that this is one area off limits to her. "It's my piece of mind," he said.
Billy most enjoys the space after a hard day of work on the farm. "I can come down here on Saturdays and Sundays, get on my tractor, work, cleanup, do physical labor and I can come in here and take a nap," he said. "It's peaceful and helps me relax."
Farm work is not the only thing that continues to draw Billy to the property in Falcon. With a mile of frontage on the Black River, and a pond stocked with bass, there is plenty of fishing, wood duck and mallard hunting.
"I use guns to hunt, I don't collect them," he said, pulling out a hunting gun he has owned and used since he was 16-years old.
Billy eats what he hunts and the kitchen in his man cave is the site for preparing meals after a good hunting day.
"I don't share with a lot of people, but when friends and family come, it's open," he said.
When asked what he loves the most about his haven, Billy responded: "Comfort, peace, and solitude."
"You're in the country," he said. "It's just a good old place that can humble you and bring you down to earth. That's the thing I like about the country, if you come out here to work and sweat all day, you feel so good. The smell of horses, the farm land ... farmers cutting the field or cutting the grass."