BY: KIM HASTY
PHOTOGRAPHY BY: CINDY BURNHA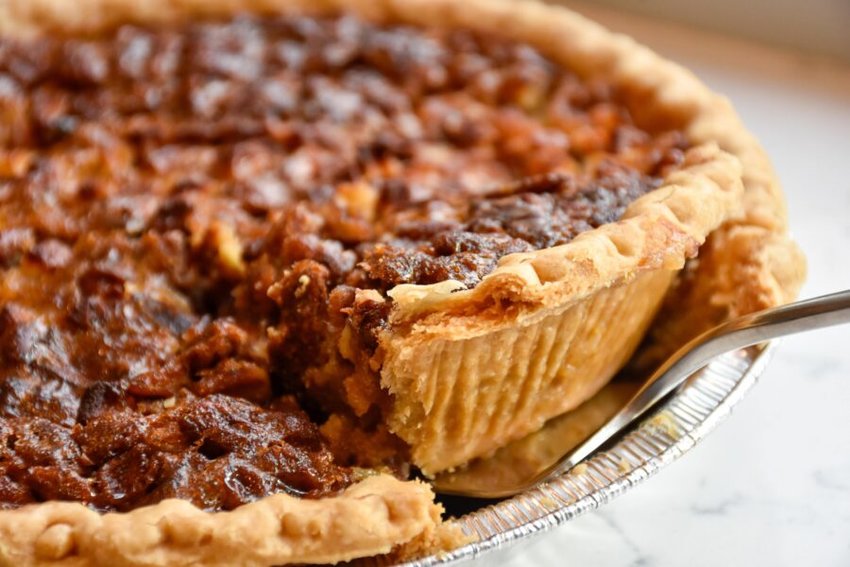 For years now, Mackie Weeks has packed baskets brimful of homemade goodies to give to her four sons and their families, as well as to her sisters and other loved ones during the holiday season. She would spend months lovingly filling jars with homemade muscadine jelly, plum jelly, blackberry preserves and homemade cranberry sauce, along with homemade cookies, Amish friendship bread and roasted pecans.
A lot of love went into all those goodies.
"I believe in giving of yourself," she said.
The baskets brought back fond memories, too. The Weeks family refers to the homemade cookies as "nut fingers." The cookies are similar to Mexican (or Italian) wedding cookies that are dusted with powdered sugar. When her boys, who now range in age from 40 to 50, were growing up, they would leave telltale trails of powdered sugar as a result from swiping the cookies.
Probably as a result of those happy kitchen memories, all four of the Weeks boys are good cooks. Josh Weeks, in fact, is a gourmet chef who cooked for Barack Obama in 2010 when the president and first lady visited The Corner Kitchen restaurant in Asheville where Josh was head chef. He now is in the process of opening a heritage farm restaurant, housed in a former Texaco station in Waynesville.
When the pandemic hit, and Mackie Weeks realized that staying safe would keep her from doing things like picking the fresh fruit that went into many of her goodies. Instead, she turned to Josh for advice. Opting for making pecan pies for everyone, she set out to find a good recipe.
Well, not just a good recipe.
"I set out to find the very best pecan pie recipe," she said.
She spent the summer months patting pie shells into tins and filling them with various test incarnations of the sweet and the nutty.
Both of her late grandmothers were pecan pie bakers, but their recipes seemed too sweet.
"Growing up, I remember thinking their pecan pie was too sticky," she said. "I would choose to go for something else."
Josh sent her a recipe that she declares to be the winner. The difference in the chosen recipe and most others is that it doesn't call for corn syrup.
Mackie Weeks has the baking down to such a science that she can whiff the air and tell that a batch needs "about five more minutes."
The proof is in the results: a delicious pie that is sweet but not too sweet."I like the fact that the taste of the pecans comes through," she said.
Give her recipe a try and let us know what you think. As a bonus, we've included a recipe for a concoction called Banoffee Pie that the oldest Weeks son, Justin, recommends.
PECAN PIE
Ingredients
3 eggs, beaten well
1 ½ cups brown sugar
½ cup melted butter
4 teaspoons lemon juice
1 teaspoon vanilla
1 cup pecan halves or pieces
9-inch pie shell


Directions
Preheat oven to 350 degrees. Whisk
together eggs, sugar, lemon juice,
melted butter and vanilla. Stir in
pecans. Pour into pie shell. Bake 40
minutes or until firm.
BANOFFEE PIE
Ingredients
30 ounces sweetened condensed
milk
14 graham crackers
6 tablespoons unsalted butter,
melted
nonstick cooking spray
1½ cups heavy cream
1 tablespoon sugar
3 bananas, sliced
chocolate shavings, for garnish


Directions
Preheat the oven to 400 degrees.
Pour the sweetened condensed
milk into a baking dish. Cover with
aluminum foil and set in a larger
baking dish. Fill the larger dish with
hot water until it reaches halfway
up the sides of the smaller dish.
Place in the oven and cook for 90
minutes. Check the water level
occasionally, making sure that it
reaches halfway and refilling as
necessary.
Carefully remove the baking dish
from the hot water bath and let
cool to room temperature. Whisk
the mixture until smooth. Reduce
the oven temperature to 350.
In the bowl of a food processor,
combine the graham crackers and
melted butter. Pulse until crackers
are finely ground and the mixture
resembles wet sand. Grease a
9-inch tart pan with nonstick spray.
Add the graham cracker mixture to
the tin and press evenly to cover
pan completely.
Bake crust for 5 minutes, until
golden and fragrant. Transfer to
a wire rack and let cool to room
temperature. Spread the mixture
in the cooled tart crust, using a
flexible spatula to smooth it into an
even layer. Cover and refrigerate
for at least four hours or overnight,
until set.
In a large bowl, beat the heavy
cream until soft peaks are just
beginning to form. Add the sugar
and beat until soft peaks form.
Scatter the banana slices over the
pie. Top with the whipped cream,
spreading evenly to cover bananas,
and garnish with chocolate
shavings