Action comes same day District 3 councilman sworn into office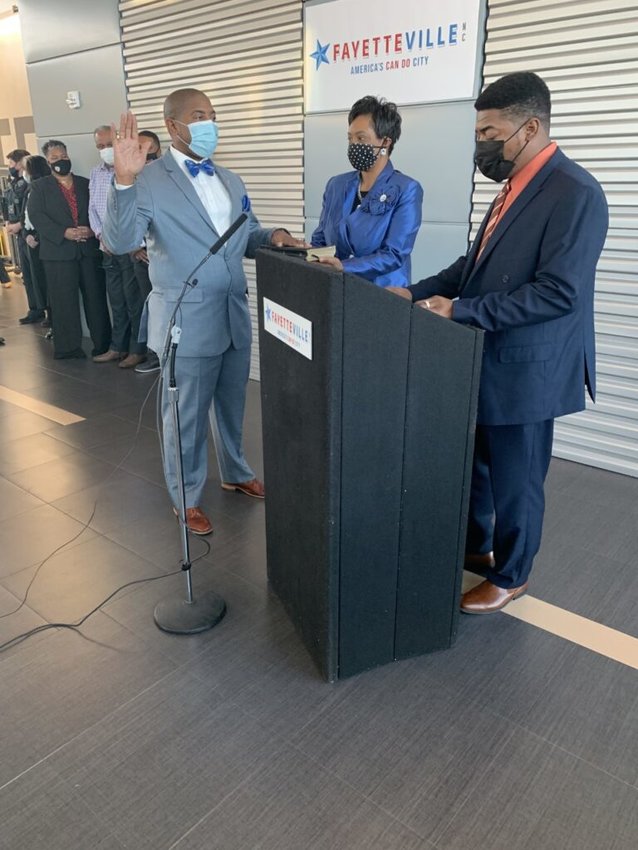 By Bill Kirby Jr.
While Antonio Jones took his oath of office Tuesday on the Fayetteville City Council, a sitting council member found herself on the proverbial hot seat after recently criticizing the elected body as "corrupt" at a Dec. 6 work session.
Councilwoman Shakeyla Ingram was called out by Councilman Chris Davis not long after Jones was sworn in to the District 3 seat vacated Nov. 9 by former council member Tisha Waddell.
"I first want to thank my Lord and savior, Jesus Christ," Jones, 48, said in the swearing-in administered by his brother, Adrian Jones, who is a notary public, in the brief ceremony at the FAST Transit Center. "I want to thank my wife, my extended family and the city of Fayetteville. I am dedicated and committed to doing my very best. You have my assurance I will do everything I need to do over the next few months."
A Realtor and pastor, Jones was selected Monday to serve out Waddell's term through May in a 6-3 council vote by Mayor Mitch Colvin, Mayor Pro Tem Kathy Keefe Jensen and council members D.J. Haire, Larry Wright, Davis and Johnny Dawkins. Mario Benavente, a 31-year old law student at N.C. Central University, was supported by Yvonne Kinston, Courtney Banks-McLaughlin and Ingram. Benavente, who has filed for the District 3 seat in the May primary, attended the swearing-in and later congratulated the new councilman.
The council later met in a special meeting to select a Citizens Police Advisory Board and to consider a resolution of censure regarding Ingram.
No apology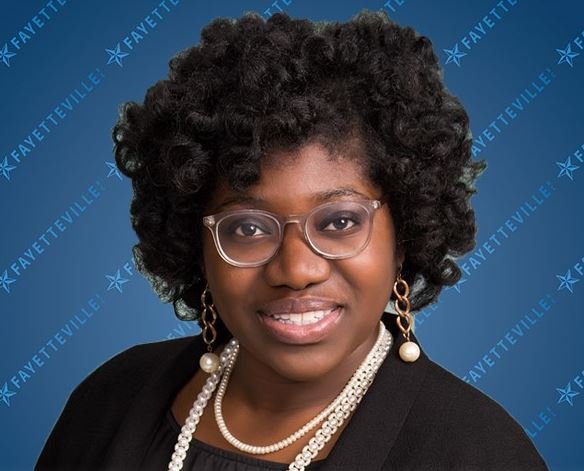 The censure is related to a comment Ingram made at the close of the Dec. 6 work session, when the District 2 councilwoman complained the council did not follow up on a vote to address her motion on a crime prevention matter.
"This is the most corrupt-(expletive) board I have ever served on," Ingram said.
Dawkins took umbrage with the remark in an email to the mayor, saying he demanded an apology from Ingram "to the entire council individually and collectively, as a body, at our next publicly-aired meeting."
Dawkins, who was censured by the council recently for an outburst at Councilwoman Kinston, said in the email that Ingram "may have defamed" the council and it might wish to consider "legal action against CM Ingram." Kinston made the motion to censure Dawkins, and the motion was seconded by Ingram. The censure passed unanimously, and Dawkins later publicly apologized to Kinston.
Tuesday's resolution said:
"The following members of the Fayetteville, NC City Council officially condemn your actions and words directed towards the City Council at the conclusion of the December 6, 2021 City Council Work Session. Your outburst was in direct conflict with City Council Policy 115.15 (Mayor and City Council Protocol and Code of Conduct, page 5 item #6). We have individually and now collectively determined your conduct during this specific meeting was unprofessional and impermissible and not in the best interest of the City of Fayetteville. Now, therefore, be it resolved on behalf of the people of Fayetteville, this Council does hereby resolve that your above stated actions warrant an Official Censure."
"I would like to acknowledge the resolution," Ingram said after the council's 8-0 vote, with Jones excused from the vote. "But I realize you have to vote your consciences."
But Ingram did not apologize.
She did not apologize for calling the council a "corrupt'' board, Dawkins said in an email late Tuesday. "We have to move on, and put her outburst behind us."
Ingram said during Tuesday's meeting that her comment was made after the meeting had adjourned, a point supported by Kinston prior to the censure.
Ingram did not respond to an email Tuesday seeking further comment.
"Make a motion to adjourn, Mr. Mayor," Wright said on a review of the livestream telecast of the Dec. 6 meeting.
"No sir," Ingram responded. "I didn't hear a consensus to my second part."
But Davis said Ingram violated city policy and called for censure, a motion seconded by Dawkins.
'Enough is enough'
"It's my hope and prayer we can get to points we don't continue to do this," Haire said before the censure. "We are the ones who control ourselves. It is my hope this is the last time we're going down this path. Enough is enough. Let's be civil and respectful to one another.''
The mayor echoed Haire's words.
"We have to hold each other with respect," Colvin told the council. "Like Mr. Haire said, this is nothing we need to visit again."
Ingram is the second council member to criticize the council in the past six weeks.
Waddell, a former two-term councilwoman, alleged unethical conduct by the mayor and other council members in her letter of resignation on Nov. 9. Waddell was notably critical of the mayor's lack of transparency with the council regarding a private equity group wanting to manage the Fayetteville Public Works Commission.
The mayor has called Waddell's allegations baseless.
Also on Tuesday, the council trimmed 21 candidates for the Citizens Police Advisory Board and agreed to draw the first 10 names from a basket to serve. Those selected are Lionel Cartwright, Jim Bove and Julie Aul to three-year terms; Jacqueline Clay, Pablo Arroyo and Sidney King to two-year terms; Debra Slaughter, Tony Haire and Gregory Perkins to one-year terms and Juana Magnum as an alternate.
Bill Kirby Jr. can be reached at bkirby@cityviewnc.com, billkirby49@gmail.com or 910-624-1961.