Call it an exciting day for Meredith and Joey Short at the Merry Bee farm. Archie Joe Short is on his way, and the late Archie Thomas and the late Joe Thompson, you can be assured, are grinning from heaven.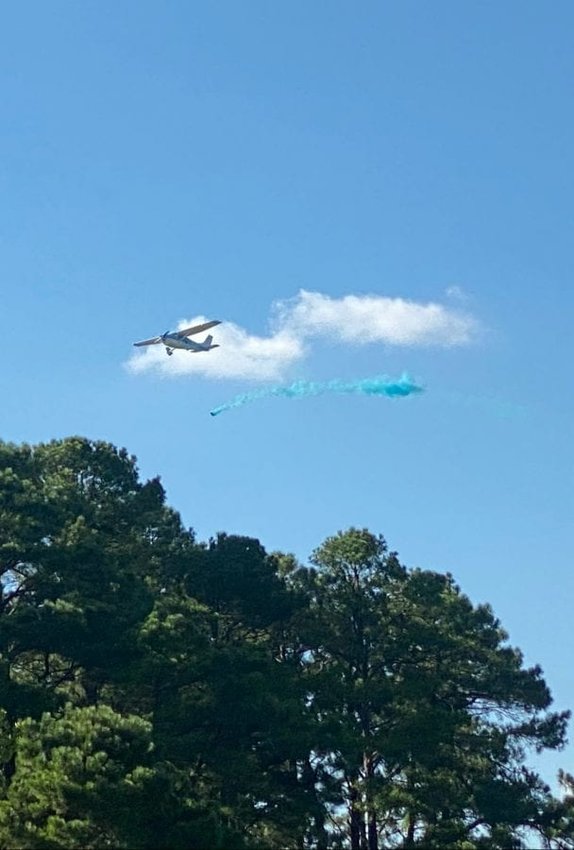 You could see the Cessna 182 single-engine air craft soaring over the Merry Bee farm just across the county line in west Fayetteville.
Meredith and Joey Short held one another close.
Imagine, if only you can, the young couple's anticipation on the sunny afternoon of July 26 for this "gender reveal" of their firstborn.
"We weren't going to find out the sex until delivery," Meredith Short says of the Nov. 10 due date. "However, Joey was very set on knowing ahead of time, so we planned a reveal."
Now, the moment was near.
Pilots Dickson Schaefer and John Wilson were in the sky.
"I ordered both pink and blue powder and gave him an envelope with the gender inside the Thursday prior," Meredith Short, 29, says about Schaefer, the orthopedic surgeon and close friend of the couple. "From there, he picked which color to use to surprise us. Neither Joey nor myself knew the sex before that moment at the farm."
Already, they had agreed on a name for their child – Archie Joe Short, if a boy, to be named after Meredith Short's late grandfather, Archie Thomas; and Joey Short's late grandfather, Joe Thompson, who died at age 86 on April 5. Ollie Jo, if a girl, and to be named after Meredith Short's late grandmother.
'A mother's intuition'
"I was pulling hard for a girl," Joey Short, 29, says. "I have always wanted to have a girl."
But Meredith Short had a feeling.
"I thought all along that we were having a boy," says the small-animal veterinarian and mother-to-be who grew up in Raleigh. "Call it a mother's intuition."
Now the moment.
Dickson Schaefer unleashed the bag of powder.
"It's a boy!" someone exclaimed as Joey and Meredith Short embraced.
Imagine the couple's racing hearts.
"I think Joey was more shocked than I was to see blue instead of pink," Meredith Short says. "Even though Joey was a die-hard, team-girl dad, we both know he will make an amazing boy-dad, as he loves hunting, fishing and the outdoors."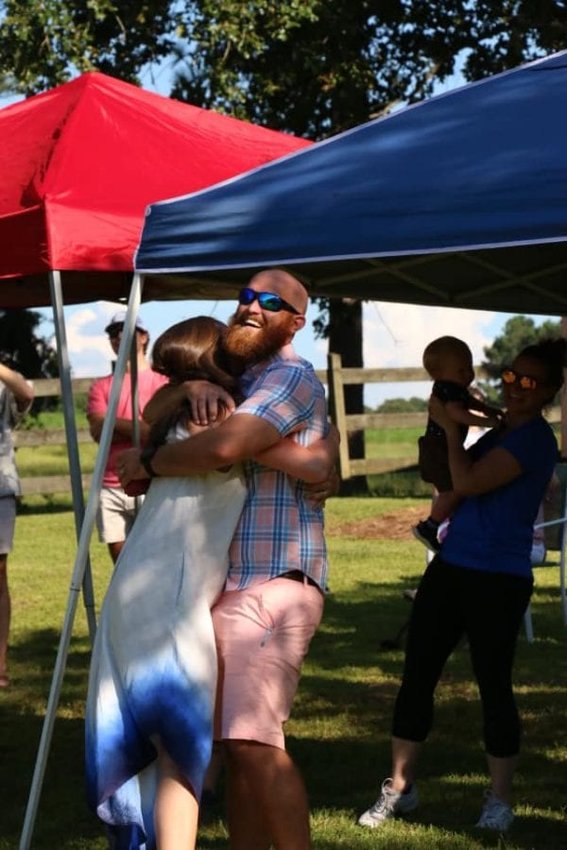 Joey Short still relives that precise moment in time of knowing he'll be the father of a son.
"As Meredith said, I was pulling hard for a girl," Joey Short says. "I have always wanted to have a girl. When I saw the powder come out of the plane, I said to myself, 'It's a boy!' Kind of in disbelief, because I had convinced myself it was a girl. Although not what I was expecting, I was super-excited to see the blue powder coming out of the plane. Regardless of gender, Meredith and I just want to have a happy and healthy baby, and either way, I was gaining a new hunting and fishing buddy."
And be assured that in the years to come, this father and son will one day gather on the rolling pastures of this picturesque farm with the lake nearby that was so dear to the late Joe Thompson's heart, and where Joey Short and Meredith Brown Short exchanged their wedding promises during Hurricane Matthew just four years ago.
"We could not think of a better name for our son than Archie Joe," says Joey Short, who is employed with Murphy Family Ventures on a hog farm in Bladen County. "Archie Thomas was Meredith's grandfather. I did not have the pleasure to meet him, but he was a great man and a major part of Meredith's life. Not to mention he was an avid outdoorsman. Of course, Joe comes from my grandfather Joe Thompson. I wanted my child to have his name because he was the most influential person in my life. We are super excited that Archie is due on November 10, which would have been Joe's birthday. When we told him that we were pregnant and the due date was his birthday, he looked at Meredith and said, 'You are right on target girl.'"
Epilogue
As for the good doctor who delivered "the reveal" of Archie Joe Short to the anxious and excited couple, Dickson Schaefer could not be happier than to have played a part.
"Joey called to see if I knew a crop-duster that would do it," Schaefer says. "I volunteered to do it. Meredith had her neighbor order the powder. I had a friend loan me the bag to disperse the powder. John Wilson went with me so he could fly the plane when I dropped the powder. Pretty great deal to be able to do it for them. They are great friends of ours. I think the world of both of them. Really fun to be part of it."
And something Joey Short wants Schaefer to know.
"Dickson, being the guy who is always lending a helping hand, volunteered to do it for us," Joey Short says. "Dickson and his wife Emily will be huge part of our child's life, just like they have been to Meredith and me."
Now, Meredith and Joey Short know for sure.
"Archie is excited to meet everyone," Meredith Short says with anticipation. "He's already so loved!"
Archie Joe Short is on his way.
Bill Kirby Jr. can be reached at bkirby@CityView.com, billkirby49@gmail.com or 910-624-1961