Health, December 2021
BY KIM HASTY | PHOTOGRAPHY BY ROXANA ROSS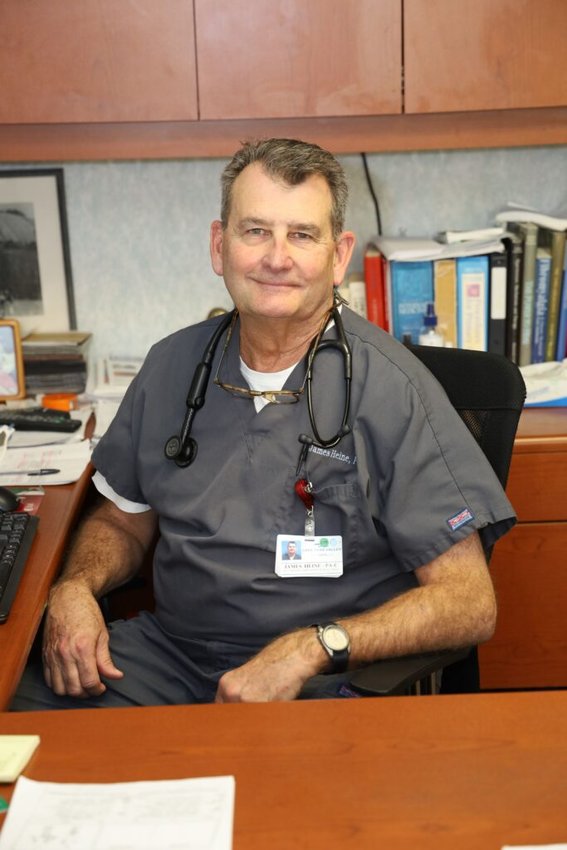 Even that time-tested apple a day shouldn't keep your doctor away. And now that vaccinations are readily available, neither should COVID.
Dr. Christopher Imber, MD, and Jim Heine, PA-C, of Cape Fear Valley's Fayetteville Family Medical, agree that for anyone who has been putting off annual physicals and other routine exams and screenings, it's time to schedule those appointments.
"Having a primary care provider is incredibly important for your overall health," said Heine, who has been with the practice since it was founded in 1982. "They are your quarterback, your home base, your gatekeeper. Everybody needs a primary care provider."
During the pandemic, patients became understandably leery of visiting communal areas such as waiting rooms and medical clinics. That led to delays in care that could sometimes have life-threatening implications.
"When the pandemic hit, especially before vaccines, a lot of people were afraid to come to the doctor and the hospital," Heine said. "So they put off getting their routine care. And a lot of people who have chronic diseases like kidney disease and diabetes were possibly not in good control. A lot of damage can be done during that time … heart damage and kidney damage, for instance, which can really progress or shorten their lifespan.
"We see people all the time who come in for a routine checkup and find out that they're in atrial fibrillation that they weren't even aware of or that they're diabetic," Heine said. "Or that they've got reduced kidney function or their blood pressure's up. They're going to do well for a while, but then it's going to catch up with them. Most people with high blood pressure feel fine." During the pandemic, Cape Fear Valley Health implemented telehealth visits, allowing patients to check in with their doctors by video. Telehealth is an important service and be effective particularly for conditions like anxiety and depression, but nothing can match an in-person visit, Imber said.
"There's no substitute for an actual doctor's visit and a check of vital signs and lab work," he said. "All the stuff they can't feel and that we can't tell over the phone." Heine agreed. "A lot of times we pick up palpable neck cancers, oral cancers, melanomas. Telemedicine has its place, but it doesn't take the place of a good, hands-on exam."
Unchecked diseases can have devastating effects. Complications associated with diabetes, for instance, include damage to the heart, the eyes, the kidneys, the nerves and the circulation.
"Ultimately, those things can lead to heart attacks or stroke," Imber said. "People can be asymptomatic. Until they aren't." Heine remembers one patient who was experiencing atrial fibrillation, or irregular heartbeat, without knowing it.
"We started him on an anticoagulant and got him a cardiac workup with a cardiologist," Heine said. "They changed his heart rhythm to a normal one." Fayetteville Family Medical provides care for people of all ages and is the largest of Cape Fear Valley's family clinics in the area. The four physicians and five mid[1]level providers maintain a bustling pace Monday through Thursday and half days on Friday. The clinic also serves as a teaching facility for a variety of residents, including medical and pharmacy residents and nurse practitioners.
It's a busy clinic, but they also maintain a keen awareness of trying to stay on schedule and keep patients' waiting time to a minimum.
"Everybody here knows that a patient's biggest complaint is if they have to wait," Heine said. "We work very hard to stay on schedule. Things do happen, but we work really hard to stay on schedule."
That means there's no reason to put off those important screenings like blood pressure checks, mammograms, colonoscopies, prostrate screenings and bone density tests.
"A lot of people are just now starting to come on board and get back," he said. "It's important that people get back and realize that it's safe to come back to the doctor's office again. I think people are starting to get more comfortable with coming back."