BY KIM HASTY, November 2021
PHOTOGRAPHY BY CINDY BURNHAM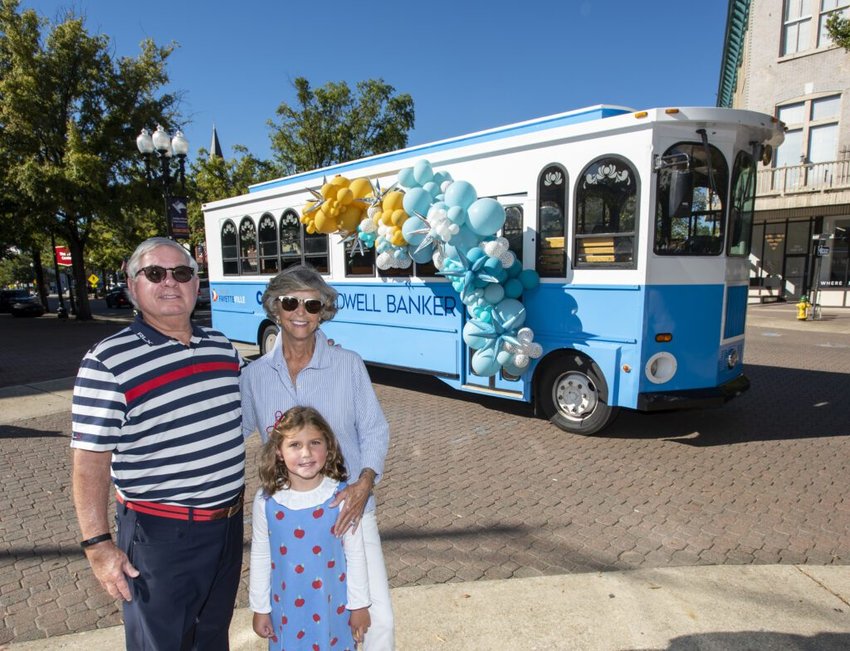 Judy Garland first sang about the clang, clang, clang of the trolley in the 1944 film "Meet Me in St. Louis. All these years later, two new Fayetteville trolleys seem to have everyone's heart strings going zing, zing, zing as well.
"People are so excited about them," said developer Ralph Huff, who was instrumental in helping to bring the two shiny blue Can Do Coldwell Banker trolleys to town. "Those who are concerned about Fayetteville being a better place, they are ecstatic."
The trolleys began running in the middle of October on a limited route that includes downtown Fayetteville, historic Haymount and the B Street Corridor from 6 to 10 p.m. on Fridays and Saturdays. The Cool Spring Downtown District, which launched and oversees the service, plans to expand the service.
Bianca Shoneman, who first initiated a trolley conversation with Huff when she was hired in 2019 as president of the Cool Spring Downtown District, envisions a variety of uses for the trolleys.
"We were talking about our shared vision for the downtown for the families of visitors and residents alike," she said. "I hope the trolleys will be an integrated part of the community."
A trolley, she said, like a subway or train, has an excitement about it. A street trolley fits in with the look and feel of downtown Fayetteville.
"I can see a Holly Jolly lights tour with elves on the trolley and everyone singing Christmas carols," she said. "I can see history tours and people renting the trolley for private events. It's an opportunity to make memories."
Getting the trolley up and running was no overnight endeavor. In her previous position as CEO of Uptown Greenville, Shoneman worked with a third-party operator to have trolleys at special events in the downtown college community. She and Huff talked about how popular they believed the trolleys would be for all ages.
"Well, Bianca, that is a great idea," Huff said, "and I can tell you right now I'll be glad to help you with that."
But the COVID-19 pandemic put the trolley plans on hold until earlier this year. Shoneman's research yielded two options, one new electric trolley or two diesel-powered used trolleys. The decision was clear once they learned that the electric trolley could only run for six hours at a time and then would need to charge for eight hours.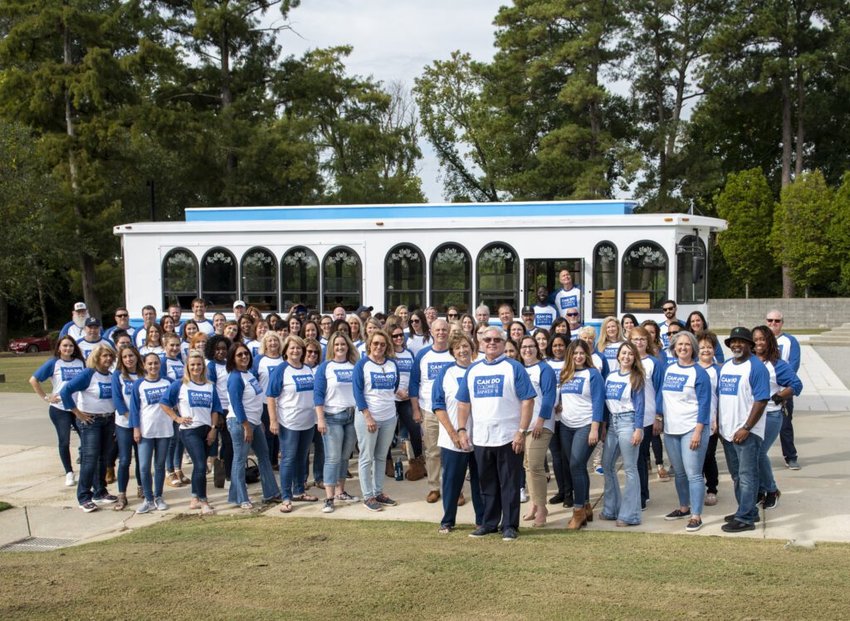 "That totally would not work," Huff said. "I wanted to be respectful of the idea that electric is good, but it wasn't a bit practical. I want the trolley eventually to be able go to Methodist University and stop at Fayetteville State University and drop some young kids off downtown at 11:30 in the morning and make a reverse run at 1:30. And then do it again at 5 and 7. With the diesel trolley, everything is possible."
Huff and his wife Linda paid for half the cost of the trolleys, while Huff's Coldwell Banker partners, Suzanne Pennink, Tim Milam and Gary Rabon, agreed to pay the other half. "They whole-heartedly and instantaneously agreed to do that," Huff said.
The trolleys arrived with authentic wooden seats, reminiscent of the original San Francisco cable cars, and in need of some exterior branding and a little TLC.
The Fayetteville New Car Dealers Association and Coldwell Banker covered the cost of swathing the previously red trolleys in blue and making them look brand new. Shoneman enlisted the help of Sure Modes of Everyday Transportation, a local transport company, to manage the daily operations.
And now the trolleys are up and running, complete with a ding, ding, dinging bell.
"It's a little brass bell, and it's adorable," Shoneman said. "We spend all this money and the $10 bell is my favorite."
Anyone interested in renting one of the trolleys for a private event or advertising opportunities, can contact Bianca Shoneman at info@coolspringfay.org