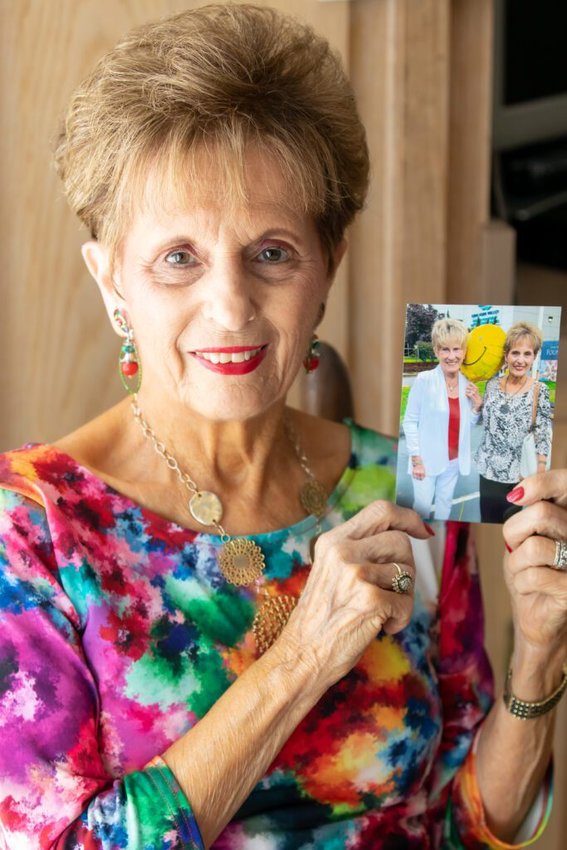 A multi-purpose event center for this community is not only about today,
but about what we build for generations to come. And there is no time to spare
Judy Dawkins hadn't planned to say anything last week about a consultant group's report on whether this community should proceed with plans to build a multi-purpose event center to replace the aging Crown Complex Theatre and Arena scheduled to close in November 2025.
But after hearing from Adam Kerns, executive director of Conventions, Sports and Leisure, the consultant group hired to do a market and financial feasibility study, Judy Dawkins could not help but raise her voice in support of a new facility.
"We have got to do this," Dawkins, 80, told those who came to the Crown Coliseum ballroom, where they would learn from Kerns that this community can construct a multi-purpose event center. "And the sooner and quicker we do it, it will get built."
Construction will be expensive, Kerns said, and between $70 million and $80 million.
Potential sites, Kerns said, are downtown, the I-295 Outer Loop or the Crown Complex on U.S. 301, where the old theater and arena have stood since 1968.
The $125,000 study was paid for with funding set aside by Spectra Venue Management that manages the Crown Complex for the county, as part of a 2017 management agreement with Cumberland County for mutually agreed-upon projects. Over the past 18 months, CSL, according to a county news release, studied the regional market, similar facilities and communities and gathered feedback from public input forums, interviews with key stakeholders and an online public survey.
The study's recommendation is to build an 89,000-square-foot multi-purpose venue with a maximum capacity of 2,500 to 3,000 people. The estimated cost, in 2021 dollars, would be $75-$80 million and does not include the purchase of a site.
"Our Community Can Support It"
"We should be excited," Charles Evans, chairman of the Cumberland County Board of Commissioners, said about the 200-page report that has now been turned over to the Board of Commissioners and county staff. "We are excited that the study has been completed after being delayed by the COVID-19 pandemic and we want to thank CSL for their work. After reviewing the details in the report, the board will be scheduling a meeting in the future to discuss next steps."
Commissioner Jimmy Keefe, who is liaison to the Civic Center Commissioner, said a multi-purpose event center can be profitable.
"Our community can support it, and the main thing is that our community deserves this," Keefe said. "This can be done, and now's the time we get moving."
Fayetteville Mayor Pro Tem Kathy Keefe Jensen pointed out that there were skeptics when the city built Segra Stadium for the Minor League Fayetteville Woodpeckers baseball team. Skeptics, too, on a city parks and bond referendum.
"We can corroborate with the county," she said. "It has to go downtown, and we cannot skimp. It has to be done first-class."
Some of us are not so certain a potential event center should be destined for downtown. Others, myself included, like the I-295 Outer Loop because of less traffic issues, better ingress and egress and the proximity to Fort Bragg.
Time will tell.
"Personally, I was very excited to hear the results of the study," said Jim Grafstrom, general manager for the Crown Complex. "This process started with a broad thought of what the facility should be, but the research and community discussion dictated a slightly different direction. As we focus on the future of entertainment facilities and functional space in our community, I look forward to having engaging, open conversations with each of you on how we can make a dream like this a reality. You deserve it, and the community as a whole deserves it."
A Leap of Faith For Tomorrow
This community does deserve it.
There's no time to spare.
Commissioners of the 1960s took a leap of faith and built what today we know as the Crown Theatre and the Crown Arena. Commissioners Charles Evans, Glenn Adams Jr., Jimmy Keefe, Jeannette Council, Michael Boose, Larry Lancaster and Toni Stewart need to take a leap of faith of their own, too, for not only today, but for generations to come.
The last word to Judy Dawkins and her passionate words on Tuesday past when a community learned from consultants that a multi-purpose event center is there for the taking, or shall I say building.
"I've got grandchildren and two great-grandchildren who live here," Judy Dawkins said straight from her heart. "I may not even be here if it's built. I may be in heaven. But you've got to do this."
Those in attendance gave her applause.
And I am with Judy Dawkins.
Bill Kirby Jr. can be reached at bkirby@cityviewnc.com, billkirby49@gmail.com or 910-624-1961.