By Earl Vaughan Jr.
In the Gospel of Matthew, Jesus tells his followers that the last shall be first and the first last.
Ivy Laney, who runs cross country at Fayetteville Christian School, is a living testament to the truth of those words. Her name always appears at the bottom of the list when it comes to her team's finishers.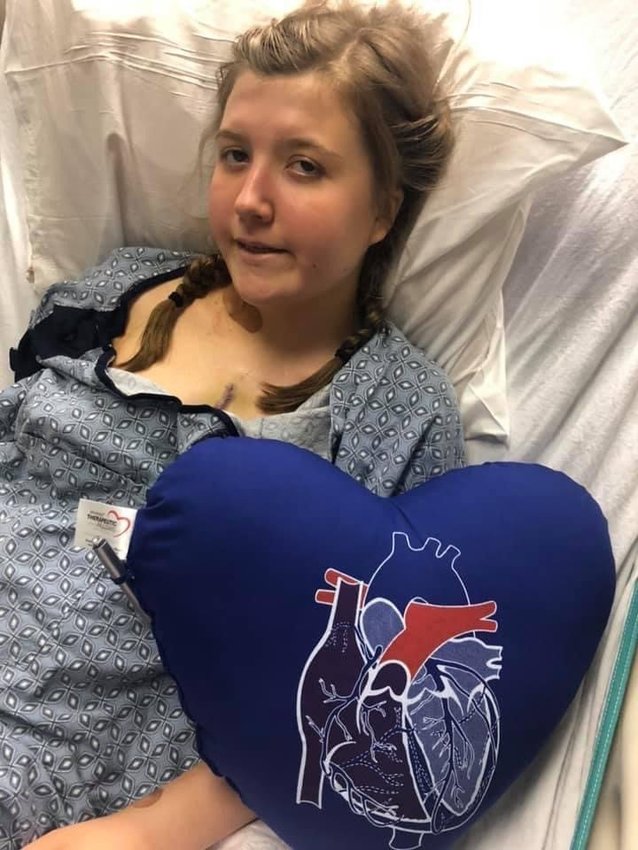 But her coach, teammates and everyone else involved with the Fayetteville Christian community hold her in the highest possible regard for simply being part of the team and running more for sheer joy than for personal glory.
At the age of only 15, Laney has undergone three life-saving procedures on her heart, two of them major operations. The first occurred just after her birth. The most recent, and possibly the riskiest, was this past April.
Dr. Stephen Miller, a practicing pediatric cardiologist and associate professor in the division of pediatric cardiology at Duke University Medical Center, has been involved with Ivy's case since the time of her birth.
In those days, he lived and worked in Fayetteville, heading an outpatient clinic for Duke here.
When she was born, Ivy had a variety of problems. Tests showed her aorta, the main artery that carries blood from the heart to the rest of the body, was narrow and small. There was also a problem with her aortic valve. Normally, a heart valve has three small leaflets. Laney's only had two.
"We were literally told we weren't going to bring her home and there was no hope for her,'' said Ivy's mother, Richelle.
She walked out of the hospital emergency room, fell to her knees, and cried out to God.
"I told him I did not wait four years for him to take her away so quickly,'' she said. "That's when I understood what faith was.''
Ivy's condition was stabilized, and she was flown to Duke. In her first surgery when she was just 13 days old, the aortic issues were corrected as best as possible.
At 4 months old, she had a second less complex procedure.
But as time passed, the defective valve began to block the flow of blood and leak backward when the heart relaxed. Her third procedure in April took six hours and involved replacing the valve.
The surgery requires breaking the sternum, the main bone in the chest, to reach the heart. The patient must heal not only from the procedure on the heart but from the breaking of the bone as well.
That's why heart patients are given a pillow to hold to their chests if they find a need to cough.
The hardest part for Ivy was the loss of human contact. "Ivy is a very lovable person,'' RIchelle said. "She couldn't lift her arms out to give us hugs. For her not to be able to hug back, mentally it was hurtful for her. Her pain level at the hospital was so intense.''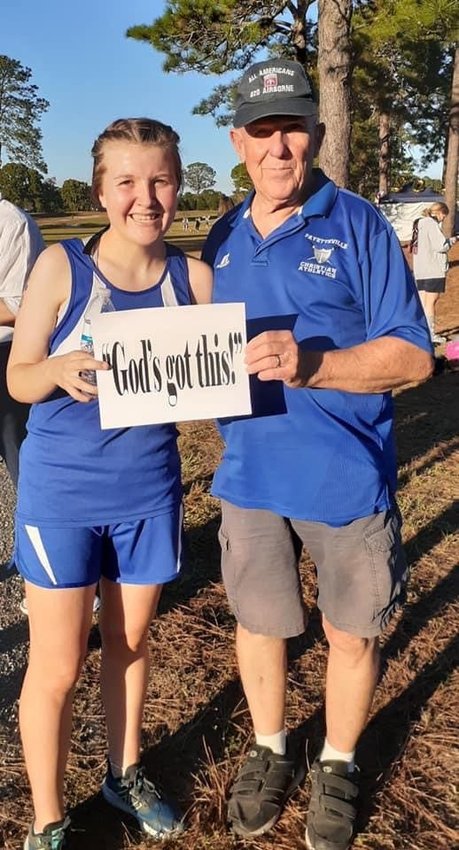 Miller said the challenge for Ivy's surgeons was to return her to the same baseline of activity she was able to achieve before the operation. For Ivy, that meant being on the cross country team.
Back in sixth grade, she had given volleyball a try, but didn't like it. "I was not good with hand-eye coordination,'' she said. Her mom had been a cross country runner, so Ivy decided to give that a try. She finally went out for the team in the seventh grade.
Her mom was unable to be there for her first meet, which turned out to be a memorable experience.
She made the mistake of eating a candy bar just before the race, and when she crossed the finish line, she got sick.
Despite that, she turned to her father Bill and said, "I've found my new love. I never felt that high.''
Ivy said that when she's running, she doesn't have to worry about the world around her. She likes running because of the team and the community it brings, and all the good friends she's made.
Her teammates Katie Magsig and Natalie Hamilton feel the same way about her.
"She's kind of the rock for our team and it's great to have her,'' Hamilton said.
Katie said she loves Ivy's dedication. "When she wasn't able to be running, she was always out there cheering us on, putting her heart and soul into supporting other people, which I always found was absolutely amazing.''
Knowing all that Ivy has been through, races can be a bit of a nervous experience for cross country coach Tom Macagg. He admits all the adults in attendance are nervous for Ivy until the race is finished.
"The Lord sees us through every single one,'' he said.
And he even finds himself using Ivy as a motivational tool for the rest of his runners. Sometimes when he sees a team member slowing to a walk during a race, he'll ask what's going on. If they respond that they're tired, he points to Ivy and says, "She had open heart surgery. What's your excuse?''
Ivy is making no excuses and is already thinking of her future. "I'd like to continue to run in college if I can make it on one of the college teams,'' she said. "I want to shave my time and get a new personal record next year.''
She thanks everyone involved in her long road back to competition, especially her mom for sitting up nights with her when she couldn't sleep.
Miller isn't at all surprised by Ivy's lofty aspirations. "She was always determined to get back to running,'' he said. "She made it clear before the surgery that was her goal.
"That says a lot of great things about her and her family.''