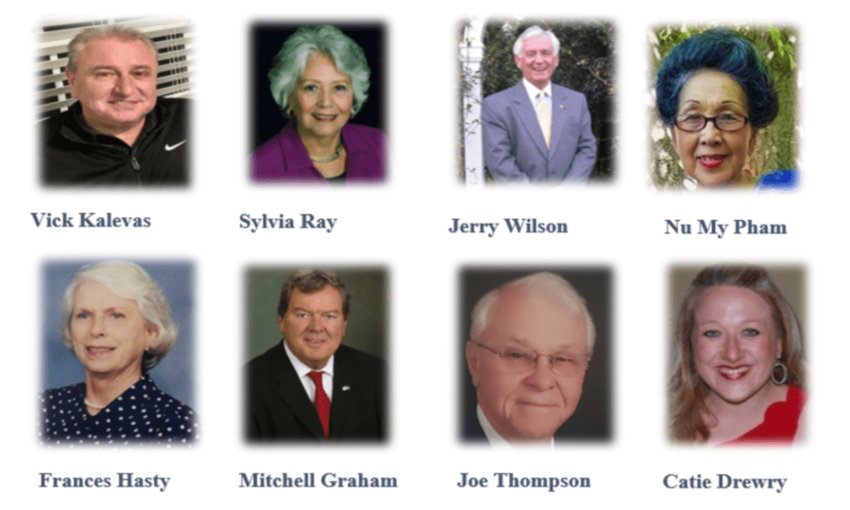 They were fathers and mothers, husbands and wives, sons and daughters, grandparents, our friends and neighbors and a part of our lives, and we said goodbye in 2020. Let us remember, they walked among us and may we never forget.
Paige Ledford never looked at life's obstacles. He saw them as challenges for achievement and made them happen with a smile of his own. James Paige Ledford. 69. December 19, 2020.
***
He was an educator for life, and Cumberland County schools are the
better because Mac Williams was there. James McNeill (Mac) Williams. 88. December 16, 2020.
***
Greg Kalevas wiped away his tears into a handkerchief on this Dec. 15 afternoon when he and his brother, Dino, would bid farewell to the youngest of the Kalevas brothers at Sts. Constantine and Helen Greek Orthodox Church. "Remember the words of Jesus to his disciples," the father would say on this solemn farewell. "One day you will see me again. Until that day, when you will see Vick again." Vick Kalevas was that Greek immigrant who embraced life and all he came to know in life, a victim of COVID-19 with so much more of life to live. Victor "Vick" Kalevas. 56. December 12, 2020.
***
Jack Cox was forever a soldier's soldier, from West Point to WWII and Korea and Vietnam. Col. Cleatus "Jack" Cox. 93. December 6, 2020.
***
Bruce Stephens was a high school athletic referee who called the game young men and women played, and he called their games with heart and soul and fairness for all. He was one of the best. Bruce Allen Stephens. 73. December 5, 2020.
***
He especially enjoyed playing music, going to see live music performances, grilling, wood turning, leather working, traveling, snow skiing, fishing, animals, and hunting for obscure vehicles. But his favorite pastime was hanging out with his friends.
Cameron "Tripp" Easton, III. 51. December 2, 2020.
***
"Bill, thanks for the wonderful tribute to Sylvia Ray," Jonathan Charles wrote in an email about our Dec. 2 CityView newsletter remembering the life of Mrs. Ray, who founded the Center for Economic Empowerment and Development, circa 1990, the nonprofit that reaches out to improving the lives of women and men in this community. "What a bright point for our community. She will be missed." Sylvia Gooding Ray. 70. November 30, 2020.
***
A beautiful woman with a love and kindness for children throughout her life. Lona Mae Smoot. 94. November 5, 2020.
***
"Jerry, his brother Gary, Frankie Maynard and I grew up playing sports as kids," George Breece wrote in an email about his childhood friend Gary Wilson. "We all lived within two blocks of one another. It was the best times as a kid." Jerry Keith Wilson. 75. November 3, 2020.
***
"When it came to the schools, he always kept the dignity of the child and the staff and teachers came to respect him for it," Sherry Hoffman Nobles would tell those who came to Haymount United Methodist Church on Nov.14 to celebrate the life of Bill Nobles, the longtime principal at Alger B. Wilkins Elementary School. A daughter-in-law could not have said it better. Billy Norman Nobles. 79. October 31, 2020.
***
An effervescent personality who captured life through the camera's lens and always held Fayetteville close to his heart. Kenneth "Ken" Cooke. 88. October 29, 2020.
***
He enjoyed a summer day at the fishing pond. Hunting in the woods and "riding side by side" with his family and his friends. They called him "Little Kenny." Kenneth Lee Fulcher Jr. 21. October 25, 2020.
***
A contagious smile for all who called him friend. Harley Charles-Irvin Bower. 26. October 21, 2020.
***
"Bill, the touching story of Mrs. Pham was beautiful," Ed Vaughn wrote in an email about Nu My Pham, owner of the Hay Street Shoe Shop. "Her son, Ben, is my next-door neighbor and a super guy." And Ben Pham, anyone will tell you, was devoted to his mother, giving up a successful banking career to help Nu My Pham operate the shoe shop after the death of her husband, Huyen Pham, in 2008. Nu My Pham. 75. October 13, 2020.
***
"I have lived a blessed and good life, surrounded by a loving family and friends," Ritchie Smith would have us know in the last days of his life, when the Fayetteville lawyer struggled with COVID-19. "How can there be any regrets?" Wilbur Ritchie Smith Jr. 85. September 27, 2020.
***
David Bryan was a quiet giver, from the Cape Fear Regional Theatre to the arts and science programs at Methodist University to the Fayetteville Animal Protection Society to the N.C. Civil War and Reconstruction History Center to medical support for Duke University Medical Center to UNC Hospitals to young people with academic dreams, and he gave generously. Complications from COVID-19 would take a generous man's life. David Carroll Bryan. 80. September 10, 2020.
***
Gifted, loyal and loving to all who called him friend. Jamison Daniel Williams. 38. September 8, 2020.
***
Junior Edge, no matter the sport, was a legend on "the hill," who took his football quarterback skills to Chapel Hill for all to see in 1963 Gator Bowl. Bias Melton Edge. 79. August 29, 2020.
***
"She was the giant upon whose shoulders stand all of today's elected women who share her great legacy," Marshall Faircloth, then chairman of the county commissioners, would remember Mary McAllister, the first African-American woman to serve on the Cumberland County Board of Commissioners from 1980 to 1988 and 18 years beginning in 1990 as representative of the 43rd District in the N.C. House. "Her influence and love for this community will be felt for generations." Mary E. McAllister. 83. August 20, 2020.
***
Frances Hasty had a passion for gardening and loved the fragrance of gardenia and lilies. She had a love of music, the keys of a piano, state history and literature, and, of course, the written word. She loved a good story to tell, and a headline that would catch any reader's eye whether the story be about someone's Fayetteville home, a cooking recipe or a bride-to-be. Frances Hasty was a journalist, and for 40 years she was among our best. Frances McKay Mintz Hasty. 83. August 20, 2020.
***
You will find her fingerprints and footsteps from the Cape Fear Valley Cancer and Fayetteville Area Operation Inasmuch to the Woodland Garden Club and a faithful disciple to Eutaw Baptist Church and Snyder Memorial Baptist Church. Zula Kathy (Powers) Wood. 77. August 11, 2020.
***
"He was my best friend," Shikery Fadel would say of his lifelong friend Mitchell Graham. "Like a brother to me." A vodka martini to you, Mitchell, shaken and with the glass lined with vermouth, with a twist of lemon on the rim. Mitchell Gordon Graham. 74. July 23, 2020.
***
John Gillis was one of the Gillis boys born to the late J. McN. (Mack) and Mary Stewart Gillis out in the Seventy-First Township. He had a kind way, and he loved a good conversation about any topic. And if you were the subject of a newspaper story, he had a skill for laminating the story and sending it your way with his best wishes. John McNatt Gillis Jr. 77. July 22, 2020.
***
From the annual Kiwanis Club of Fayetteville Pancake fundraiser to the World's Largest Spaghetti Dinner & Greek Pastry fundraiser. From the International Folk Festival to the Highlands Chapter of the American Red Cross. And from the United Way of Cumberland County to his Sts. Constantine and Helen Greek Orthodox Church, John Poulos always was there. John Spiros Poulos. 89. July 19, 2020.
***
Soft-spoken with a kind heart for others. George Marshall Sullivan Jr. 84. June 17, 2020.
***
He was one of the Berry boys, and for a lifetime a part of the fabric of this community. And for Lynn Breeden on that spring afternoon at the Stonybrook Steeple Chase in Southern Pines, "It was love at first sight," she said. "He loved his family and my family, and me." H. Dolph Berry. 85. June 5, 2020.
***
"Those governing today would do well to follow his lead," George Breece said about the former state senator who represented Cumberland County. "If you look at so many of the good things that have happened in our community, Tony Rand's name is written in John Hancock-sized letters across most of them." Sen. Anthony Eden Rand. 80. May 1, 2020.
He was special, and he was dearly loved by parents who knew how special a son was. Nicholas Fasul Finch. 32. April 28, 2020.
***
How she loved calling Fayetteville home, and a Sunday morning at St. John's Episcopal Church. Patricia Huske Schaefer. 83. April 12, 2020.
***
A son would pause for a last farewell before gently placing the red carnation on the mahogany coffin. "He is home," Alex Thompson said of this father so admired, respected and loved dearly by him and a sister and a wife of such caring ways. "He is home." Joe Thompson was one of the Thompson boys, and he was a prince of a fellow for sure, and you can take it from me. Joe Gerald Thompson. 86. April 5, 2020.
***
A beautiful wife. A beautiful daughter. A wonderful mother. A beautiful soul who left us too soon. Jamie Dee Smith. 40. March 31, 2020.
***
"She was dealt a difficult and unfair hand," the Rev. Chip Stapleton said. "She accepted it with strength and continued to be an amazing mom with faith and courage. From the start of her battle, she had an amazing care for others. Catie was always thinking about others first. Her selflessness didn't start with cancer. She always was that way. She was never interested in feeling sorry for herself. She always wanted to know about everybody else."
Catharine "Catie" Matlack Drewry. 46. February 9, 2020.
***
Quietly, Ron Jones lived. He was one of the good guys – devoted to his family and an Air Force pilot devoted to his country. Ronald Wayne Jones. 73. January 16, 2020.
Epilogue
They were fathers and mothers, husbands and wives, sons and daughters, grandparents, our friends and neighbors and a part of our lives, and we said goodbye in 2020. Let us remember, they walked among us.
Bill Kirby Jr. can be reached bkirby@cityviewnc.com,, billkirby49@gmail.com or 910-624-1961