By: Kim Hasty
Photography by: Cindy Burnham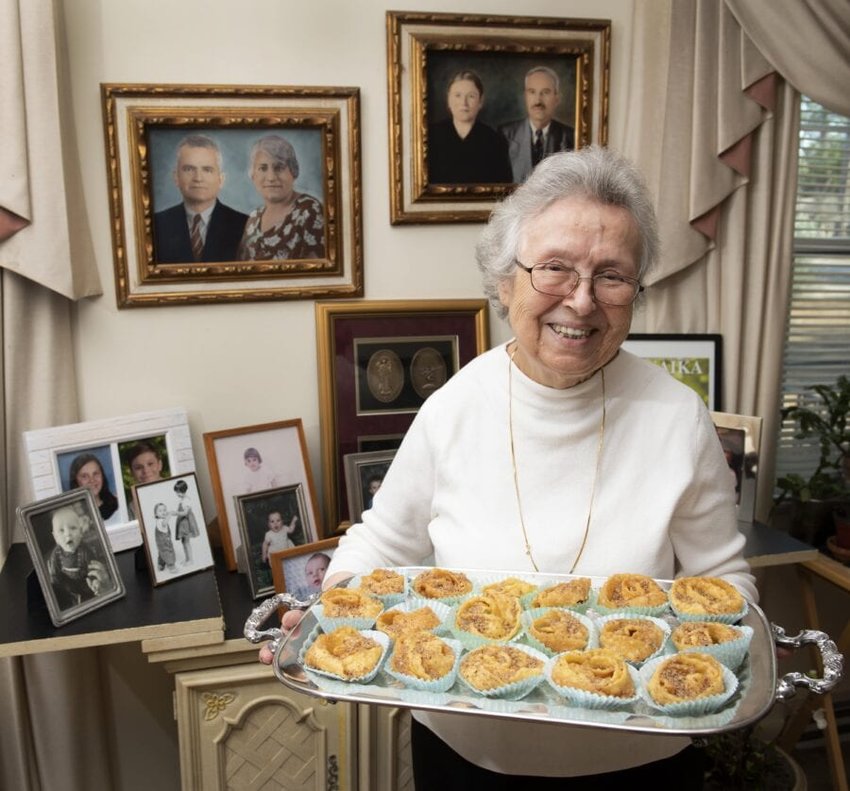 When it comes to baking, Amphitrite Manuel blends simple ingredients with a poetic soul. The result is batch after batch of pastries that are always as beautiful as they are delicious. And she loves nothing better than to share them with others. Hers is a dining room table perpetually laden with treasures dipped in honey syrup and dusted with powdered sugar.

"I call it my therapy; cooking and baking," she said. "I find it creative."

Her husband, Father Chrysostom Manuel, served as priest at Fayetteville's Saints Constantine and Helen Greek Orthodox Church for nearly 40 years. Mrs. Manuel, who is referred to as Presbytera by the congregation, became well-known over those years as a woman of many talents. She writes poetry, has a degree in education and history, teaches the art of Greek dancing, does needlework and ceramics.

And a nibble from something out of her oven is truly a special treat.

"Presbytera could teach a master class in Greek cooking, especially pastries," said Lula Pappas Griffin, a lifelong member of the church. "Everything she bakes is not only delicious, but exquisitely made with love."
Manuel first learned to bake as a girl growing up in the Peloponnese region of Greece. When she married in 1961, her new groom presented her with a copy of a traditional cookbook entitled "Greek Cookery" written by Nikolaos Tselementes, the male Greek counterpart of Betty Crocker.

Over the years, Manuel became a mainstay not just in her own kitchen, but also in the church's kitchen off Oakridge Avenue.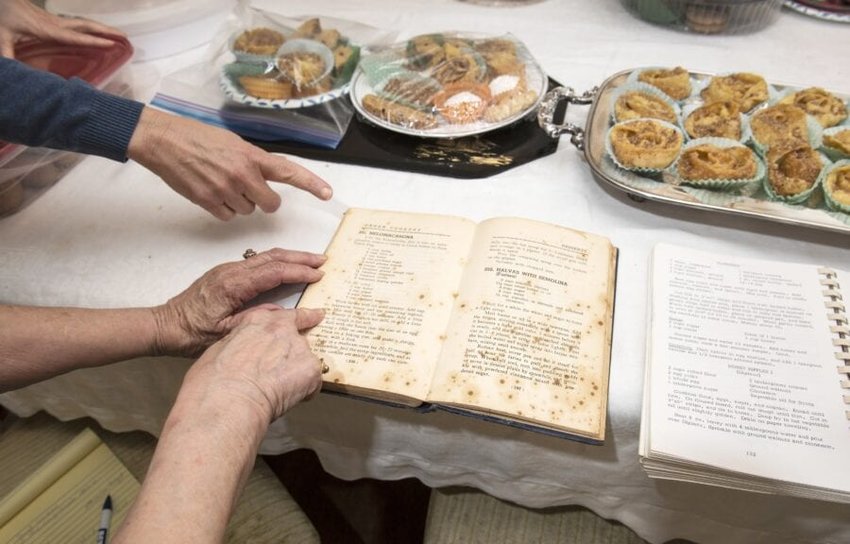 She was an integral part of the bake sales that accompanied the church's popular fundraisers, such as the World's Largest Spaghetti Dinner, the annual Greek Festival and Athenian Night.
"Everything that comes out of her kitchen is amazing," said Dena Goodson, another longtime church member. "What comes to mind most, though, is the joy she takes in baking. She loves it. She is as passionate with her kitchen creations as she is about life in general. She is just a remarkable woman. "I laugh remembering our last church pastry sale," Goodson said. "We ask the ladies to bring in a cake or a batch of cookies to supplement the traditional Greek pastries that we bake as a group. I struggle to get one cake to the sale as she walks in carrying a large box with 40 loaves of pear breads using the pears she handpicked off her trees. As she leaves, she says, 'Let me know if you need any more!' "

One of Presbytera Manuel's specialties is a traditional Greek pastry called diples, a word that has Greek origins similar to the word diploma. Its flaky, syrup-dipped folds are reminiscent of the way a diploma is rolled.
They also bring to mind the wings of angels. She said she makes them at New Year's out of love for all those children and grandchildren who grow up so quickly. "I'm making them so time can fold their wings and not go fast," she said.

She said she loves French poet Alphonse de Lamartine's most famous work, "Le Lac," which tells of wistful love and wishing time
would stand still. "Time! Cease your flight, and halcyon hours suspend your flow! Allow us to savor the fleeting delights of these most beautiful days of our lives!" Alas, social distancing kept the church from hosting its regular edition of Athenian Night, which has been held annually in February for 48 years. Athenian Night, a
scholarship fundraiser, usually features dinner, dancing, a silent auction and tables with items for sale, including traditional Greek baked goods. Instead, this year's event offers a dinner for pickup.

But for those who would like to try their hand at recreating a little of the Greek traditions at home, here is the recipe Presbytera Manuel uses for her diples.
Honey Ripples (Diples)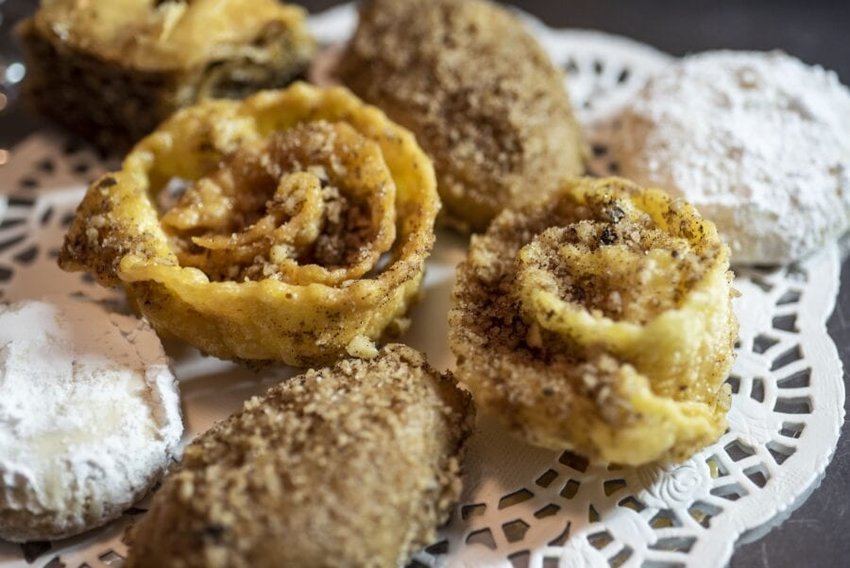 3 eggs, well-beaten
1 teaspoon sugar
½ cup orange juice
½ teaspoon baking powder
½ teaspoon salt
2 tablespoons vegetable oil
3 to 4 cups sifted flour
Beat eggs until light and fluffy; add sugar, orange juice, baking powder, salt and oil and blend thoroughly. Add enough flour to form medium dough, which leaves bowl clean. Knead until smooth. Cut off large pieces of dough; place on a flat surface sprinkled with cornstarch or flour and roll as thin as possible. Cut into
strips 2 inches wide. Deep fry in hot vegetable oil, twirling strips immediately with a fork to shape the diples. Strips may also be shaped into bows or knots before deep frying until lightly browned. Serve with syrup (recipe follows), cinnamon and crushed walnuts. Makes about 6 dozen.
Syrup
2 cups sugar
1 cup water
4 tablespoons honey
Cook sugar and water together to make a medium syrup. Add honey and blend well. Allow dipless to cool. Drizzle with warm syrup and sprinkle with cinnamon and
crushed walnuts.