PJ Smith serves hope and a 'humble heart' in her downtown Fayetteville restaurant
BY JANET GIBSON, November 2021
PHOTOGRAPHY BY RAUL RUBIERA JR.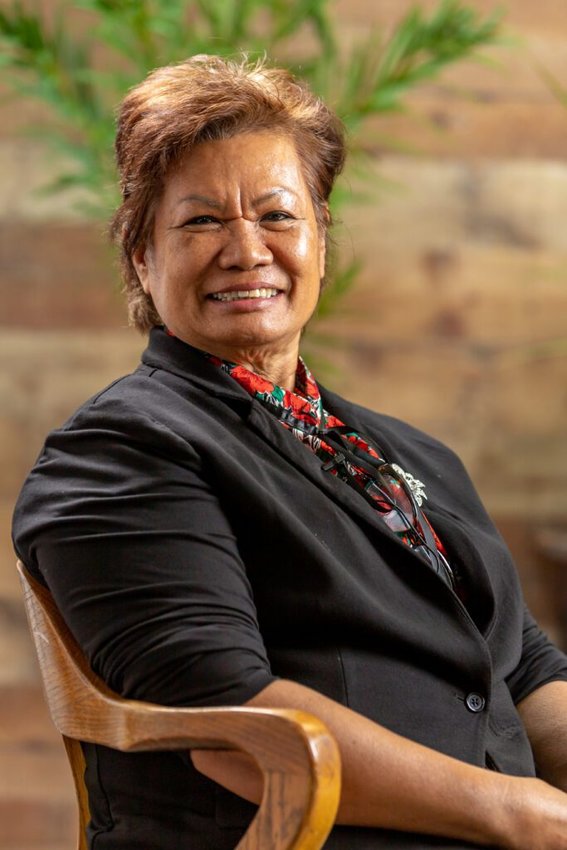 Why is it that some of the most giving people have endured the most pain? They know what it is like to go without, to suffer unspeakable loss, but also to survive and thrive. The more they are knocked down, the more they get up and give. Sharing their light. Pornjai "PJ" Smith, the unofficial godmother of Person Street, is one of those special people.
At her PJ Thai Cuisine, a convenience store-turned-restaurant across from the Cumberland County Courthouse, the woman known as "Ms. PJ" or "Mom" cooks for everyone from high-powered attorneys and business leaders to people who are without homes, hope or happiness. She intuitively feels their sorrows. She offers encouraging words with no judgment.
"Pay what you can, when you can," she says to those who have fallen on hard times, as she discreetly hands over a container filled with delicious food. Because she too knows what it is like to be hungry.
Several people have returned months later to pay full price for their meals. The once displaced say they now have shelter and jobs. A recovering addict says he recently completed rehab and is striving to stay clean. A former prostitute, trained as a nurse, has gone back to the healthcare profession. They tell Ms. PJ it's all been possible because of her influence, which gives her great joy, but she takes no credit, saying such transformation is much bigger than her. She credits God.
Her acts of kindness also include offering gifts of clothing that she keeps stored in a back office. She has been known, too, to help others with transportation and finding employment. She has even put the homeless to work in her own business.
"If there was ever an individual who needed to be recognized for her contribution to the community, PJ should lead the pack," says Carol Quigg, a longtime Fayetteville volunteer and change-maker who nominated
PJ Smith for CityView Magazine's second annual Impact Awards. "She is one of the most remarkable people I have ever met!"
It's been a long journey from Ms. PJ's native Thailand to America, from orphan to widow and breast cancer survivor. She rarely shares her personal story, preferring to listen to who is in front of her. She never knew her parents and was given a birth date of Aug. 2, 1951, in an orphanage just outside of Bangkok. At 9, she was adopted into a family that made her cook and clean to earn her keep. She tells of abuse and was given very little to eat. She was still a teenager when she came to the United States in 1970 from her native Thailand with her first husband, an American soldier. He kept her in a small apartment in Hackensack, New Jersey. "He wanted me to cook and clean," she says. But she wanted more. She taught herself how to speak English by watching "Sesame Street" and "The Electric Company" on TV.
She wanted to become a mother. After three miscarriages, the couple adopted a baby boy in Panama, where they were stationed. The marriage ended in divorce after 13 years, leaving her as a single mom. Her son would be tragically killed in a car accident at age 18.
Always one to work hard, Ms. PJ persevered – managing custodial and cafeteria staffs on Fort Bragg and toiling in restaurants, waiting tables and cooking, too. In 1996, she found true love, marrying for a second time. "A good man," she says.
In October 2017, her husband, Felton Smith, died of cancer. Five months later, Ms. PJ would be diagnosed with Stage 2 breast cancer and undergo radiation, chemotherapy and surgery. In many ways she felt alone, but also blessed to be helped by her church family.
A year after being diagnosed, and in remission, she knew the time was right to make her dream come true. She opened her namesake restaurant. Exactly a year and a week later, COVID-19 was declared a worldwide pandemic and became part of our daily lexicon.
Suddenly, like other business owners, Ms. PJ had to "pivot." No more buffet. More takeout orders. And, of course, increased sanitary measures. She relies on a small team who are "like family." Labor shortages and rising food costs are the daily struggles of many restaurant owners, and she is no different. She keeps looking and praying for the additional right people to help her cook, clean and wait on customers. Regardless, she has stepped up her efforts to feed the homeless by assisting a friend with an outreach program in Hope Mills.
It's common to see her packing up large pans of Thai specialties, so she can help fill the need. She also has kept busy with an adopted daughter and her family who recently moved from Thailand to the Fayetteville area. At 5-feet-2-inches tall, Ms. PJ is small in stature, but a giant to many who have been recipients of her kindness.
"When you do things for people, you can change their lives," she says. She is living proof that, what we often hunger for the most, isn't necessarily about the food – but acceptance, human connection and what she lovingly calls "the humble heart." She serves it all in great abundance.