By Gray Hurley
Photos by McLean Roberts
Correspondent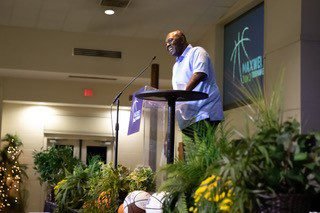 College basketball legend and NBA star Phil Ford was the keynote speaker for this year's Maxwell 3 on 3 Basketball Tournament Dinner held Oct. 7 at Snyder Memorial Baptist Church. The dinner served as a prelude to the tournament on Oct. 9. Fayetteville native Hunter Bell started both events eight years ago to honor the memory of his friend, Cameron Maxwell. Cameron, his sister and their parents died in 2011.
With the help of friends and family, Bell organized the inaugural Maxwell 3 on 3 Basketball Tournament in the fall of 2013. Since then, the tournament has significantly grown and expanded its mission. After seeing the impact the tournament had on friends and family of the Maxwells, Bell realized he had an opportunity that was much bigger than basketball. He went on to secure sponsors and reached out to others in Fayetteville, including the Cumberland Community Foundation, to maximize the effect of the tournament. Today, the Maxwell 3 on 3 Basketball Tournament's biggest focus is spreading the gospel of Jesus Christ. Philanthropic organizations like Youth for Christ have benefited from Bell's efforts, through both donations and exposure.
Ford, who shared his own testimony, said that the tournament "is a really worthwhile cause. Hunter has been able to take this tragedy and create blessings from it." Ford also said that it's important to teach children about character at a young age so that they can have a solid foundation for their future.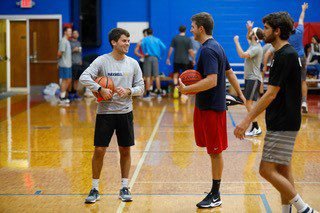 The Maxwell 3 on 3 Basketball Tournament has already raised over $30,000. Proceeds benefit churches and ministry organizations in the Fayetteville community. Bell said he is determined to continue expanding the event. "I would love to see guys like Phil Ford getting involved to do clinics for kids to teach them about not only about basketball, but about the importance of having faith as well." Bell also said that the support he has felt from friends and family has allowed him to feel confident that he is truly making a difference in the Fayetteville community.
While the tournament may adapt and change over time, its mission of honoring the Maxwell Family by sharing the gospel to children will remain intact. If you would like to learn more about the event and its mission, you can visit maxwell3on3.com.