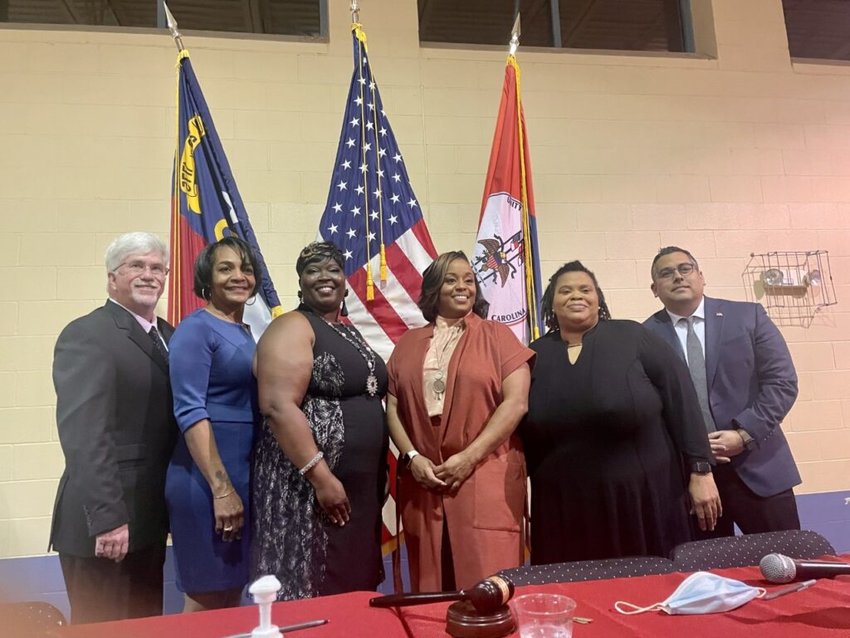 Mayor Kia Anthony, board of aldermen take office
By Jami McLaughlin
SPRING LAKE - Minutes after adjourning her first meeting as mayor of Spring Lake, Kia Anthony recalled the lyrics of a Nina Simone song to capture the moment.
"It's a new day,'' she said. "... I'm excited by this phenomenal turnout, and we look forward to getting to work."
Anthony and members of the Board of Aldermen were sworn in Monday to an energetic, standing-room-only crowd in the Spring Lake Multipurpose Center gym.
Around the room were representatives from the state and county, including state Sen. Kirk deViere, state Rep. Marvin Lucas and Glenn Adams, chairman of the Cumberland County Board of Commissioners.
"This is an exciting day for Spring Lake. Cumberland County will do everything we can do to make sure it is the vibrant town it once was and can be," Adams said.
Outgoing Mayor Larry Dobbins, in his last action, thanked the outgoing board members. Lucas also acknowledged those leaving office.
"We should acknowledge those leaving office. It is a challenge working with the public," said Lucas as he described his personal knowledge of each alderman stepping down, including Dobbins, who served two terms as mayor and one as mayor pro tem.
Outgoing aldermen were presented with plaques recognizing their years of services along with their nameplates. They included James P. O'Garra with 20 years, Fredricka Sutherland with 16 years and Jackie Jackson with four years.
Mayor Pro Tem Taimoor Aziz was absent, but he was recognized for his single term of service to the board.
Swearing-in mayor, aldermen
Before swearing in Anthony as the town's 15th mayor, deViere shared that Anthony was the right person, at the right time to lead Spring Lake through a transformational time.
"This great crowd is a symbol of the confidence that this town has in moving forward," deViere said. "Kia is someone I met several years ago, just doing work, not asking for glory, just doing the work. I'm extremely proud to swear in this amazing woman that is going to lead this town to heights it has not seen before."
Lucas administered the oath to Sona Cooper, Raul Palacios and Adrian Thompson. Sybil Sloan and Eric Nilsen, who hold notary public commissions, swore in Robyn Chadwick and Marvin Lackman respectively.
Lackman said he chose Nilsen, the former quartermaster with VFW Post 4542, in an effort to help the town rebuild the relationship with veterans' groups in the Spring Lake area, including VFW Post 4542, VFW Post 9103 and the American Legion Post 230. Once active participants in town events such as the Memorial Day ceremony, the relationship had grown dormant over the last several years.
"We stopped being invited to the table, but with Marvin coming on board, we are looking forward to being involved again," Nilsen said.
Lackman agreed, saying: "Spring Lake is right next to Fort Bragg and with the large veteran population, we should be working hand in hand to support our veterans and shared causes. I am a lifetime member of the Spring Lake Memorial VFW Post 4542 and committed to reconnecting our veterans with our municipal activities. Their involvement is important to our town."
The first vote taken by the board was selection of the mayor pro tem.
Not going against Spring Lake tradition of the position going to the highest vote getter, Lackman made the motion to nominate Chadwick, who received 411 votes. It was quickly seconded by Thompson and passed unanimously.
"It's an honor to serve," Chadwick said after the meeting.
In their closing remarks, aldermen addressed the crowd thanking God, their families, their supporters and residents.
Anthony turned from her notes in her statement to the town.
"I had a wonderful speech prepared, but it's not meant for me to speak from my notes. This comes from my heart," she said. "I am honored and humbled that the citizens of Spring Lake chose me to be the mayor of this great town. I genuinely thank you for this incredible opportunity to serve my community. There is no doubt that we have a long road ahead of us, but we as a team who are diligently able to learn from the mistakes of the past, to capitalize on the opportunities of the present and to make sure that we are creating sustainable workable solutions for the future. We want to move Spring Lake forward, further than it has ever been before and together we can do that."
Lucas, the state representative covering Spring Lake, is also a former Spring Lake mayor. He referenced the town's financial troubles in his comments. Earlier this year the Local Government Commission took control of the town's finances.
"Spring Lake is on the rise,'' he said. "We have enough new leadership that we will overcome the financial hiccups and Spring Lake will be the better for it."
Lucas also mentioned funding in the state budget that will benefit Spring Lake, including $9.6 million for repairs to the Woodlake dam, which will help reduce flooding in Cumberland County and the town, and another $960,000 for parks and recreation, water line replacement and repairs, the historic Spring Lake civic center renovation and Spring Lake Veterans Memorial Park.
"There's about a million dollars coming from the state," deViere said. "Rep. Lucas has been working on this for many years, laying the groundwork, and there is money coming to Cumberland County. This delegation was able to work together, across party lines, across communities. I don't represent Spring Lake, but I went and fought for every bit of this money. We focused on what was right for this community, what was long overdue for this community. This is about infrastructure, public safety. As I said before, this is transformational for our community."
The aldermen voted to cancel the Dec. 27 meeting for the Christmas holiday.
A special meeting is scheduled for Thursday and Friday. It will include orientation, Local Government Commission financial training and other miscellaneous board training.
Jami McLaughlin covers Spring Lake for CityView TODAY. She can be reached at jamimclaughlin1@gmail.com.