I woke fairly early on that last day of Summer.
It was the morning following the last of the flash-floodish rains from the two days prior. Our front yard was the catcher's mitt for the overflow from the little irrigation hole that sits in the lowest point between our and the neighbors' backyards. It was certainly warmer than someone would expect for the first week of February, at least anyone who grew up around here 50 years earlier when February was our best chance of being the snow month.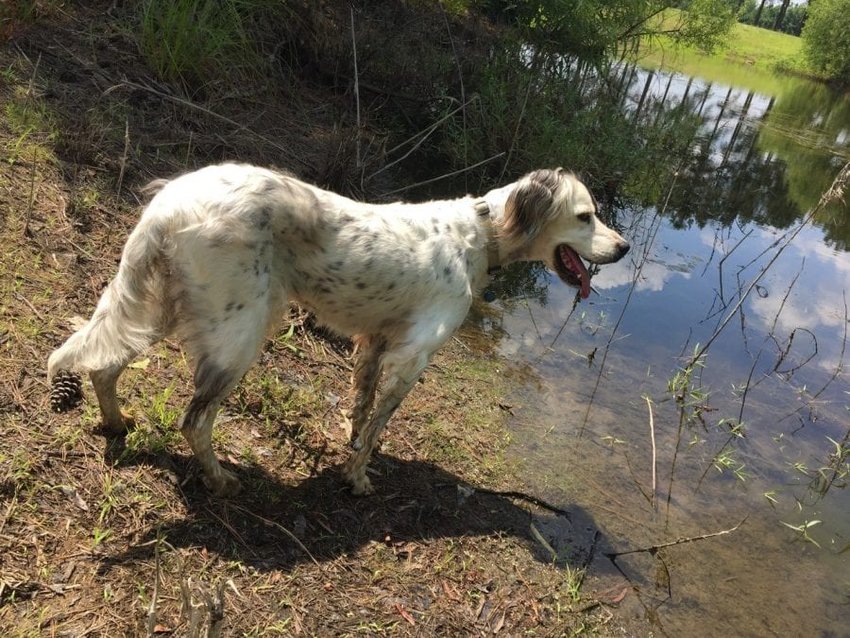 These rains had been substantial enough that the plastic gauge in the backyard over-weighted itself on its flimsy holder and tipped over, spilling its opportunity to convey to me the exact number of inches of rain. It was plenty though. Enough to not only flood the front yard, but to also overburden the culvert in the driveway such that the asphalt was fully under water.
My first act of the morning for several months had been to start the coffee grinder and to then go to the garage where my sweet old setter dog would be sleeping on her store-bought bed. Years back, she would have heard the grinder lift off in the kitchen and be waiting impatiently, even feverishly, on the other side of the door. Now though, fast approaching her 14th birthday, she would not even hear me open the door.
It startled her when I would go all the way to her on that fluffy bed and reach down to wake her with a rub of the head. She could not hear me coming at all, and she could barely see me, and she felt that if I awakened her with my touch, then she had not done her job of anticipating my arrival the way she had for more than a dozen years. It embarrassed her.
So, I invented this methodology for preserving her dignity, wherein I would open the back door into the garage and push the little doorbell that set the garage door motor in motion and cause the nine-foot door to start its ascent up the tracks. From the top step, I would watch across the hood of the car for the moment when she lifted her head out of the uninterrupted sleep of the deaf. She would foggily look out into the driveway to see if I had come off the back porch, at which time I would allow her to catch my movement off the steps. When I came around the vehicle, she would be glancing back at me with a sheepish "Morning, Bud" look on her face, trying to convince me she had been waiting for me for the whole time.
Her toilsome effort to stand and recirculate told a different tale. It had for months been speaking very plainly to me of the inevitable. Ninety-five in dog years. The sands were gathering in the bottom of the hourglass that was her life.
You know, though, once she got going a little, her head rose up like in her proudest days. If I banged the stir stick on the aluminum food pan, she could really get that back end in gear. Funny how all her quail and grouse hunting life, she ate only what she had to. She was skinny as a result of her own self-discipline. In this 13th year, she had really developed an appetite. And gained five pounds, I bet – better than 10 percent of her body weight.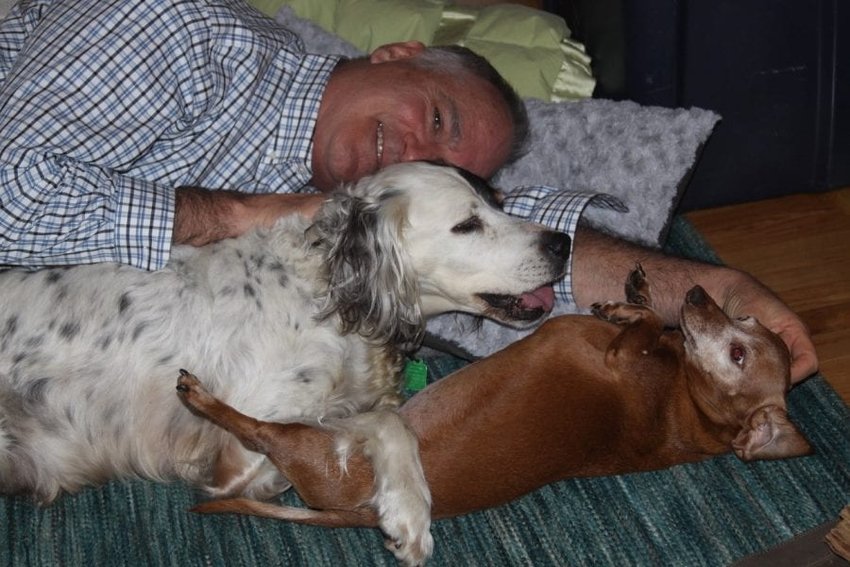 On this last day of Summer though, we were not ready to eat. We walked out of the garage together into the gray dawn. We went down the driveway toward yesterday's flood. When we got to the place where the water blocked our way, I stopped and asked her what she wanted to do. She tacked to starboard into the short pines, paid her respects to the straw, and as I turned around to go shower and get ready for my day, she trotted off toward the corn.
Last spring, I had decided that I was going into the corn business. We have an acre field that was once a horse pasture. The coastal Bermuda still dominated, but the sow thistle and the Johnsongrass were invading more every year. So rather than be burdened by mowing it, I started tilling it with the Kubota last February. By late April, I had a fairly plausible-looking little plot of farmland. I do not have a planter, so I just hooked up a whirly-gig to my PTO and broadcast a 50-pound bag of corn evenly through the patch. Here it was nearly a year later, and there was still enough corn to feed a family of deer, a crowd of squirrels, gobs of birds, a few rabbits, and God knows how many mice. The rabbits and mice attracted a couple of red foxes.
Even a man can smell a fox. It is an unmistakable smell. Not pleasant, but not unpleasant either, not unpleasant the way a skunk is. So those foxes mousing in the corn by night became the primary athletic pursuit of my old bird dog in what would be the final year of her life. She was deaf and she was blind – but she could still smell. And she could dang sure smell a red fox.
So, when I headed into the house to shower and dress for work, she headed to the corn to look for Br'er Fox. I swear, I think they were pals. One afternoon last September, when the days were still longer than my time at work, I drove down to the big pen in the backyard to let Summer out to come to the house to eat. She was standing as far away from the gate as she could be in a full-on classic English setter point, with her nose stuck through the chain link. "You love a rabbit, don't you?" I asked, presuming that was what she saw. But when I spoke, it startled her companion and he ran away. Much to my surprise then and even now in the telling of it, it was the red fox. They had been standing nose to nose, as if speaking quietly in two dialects of dog talk.
Her hours in the corn patch were spent by her with that same calm demeanor. She was not frantic. In fact, she did not really seem to be hunting. It was more like she was reading a newspaper with her nose. She would first ease around the perimeter and when a headline smelled out a "This way!" she would turn into the yellowed stalks and disappear from view. I eventually put a folding chair in the old horse barn, and I would sit with an ale in the afternoon sunset and watch her piece together with her nose what had happened that day in the corn while she slept.
By 7:30 that morning, when I was dressed and coffeed and ready to cross the river for the day, I got a half a cup of dry food and mixed in a little Alpo with it. I banged the side of the food bowl, hoping she would hear it. My wife Susanna had come into the driveway from the back porch just as I came out of the garage to look for Summer. I saw Summer lying on her stomach under the bluebird box in the middle of the short pines. "Look at her," I said to Susanna.
Susie kind of laughed and said, "That is an odd place for her to lie down." Susie went inside the house.
I fetched the food bowl and started out to where she was prone on the ground. As I got closer, I could see that she had her head between her front paws and her eyes were closed. I yelped to her in the only high pitch she could still barely discern. No response. Then, I just knew. It hit me that the dog days of Summer were over. I fell to the ground and I remember saying, "Oh no." She was unconscious. Breathing rapidly. Wet from what was her last fox hunt in the soaked corn. "Wait," I pleaded to her.
I ran to the garage just as Susanna came back outside. "Summer is dying." I ran back with the bed that I had bought her as a Christmas present. I had on heavy cowboy boots, and they sank past the heels as I ran through the saturated ground to my little old girl who would rise no more. I lifted her onto the softness and carried her and the bed inside to the utility room where it was warmer. When I got her in the house, I got on the floor with her, and could think of nothing to say or do except to put my fingertips in her ears – her most loved caress – and I just kind of cried.
She did come around a bit. She looked for me through the cataracts and the cloud of approaching death. I don't think she saw me, but I do think she knew it was me. She seemed to relax some, but she was laboring. My wife and son watched from across the room, saying nothing – nothing to say.
All of those miles we rode to Bird Dog School in Bunnlevel when she was a girl; to Kansas twice and Oklahoma once for wild quail; three times in the Jefferson National Forest in Virginia for ruffed grouse; the wild coveys in Granville and Pender and Bladen counties; woodcocks along Tranter's Creek in Pitt County; the quail preserves at Augusta Farms and Wintergreen Farms. How she made me laugh as she fished so seriously with me for cane-pole brim on the bank of the ponds at Franklin's or at Jimbo's. How she used to leap straight up in the air over and over when I would come home in the afternoon. How that heifer would have to decide every time whether or not to come when I called. How her teeth chattered audibly when she knew I was coming to let her out. And how, when I would lay in the green grass, she would lay down not next to me, but rooted all over the top of me. She could not get close enough to ever be satisfied.
I buried her under the Japanese persimmon in the backyard. The ground was saturated and soft, and I dug very deeply. I carried her broken little body to the hole, still using the Christmas bed as her cradle. I stepped belt deep down into the hole and gentled her in with me. She looked so pretty. So sleepy. So sweet. I could not bear the thought of putting the clay in her face, so I went to the doghouse, got that blanket, and covered her with it. Then I did what had to be done, ending with a mound of dirt shaped a little like a dog sleeping on a bed.
I have developed a sort of whimper that escapes, barely audibly, when I am alone and when I think of her. A buddy half-heartedly offered me a rescue dog of his. I told him that I had to learn to live alone for a little while in that part of my soul. He said, "I get that."
February 7, 2020 was the last day of Summer. I have no profundities in me worth sharing other than the events of the day. I can say this – I sure loved that gal.
And now, the dog days of Summer are over.