BY: BILL MCFADYEN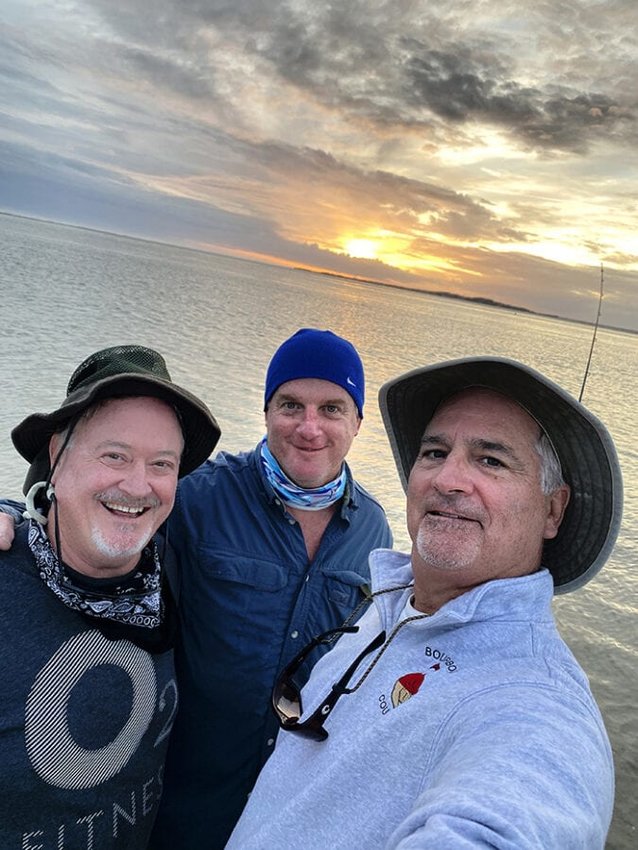 In the early part of the school year in 1975, Dad purchased an oceanfront house at Emerald Isle. It had been owned by the bank as a result of someone else's financial misfortune. I confess that I did not spend much time praying for them to have better days. All I wanted was to go surf fishing and just as quickly as possible.
Uncle Reg had me pretty dialed in on bream fishing with a cane pole and crickets. He had also taken me dozens of times in his outboard within a mile of the beach, trolling for mackerel and bluefish. Surf fishing was all together different.
I locked myself in my room in Fayetteville and took out the "Idea Book." It was the study guide one used prior to redemption of S&H Green Stamps. You got the stamps from participating retailers with the amount determined by how much one spent in the store. I do not remember how many stamps one had to have to obtain "The Bay Rod" from the sporting goods section. However many it was, I had it.
The Bay Rod was a 5-foot length of the hardest wood ever grown. It was jet black and absolutely would not bend. Perhaps it was designed to haul 100-pound tuna from the ocean. It was in no way intended that it be used by a 14-year-old boy trying to learn to surf fish.
As far as fishing reels went, Uncle Reg was an unwavering Zebco 33 man. That was not a very expensive reel. Still, I would wager that the Zebco 33 was involved in a measurable percentage of all fish caught in the history of man's wielding rod and reel. Reggie had given me one for Christmas, so if it was good enough for the best fisherman I knew, then it was good enough for The Bay Rod and me.
It was late October, and the beach was swarming with experienced fishermen in expensive waders, 10-foot rods, and Penn spinning reels. Gulls dove on schools of bluefish shredding bait in the breakers. I had The Bay Rod, a double-hook spot rig, a 4-ounce pyramid weight and probably a freezer-burned baggie of shrimp. That Friday afternoon, I walked toward the west end of the island where a masss of anglers hurled hooks into the froth, frequently flopping monster bluefish onto the beach.
I wedged between two groups of men, waded into the chilly froth in long pants and a canvas hunting coat, and did my best to let fly my own rig. Over and over, I threw. Never did I feel the tug of a hooked fish. Those men chuckled at me as they met at their tailgates to unhook and re-bait. To most of them, I was the funny, goofy, hapless kid with the unbending black stick, the $5 reel, and no hope for success. They were correct.
Only, there was one man who apparently saw me differently. As dusk approached, and as the fruitlessness of my excursion was clear, this one man waved me over. He wanted to see my rod and reel. I told him of my Uncle Reg and of my redemption of the S&H Green Stamps and of this being my first time fishing in the surf. He seemed fascinated .
"Are you going to do this again tomorrow morning?" he asked.
"Yes sir, I am."
Then, with a modicum of pain, "Are you going to be using that same rod and reel?"
"Yes sir, I am."
He thought for a moment. "Well, then, I want you to change baits." With that, this previously unknown-to-me man began to rig dead mullet minnows with a looped wire leader and a treble hook. He had what he called a punch, and he showed me how to push the needle-like thing into the skin just in front of the tail, run the punch up the backbone, and gently thread the loop out of the minnow's mouth. He repeated this four or five times, putting each one inside my metal tacklebox.
"Tomorrow morning, if you come back," he said, "you put on one of these minnows instead of those two hooks and that shrimp."
The next morning was cold like October used to be cold on the North Carolina coast. I repeated my walk to the west end and was again shoulder to shoulder with those same detractors from the day before. By the time the sun rose, the other man was there too, a hundred or so yards to my right, fishing in front of what I later found out was his cottage.
I opened my tackle box and extracted his beautifully rigged mullet minnow. I walked into the colder-than-yesterday water, and let fly the formerly hapless rig. On what was probably my second or third cast, something new happened. For the first time in its life, The Bay Rod bent. Something unseen out there in the ocean had engulfed that minnow and was now churning out to sea, pulling me with it into the closest waves.
If you ever wonder if there really is a benevolent God, then consider that in that moment I knew nothing of drag on a reel that allows line to spool out just prior to breaking. Know that in my adult life I have lost dozens of fish like the one that steamed away from me on that cold boyhood morning.
Down the beach to my left, those who had made sport of me the night before could not help but notice that the kid in the canvas coat and the comical rod and reel was in a fight like they dreamed of. They began to meander
Bay Rod
CityViewNC.com | 11
Locally OwnedJOHN MCCAULEYALBERT MCCAULEYBRIAN RAYNORParking Lots • Driveways • Subdivisions • Complete Site Work • Sealing • Striping • Patching • Paving • GradingOFFICE: 910-485-5790 FAX: 910-323-4163www.OFFICE: 910-485-5790 FAX: 910-323-4163 www.highlandpaving.com Plant: 1351 Old Wilmington Road Office: 2031 Middle RoadInsuredNC License #55505Parking Lots • Driveways • Subdivisions • Complete Site Work Sealing • Striping • Patching • Paving • GradingLocally OwnedJOHN MCCAULEY ALBERT MCCAULEY BRIAN RAYNORFREE ESTIMATES
toward me, watching me battle like Little David against the Philistine. After many minutes, a tail emerged above the closest froth of waves. Then my leader was visible. And then, a giant! It was a beautiful specimen of the State Fish of North Carolina: the Red Drum. She was about 30 or so inches long and was the first fish I ever caught in the surf. The men were laughing again, only this time with admiration that rendered me much taller. As I cradled the thrashing behemoth in my arms, they pounded my back. They held The Bay Rod for me, passing it one to another.
As their congratulations ebbed and they resumed their own pursuits, one more came to congratulate me. It was the man who showed to me such kindness and paternalistic care.
"That a boy."
I think I said – I hope I said – "Thank you."
It became known to my family over the years that the man with the fatherly way was named Kenneth Royall of Durham. Google him. You will find that he was a state senator. He was the majority leader and the head of appropriations. He was important. Kenneth Royall taught me how to rig mullet minnows. He made me a hero on a beach crowded with fisherman. He did it because he wanted to help me succeed in spite of my ignorance. Without reward to himself.
Twenty some years later, it occurred to me that perhaps I had not said "Thank you" to Mr. Royall as I stumbled off toward home that morning. So this former boy walked down to his cottage to tell him for sure. A family member was in the driveway. I shared an abbreviated version of why I was there. Kenneth Royall was still alive, said she, but he was suffering from dementia. Any opportunity to reminisce with him, to confirm to him my gratitude, had passed. I had waited too long.
I love to surf fish. I went seven times this past autumn, but it was not enough. Often I find myself at my desk in the office daydreaming of it. I can hear the waves and smell the salt. Birds circle and dive. It has probably cost me sales - that propensity to daydream of fishing by the shore.
When next I go, I will be looking for a boy in a canvas coat with a cheap rod and reel. I have something I need to share with him. Bill McFadyen can be reached at propertybill@ncrr.com.