By: Bill McFadyen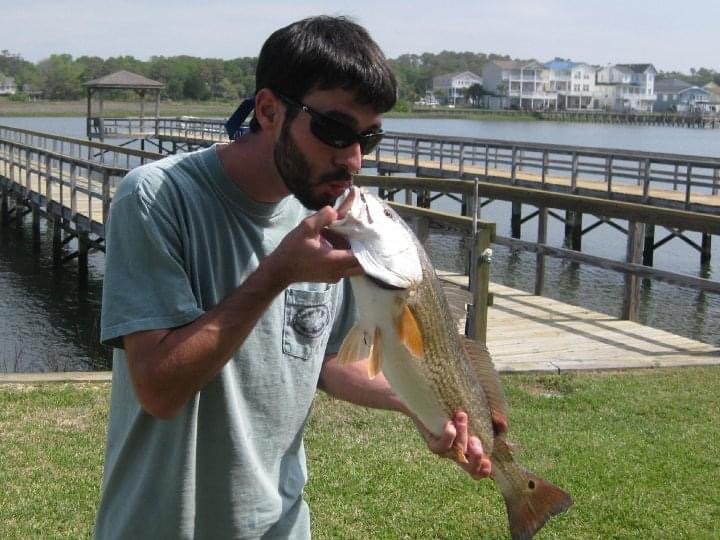 In reflecting on our lives together in this town, it is not surprising that at First Presbyterian Church, Brett Ciccone and I had fairly regular interaction over the last 10 years or so. Brett had grown up in that church, and stayed in the pews with his wife, Serriah, and child, Elizabeth, as had I. His mom and dad were regulars from at
least the time I got back to Fayetteville in 1985, and they were involved at all levels.

So it was given that when Mama Terry and I were looking though pictures of Brett one night recently, there was one of him walking down the aisle in his little choir collar, maybe waving a palm branch or holding a candle. With little kids in that context, they are either smiling or crying. Brett was smiling.

Our gap in ages is two decades. It is funny how that age gap becomes less of a barrier the older a man gets. (Women too, I suppose, but I am speaking only of what I have experienced, and I have never been anything but a man.)

I guess when we start recognizing that the light we see at the tunnel's end is actually our mortality, then we on the older side crave those younger ones, hedging against the day when we cannot climb into our own deer stand or tie our own knots in the eyes of fishhooks. Once a man; twice a child. Those younger want detail on all those things we older ones were whispering and giggling about when they were kids, I suppose. Could be that they believe what my dad said about another man's wisdom being
cheaper than your own experience. So they roach up next to us despite our pungency, the deafness and old coffee stains on our clothes in hopes of gleaning a little knowledge.
So it was with Brett and me at church. At Select Bank, every so often. Or maybe even at some social event where we both understood that his wife and mine were happier to be out that night than we were.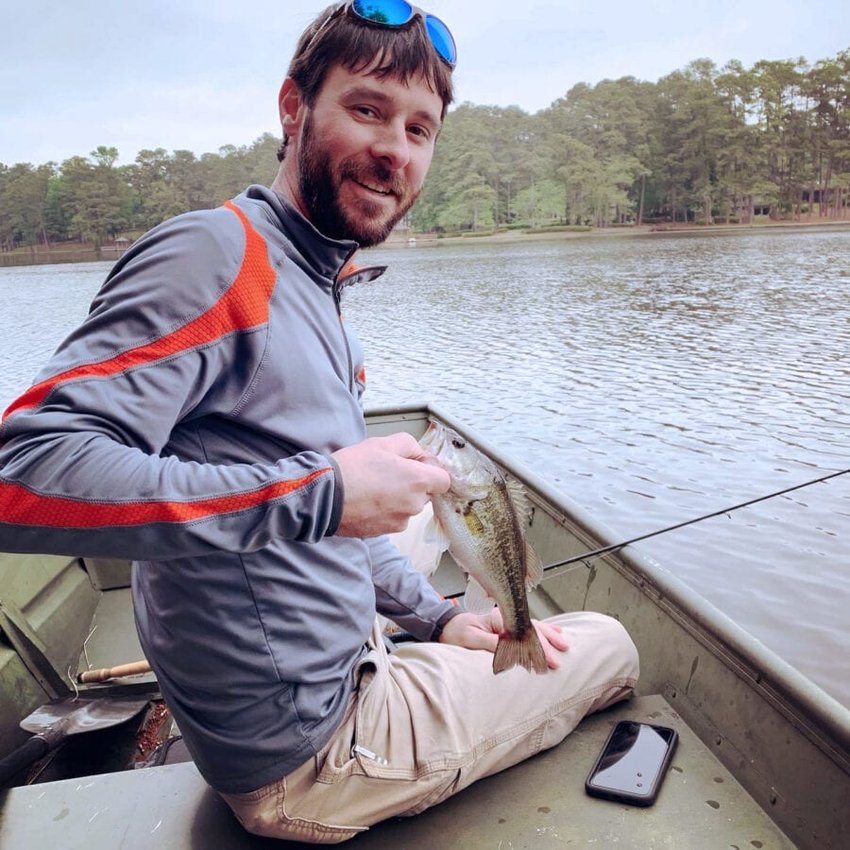 Having researched Brett intently since March 17, 2021, I find that of all things not related to being a family man, fishing was his other first love. So what did surprise me greatly was realizing that we never ended up together on a boat or a dock or even a beach. Brett fished a lot with the MacKethans and the Singletons and
lots of others where our lives intersected. The odds of Brett and me finding ourselves obeying orders on the same boat were high over the last 20 years. It was not to be.
Brett's fishing was best enjoyed if, in the truck ride to the water, somewhere along the way someone played Lynyrd Skynryd's "Simple Man." A cooler full of beer was not required, so long as there were cans of Sun Drop in the ice.
I have seen pictures of Brett cradling giant sow drum from the Pamlico Sound, and I have seen him in his much-lauded kiss-and-release pictures with 8-ounce crappie and palm-sized bluegill. In all the pictures, even the ones from October 2020, when the treatments for his lung cancer had stopped gaining any appreciable ground, there was that same little-boy-in-the-choir-collar grin. In those photos, preserved and shared by his wife and his mother and his myriad swell pals, Brett was a consistently smiling guy. A simple man.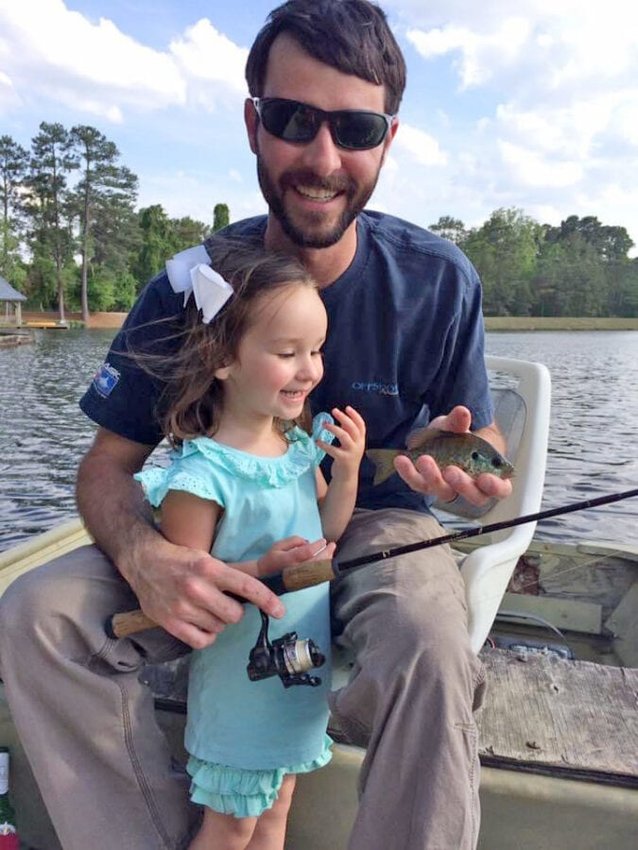 I emcee a little Sunday School class at Brett's and my church, where we take headline news and turn it into a Sunday School lesson. Last December, we read a transcript from a monologue Rush Limbaugh delivered a couple of months before he died. In it, he said he was feeling pretty good, but that things were worsening. That a stage-4 cancer was adept at finding ways around whatever obstacles modern medicine threw its way.

Limbaugh died at age 70 in February 2021. Brett was 28 days behind him. Sadly, Brett was 30 years younger living in simple peacefulness with his wife and his 6-year-old daughter.
Our class had prayed almost every Sunday for almost three years that Brett could live to raise that girl. That he could have the time to impress upon her the unquantifiable
value of the kindness and the simplicity that made Brett such an attractive guy to all with whom he came in proximity. God granted three years for Brett to get done here what he could. The Journal of Modern Medicine is no doubt impressed with the effectiveness of his treatment regimen mixed with Brett's own will to see the next sunrise. His family and his friends and his church remain grieved and yearning for more.

There is a Tim McGraw song about his dad, Tug McGraw, finding out time was short, and living like he was dying. Brett never really changed much in that respect. For one, he never would give in to the fact that the cancer would take his life. His father Gary told me that to the last moment, he witnessed Brett expecting to rise up and walk away from all that sickness. For another, Brett was a Simple Man. He wanted to squeeze a little girl at night. He wanted to sit in quiet repose with his loving wife. He wanted his mom and dad and brother and sister and all his pals to be a part of the knowledge that Brett had chosen his path wisely. He did not need a song to
inspire him to live like he was dying. He lived the same way from the time he came back to Fayetteville.

Brett did walk away from all that sickness on March 17, 2021. More accurately, he flew away. His little dog of 13 years preceded him in death by a month or so. In the past,
I have cried and written about crying about dogs dying. So I know the response. Serriah cried for Gracie, more so in knowing her loss would not end there. Elizabeth discovered Mom in tears and counseled her to pretend that Gracie was in the next room, and that way, Serriah would not miss her as badly.
Out of the mouths of babes…
I stood up for the family at the funeral to recount the life of Brett and to assure them that he was in the next room now. We cried some and we laughed a lot, because Brett was a particularly funny guy on top of being kind and craving his simplicity. Still, it was a heavy load for everyone in the front five pews. It weighed heavy on our preacher; he told me so before we went inside. And honestly, it weighed heavy on me.
In the parking lot after the service, when almost all had departed to go hug someone that maybe they had forgotten to hug that morning, Gary asked me to go to the car with him. He wanted to give me something. He popped the trunk and inside was a nearly new 9-foot Orvis #6.5 fly rod with an Orvis Battenkill reel. "This was Brett's. We want you to have it."
Odd thing it is that I stood in front of those mourners in that sanctuary, knowing that many more were probably watching on the livestream, and in 15 minutes of storytelling, I never shed a tear. I did my duty of trying to minister to the broken-hearted.
When I saw that rod and reel in the trunk of that car, I broke right on down and cried on Gary's shoulder. He said I could hang it on the wall or fish with it – whatever I wanted.

Hang it on the wall? Naw. Brett and I are finally going fishing.
Bill McFadyen can be reached at propertybill@nc.rr.com.