One of the benefits for me in exercising my responsibilities of fatherhood was the adoption of other people's kids. Those adoptions started with Maggie's toddler friend Emma McCauley at First School. Today, I still consider Emma, at age 21, as mine. With our two boys, I began adopting their friends on father/son hunting and fishing trips. The pace accelerated during Little League baseball and Church League basketball, continuing even today with Hudson's Cape Fear High lacrosse team.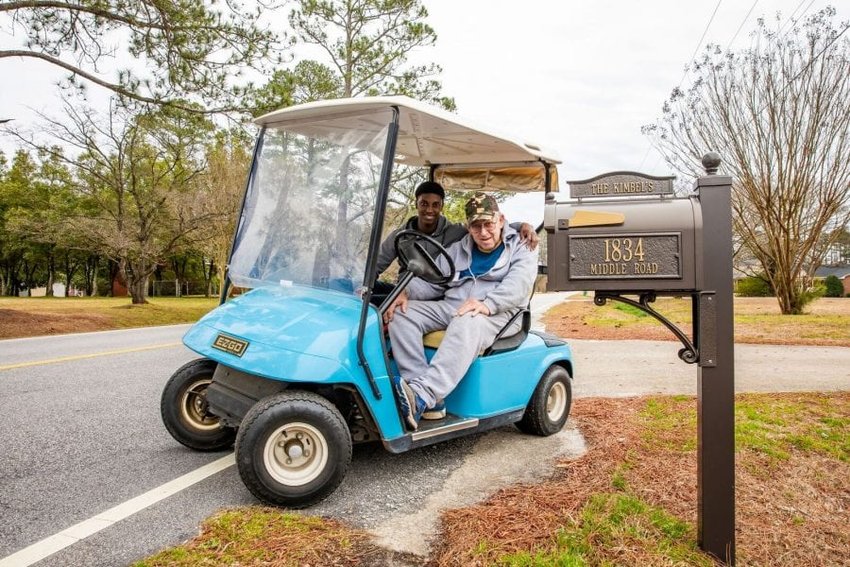 Three of my adopted sons came from Jamie's dedication to the band at Mac Williams Middle School. By the time he became a high school freshman, Jamie was less often mine all mine than he was hanging with Drew Smith, John Robert MacNaught and Harry Hill. Their friendship began in the band room, but morphed into having its own life outside of school.
They were often together on weekends, playing Risk or whiffle ball or having air-soft wars. They were diverse in many ways - athletic abilities, skin color, what they found funny, where dating ranked in importance.
Harry Hill was immediately noticeable among these four. He did not look much like the other three, his pigmentation being of a darker hue. Harry was always my "go-to" guy when I was engaging the boys in conversation. I would speak to Harry in a tone that attempted to sell absurdities as if they were factual. Things like, "Harry, the head cheerleader was watching you like a hawk when you marched off the field after the halftime show." Two things worked against Harry in these situations: 1) he was unfailingly sweet and so could not muster telling me that I was lying; 2) Harry is more than a little gullible, especially about things he wanted to believe were true. In the possibility of a cheerleader finding him irresistible, Harry definitely wanted that to be true.
The one genetic and three adopted sons went their separate ways after the summer of graduation, attending four different colleges. (All on pace to graduate in the spring of 2021!) In the summer after their freshman year, they met at our house one random Saturday to shoot a little basketball in the driveway, play a video contest of some sort, eat whatever food Susie would invariably supply, and basically perpetuate what they began so many years before. Late that afternoon, the gathering broke up because Harry had to return his mother's car to her.
It could be argued that Harry's desire for bottled water led to the mild catastrophe that soon followed. He and his water got in Mama Wanda's car, Susie and I waved goodbye to good ole Harry, and off he went. All seemed right with the world.
Our driveway is a long one when measured from front steps out to its confluence with Middle Road. Once there, you are in the very middle of an arc that bends sharply to the right when you turn left toward Mickey and Linda Kimbel's house. That is the way Harry was headed, but perhaps just a bit too fast.
When he turned left onto Middle Road at the pace he did and at the angle the road required, his water bottle rolled off the seat into the passenger side floor board. What he did next was definitely a mistake. Harry decided to retrieve the water bottle while still heading in the direction of the Kimbels' mailbox.
Harry leaned to his right to pick up the water bottle. Unwittingly, he took the steering wheel with him when he leaned. His fingers wrapped around the plastic bottle, and Harry popped back up into driving position. What he saw in front of him was a terrible sight – it was the Kimbels' mailbox directly in front of the middle of his hood. The mailbox was standing still, but the car was hurtling forward at an unstoppable rate of speed. Harry swerved to the right, intending to drive into the Kimbels' front yard instead of over their mailbox.
The problem with that was one of topography. Our hometown of Eastover is for the most part flat. So the whole area contains a series of drainage ditches dug in strategic places throughout the settlement of the township. One of those ditches sits just to the right of the Kimbels' mailbox.
Harry did not miss that mailbox. He destroyed it. In addition, he piled Wanda's car into that ditch such that only the far side of the ditch stopped it from turning over.
One additional thing about the Kimbel mailbox - it was a stud. It was on an insulated 4-by-4 post and concreted way into the ground. The mailbox itself was no generic model from Home Depot. It was a custom job weighing about 40 pounds. Mickey put it there with the intention that it last longer than he would. Instead, it only lasted the same amount of time as did Wanda's radiator, front bumper, hood, and left quarter panel, all of which died at the scene.
Harry was unharmed; but was frightened beyond words and humiliated. By the time I got there, the Kimbels were too. They handled it well. I probably would have been puffing smoke. Mickey was a little disgusted, but otherwise, he was pretty cool. Wanda arrived, and she was actually pretty cool too, probably because she had to factor in the relief of Harry being unharmed. Still, that car was her primary means of getting to work.
Harry knew this was bad.
In short order, Mr. and Mrs. Hill and Mr. and Mrs. Kimbel had proposed a solution. It was unanimously agreed (without consulting Harry) that Mickey would replace and re-erect his own mailbox, after which Harry would work at the home and in the yard of the Kimbels for as long as it took to pay off the expenses associated with the resurrection of the mailbox. The result of this vote would be the death of any of Harry's free time for the rest of the summer.
One thing about Harry Hill you can take to the proverbial bank is that he is dutiful. He reported to the Kimbels for the rest of the summer, keeping a tally of his hours, and working down the debt with each visit.
Mickey's mom, Margaret, was pretty famous out here in Eastover. She ran a bakery at the side of her house. She made wedding cakes, cookies and pies. After buying the house in 1991, I would occasionally walk across the street to see Mrs. Kimbel and eat two dollars worth of oatmeal raisins on the way back home.
Mickey's mom went on to heaven in 2005. So let me tell you what they make at the Kimbel house these days – lemonade. As in, when life gives you lemons, make lemonade. Let me tell you who squeezes the lemons – Harry Hill.
The debt was eventually satisfied, but neither Mickey nor Linda wanted Harry to stop coming. They found the same thing to be true about Harry that I did so many years before – he was a beautiful kid then and he is a beautiful man now. The Kimbels came to love him.
Therefore, at the cancellation of the debt, the Kimbels asked Harry if he would like to continue helping them around the yard and in the house with pay. As a result, Harry Hill joined the Kimbels' family business.
Linda Kimbel shared this: "I told Wanda that I wanted to adopt Harry – but not until he had graduated college!" Tuitions cost more than custom mailboxes after all.
At first, I was a tad jealous, given that I had already adopted Harry so long ago myself. It occurred to me, though, that there was likely enough of this good young man to go around. So I shared.
Harry now has lots of parents. Middle Road has gained a fine son. And the Kimbels and the Hills share what is among the tastiest of all beverages – the lemonade of love.