BY: BILL KIRBY JR.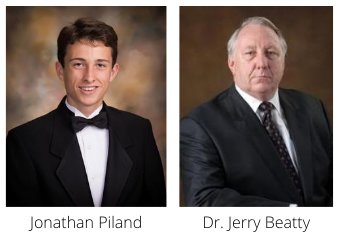 'I'm very proud to carry on his legacy,' says Jonathan Piland, 18, a graduate of Cape Fear High School and now enrolled at Duke University, and, recipient of the 2020 Dr. Gerald W. Beatty Scholarship.
When it came to dental health care, Dr. Gerald Beatty was compassionate about his patients.
Not just his patients.
Jerry Beatty was there for everyone along life's way, and Jerry Beatty had a soft spot in his heart if he saw someone hoping to make a difference in the lives of others.
"I'm very proud to carry on his legacy," says Jonathan Piland, 18, recipient of the 2020 Dr. Gerald W. Beatty Scholarship, established by Dr. Gary Jones, who was Beatty's partner at Sandhills Oral Surgery Surgery & Implant Dentistry with offices in Fayetteville and Pinehurst.
The $3,500 scholarship is available annually to any senior in a Cumberland County public school. There is an average of 10-14 schools participating each year. The scholarship was established in 2012. Dr Jones requests a 500-word essay from each applicant.
Piland will not be pursuing a career in oral surgery.
No matter.
He will be studying biomedical engineering at Duke University, a field dedicated to advancing health care treatment to include diagnosis, monitoring and therapy, and management of medical equipment.
"I've always had an interest in science and math from a young age," says Piland, a 2020 graduate of Cape Fear High School where he was a four-year member of the cross country and track teams. He participated in the 4 x 800-meter relay and the 1600-meter and the 2-mile runs. "My senior year of cross country, we took the PAC 9 team title, and I was second in individual."
Piland also is an accomplished violinist.
His athletic and musical interests led to his decision to study biomedical engineering, with an emphasis on prosthetics.
"I plan to study biomedical engineering and electrical engineering," Piland says, and he has a particular interest in how the two can work hand in hand with prosthetic limbs. "Like a rubber tip (on a prosthetic foot or leg), where you get electrical stimulation that tells you that you are touching something. How do you make something that tells you that you're stepping on the ground or about to stub your toe?"
Imagine, he says, a violinist with a prosthetic arm who cannot feel the bow crossing the strings, and what an electrical stimulation could mean.
And Piland tells the story of Dr. Miguel Nicolelis, a professor of neurobiology,
biomedical engineering and psychology and neuroscience at Duke, and Nicolelis' study of neuroprosthetic devices in concert with brain-machine interfaces.
"He did this exoskeleton robotic suit for the paralyzed," Piland says. "A gentleman kicked a soccer ball and he could feel it."
Helping others.
Jerry Beatty would love it.
He would have it no other way, and those who knew the proud Green Beret and Vietnam veteran would tell you so, too.
Dr. Gerald W. Beatty died Sept. 25, 2017.
He was 70.
"In honoring our late mentor, surgeon, and friend, this is our way of giving back to the community in a way that Dr. Beatty would be proud," Dr. Gary Jones says. "Good luck, Jonathan, in your pursuits at Duke University this fall."
Bill Kirby Jr. can be reached at bkirby@CityView.com, billkirby49@gmail.com or 910-624-1961