Well, we've published 12 issues now in 2020 with what we hope you've thought were beautiful covers and stories of wonderful people. We've been busy here at CityView, and now we'll take just a short pause later this week. We'll join you in celebrating Christmas, and we'll also reflect on how grateful we are for you, our readers. We at CityView wish you all a time of peace and joy. Merry Christmas!
***
Nancy and Murray Duggins are pictured at the entrance of Methodist University's Nancy and Murray Duggins Soccer Stadium.[/caption]
Murray Duggins worked hard to help put himself through then-Methodist College, selling shoes at Belk in Tallywood Shopping Center. He was a member of the school's third graduating class in 1966.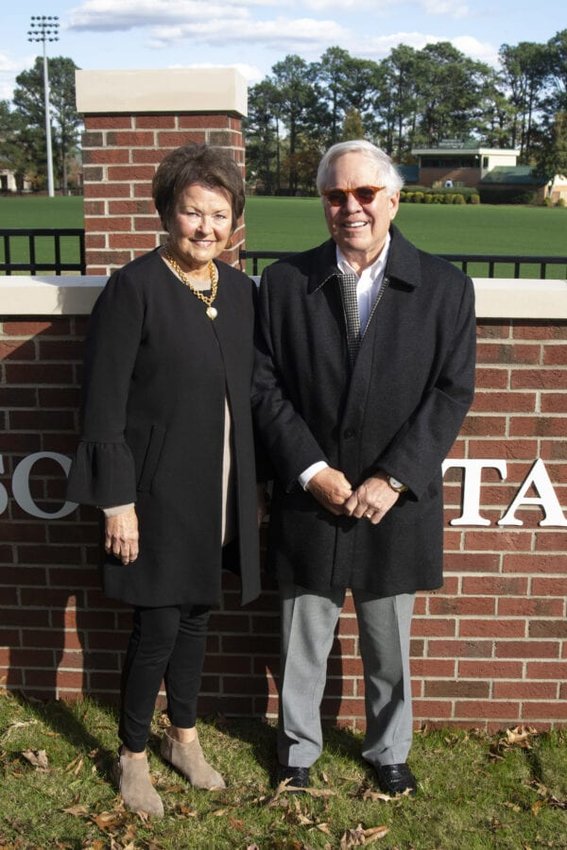 Duggins, a local real estate developer, has since gone on to be a dedicated supporter of his alma mater. Last week, Methodist University announced that the school's soccer stadium would be named the Nancy and Murray Duggins Soccer Stadium. The Duggins' generosity allowed for the addition of 200 permanent seats, a concession stand, ticket office for tournament matches and restrooms.
Though COVID-19 restrictions eliminated fall intercollegiate play, the MU soccer teams will have the opportunity to host matches for the first time in their new stadium if restrictions are lifted in the spring.
***
PWC spokeswoman Carolyn Justice-Hinson says that at least one community tradition will endure despite COVID-19. The annual Grinding of the Greens Christmas Tree Recycling program, a Fayetteville holiday tradition since 1994, will continue despite COVID-19. The annual program encourages Fayetteville residents to recycle their live Christmas trees and has kept thousands of pounds of recyclable material out of landfills. The partnership between Fayetteville Public Works Commission, Cumberland-Fayetteville Parks & Recreation and Duke Energy Progress turns live Christmas trees into mulch for the Fayetteville Community Garden and other local parks.
The Cumberland-Fayetteville Parks and Recreation will collect the trees from Fayetteville city residents in a special tree pickup beginning Jan. 11, 2021. Pickups are separate from yard waste, trash or recycle pickups, and city residents should put their trees out for curbside collection by the morning of Jan. 11 . Lights, stands and trimmings should be removed from the tree. Residents who live outside the City or miss the pickup, may drop off trees at the Fayetteville Community Garden, located at the corner of Van Story and Mann Street just off Old Wilmington Road any day before Jan. 19.