By: Kim Hasty
Photography by: Cindy Burnham
It is not an easy game, no way. Whether for the grandmaster contemplating four or more moves ahead, or the novice just learning the rules of movement between a bishop and a knight, chess takes thought, strategy, concentration and, above all, caution.

Dorothy, we're not in Candy Land anymore.
But at a time when many of us tolerate waiting only 60 seconds for our morning coffee to brew from a little plastic pod, how is that chess, a game that can require long stretches of just staring hard at the black and white pieces on the board, has become so popular?

Part of the credit goes to "Queen's Gambit," the Netflix limited series about an orphaned young girl who goes onto to become a chess prodigy and also to face adult burdens like alcohol addiction). Based on a 1983 novel by Walter Tevis, the movie's name comes from a popular chess strategy that involves sacrificing a pawn to gain control of the center of the board.
According to the Associated Press, more than 62 million households watched the show in the first month of its release, sparking a spike in sales of chessboards and pieces.
And with the global pandemic keeping people at home more in the last year, board games in general have become more of a family go-to than ever.
But even before "Queen's Gambit" and the need for social distancing guidelines, chess was growing in popularity, albeit more quietly. According to the authoritative chess.com, 605 million adults play chess regularly, "a number comparable to regular users of Facebook."
Retired neurosurgeon Dr. Menno Pennink is his family's resident grandmaster, having learned the game as a boy in his native Indonesia from his father.

"It's a fascinating game," he said. "Very challenging."
He taught the game to his sons, Michael and Andrew, who are both good players.

"He used to beat our butts, and he still does," Andrew Pennink said. "I get a win on him every now and then."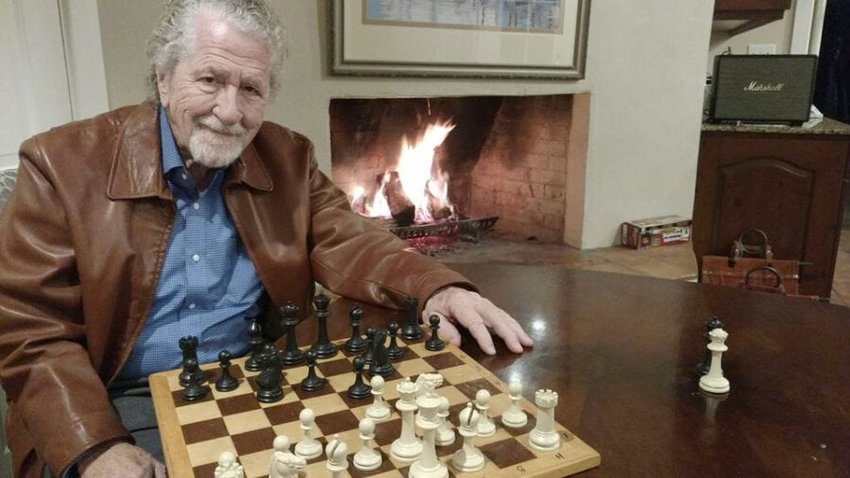 Dr. Pennink, who is helping 6-year-old grandson Brooks begin to learn the basics of the game, stays sharp with regular
competition.
"He has three or four games going all the time with people all over the world," said Pennink's wife, Suzanne.

That's a perk of being part of the worldwide chess.com network. "You have the chance to play people from China, Australia, all over the place," Dr. Pennink said. "You earn a rating and play against people of a similar rating. You win a game, and you move higher up."

Chess, in particular among games of strategy, helps sharpen young minds, even those of children who won't eventually go onto become grandmasters or to even participate on high school or college teams.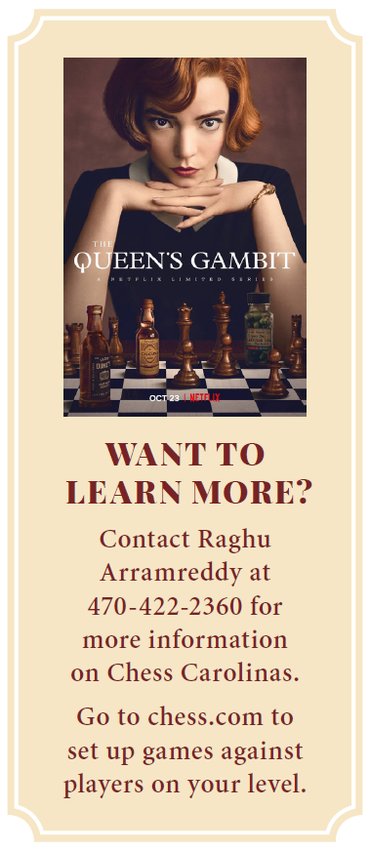 "Chess is one of the really good mindstretching games," said Diane Helfrich. "It's going to build the same centers of the brain
that math does."
Helfrich's son Ian, 28, and daughter Anna, 24, both learned to play chess as homeschooled students. Helfrich was a homeschool parent for 14 years and serves on the board of North Carolinians for Home Education.
Chess is popular among homeschool students, in part because they are allowed the time to learn the game. Helfrich said she believes education administrators are wrong when they place too much strict emphasis on core academic subjects.

"We miss the benefits that other activities offer," she said. "Art, music, games like chess build the more creative, logical parts of the brain."
Raghu Arramreddy is a local chess instructor and president of Chess Carolinas who helps children and adults learn the game and find opportunities to play. He, too, found "Queen's Gambit" interesting, but believes the increase in the game's popularity is due largely to many children being relegated to remote learning.
"The movie came at the right time," he said. "People are stuck at home right now. Chess encourages you to keep learning. It's a game where you can never be complacent."