Blind musician's talent emerges onto the nightlife scene
By Kelly Twedell
Out on the town on quite a pleasant spring evening in Fayetteville, 11-year-old Michael Macias was in his element as he wowed the dinner crowd at Morgan's Chophouse. Comfortably swaying back and forth to the musical energy flowing from his fingers onto the keyboard, you'd never guess that Michael has grown up blind.
Just two months into his short life Michael was diagnosed with retinopathy of prematurity. He went blind at just four months old. The condition causes abnormal blood vessels to grow in the eye and attach to the retina. As the blood vessels pulsate, they rip the retina from the back of the eye. After numerous surgeries, Michael's retinas have been reattached but he has only minimal light perception.
"When we discovered the blindness, I quit my job as a dispatcher for the Hope Mills Police Department and became a full-time stay-at-home mom," said Michael's mother, Angela Rafferty. "Through ensuring he had the best doctors, the best schools and the opportunity to be exposed to as much as possible, Michael's life took my career and turned it in a direction to where I am in a position to help others and teach parents how to advocate for their children."
Music is an exceptional tool for helping people because it has the power to reach everyone. Music creates multiple stimuli, allowing people to experience its effects, regardless of their disabilities. Because of this universality of music, music therapy becomes an aid that can help children with vision and hearing impairments, according to the National Resource Center for Blind Musicians.
At the age of two, Michael's mother first realized his musical ability after purchasing a toy stand up piano with only five keys that also played five standard lullaby tunes. Angela recalled Michael's enthusiasm with the toy and after only three short days, he was playing twinkle, twinkle little star. That is when she pulled out the dusty old keyboard from the closet and she said Michael just took to it right away. Approximately one week later, Angela was in the kitchen with her sister when they simultaneously looked at each other after hearing music in the living room that they initially thought was playing on television. They ran into the living room and found Michael playing all five of the lullaby tunes from the toy piano on the full size keyboard.
"I swept him up and we went straight to McFadden's music store and bought him a real piano," Angela said. "He has an uncanny ear for music and has never had one lesson."
While most parents have to push their kids to make them practice an instrument, Angela said it is just the opposite with Michael. She said she never has to force him to practice the piano; rather, she often has to make him stop playing. She estimates that he practices eight to 10 hours a week.
Michael attends Vanstory Hills Elementary School and has seamlessly integrated into a regular classroom. The school embraces his musical abilities and allows him to share his passion for music with the other students daily. Michael's music often crackles through the school's speakers into each classroom for the daily Vanstory Headline News. He plays "Happy Birthday" and sometimes the familiar "Pink Panther" tune when introducing the mystery sound of the week.
"The public schools have been a positive influence and a huge team is involved in Michael's education," Angela said. "Vanstory Hills has been supportive of his education as well as his talent. Michael has a wonderful case manager that helps us ensure he gets what he needs."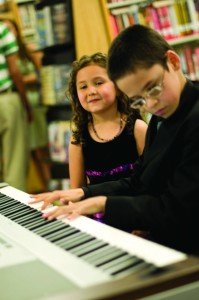 Outside of school, Michael's talent and resolve have touched others in the community as well. After meeting for the first time and hearing him play, Cory Worrell, Marketing Director and Refractive Coordinator at Cape Fear Eye Associates arranged for Michael to play the piano for the Director of the Fayetteville symphony, Fouad Fakhouri. Worrell was amazed at Michael's ability to hear a song for the first time and then instantly imitate it. Worrell keeps Michael's schedule, which has filled up fast recently, as he has performed for many different groups and venues.
"Since meeting Michael Macias, my life has been truly blessed!" exclaimed Worrell.
One particular project that Cape Fear Eye Associates is passionate about is the exceptional program with the Fayetteville Symphony Orchestra, where they perform for local schools in order to inspire other children and even adults with what someone can accomplish through music.
Many people assume that the blind are naturally gifted with talent in music — perhaps because of the talents of Ray Charles, Stevie Wonder and Andrea Bocelli. However, studies have shown both blind and sighted people have a similar capacity to learn music; though those with visual impairments tend to use their auditory channels more fully. Michael Macias proves that the sky is the limit, whether you can see it or not.