A vodka martini to you, Mitchell Graham, shaken and the glass lined with vermouth, with a twist of lemon on the rim.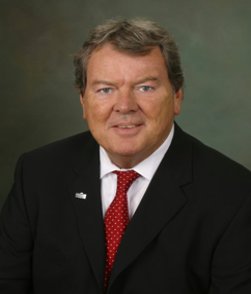 You can be assured that Mitchell Graham embraced almost every moment of ever year and every month and every day of his life.
He could, just by his presence, bring a smile to your face.
He could, just by his presence, bring laughter to your heart.
"He was my best friend," Shikery Fadel says. "We met in high school and we were friends for over 60 years. He was like a brother to me. We had some good times together. Just so many unbelievable memories."
And, Shikery Fadel will tell you, forever loyal.
Mitchell Graham had a way about him like none other. He had friends by the numbers. He had a charming and engaging personality, and you never knew what was coming when Mitchell Graham was holding court.
"He just enjoyed being around people," Jimmy Townsend says. "I never heard him say anything bad about anybody. He could always make me feel better, no matter what. He could make me laugh. And he was loyal to his friends, almost to a fault."
Mitchell Graham grew up along Peach Tree Street in Haymount, the son of Daniel Edward Graham, who was a strict disciplinarian, and Elizabeth Butler Graham, a country girl from Gray's Creek, who could bake the best cakes and pies you ever placed on your palate.
"My favorite was her peach pies," Mitchell Graham once said.
He would help deliver the desserts to homes and restaurants throughout the community in the 1950s and 1960s. And he was always there when Elizabeth Graham would lend her country cooking skills to the annual Gray's Creek Woman's Club Buffet and Bazaar, where Elizabeth Graham could come up with the best fried chicken each October.
Long after her death, Mitchell Graham always encouraged everyone to support what he came to describe as "The Big Feed," replete with potato salad, green beans, squash, butterbeans, corn, fried okra, and a smorgasbord of desserts.
"I was always waiting," Shikery Fadel says, "for half of the food to fall off of his plate."
Hometown grown
Mitchell Graham was a 1964 graduate of old Fayetteville High School and enrolled at East Carolina University, where he joined friends to include Jimmy Townsend and Bobby Vause in the Kappa Alpha Order Fraternity, where white-starched dress shirts and Weejuns sans socks and party-hearty was just a part of almost every day along Ninth Street.
He liked the beach.
He liked the ocean breeze.
He had an eye for the sun-tanned bikini-clad girls on the grand strand, but Marsha Beard with those big, brown eyes would sweep Mitchell Graham off of his feet and give him the children who would become the blessings of his life.
He would work for a while at the Biscuit Kitchen before joining Townsend Real Estate in 1986.
"He handled a lot of the Freddy Mac foreclosures," Jimmy Townsend says. "He loved it, and he was a mentor to many in real estate. And when he got to be president of the board of realtors, that was his finest hour for Mitchell, and he did a great job."
Mitchell Graham would work with Townsend Real Estate until New Year's Eve of 2018, when a stroke would debilitate his life, but not his spirit.
"He had a tough time," Townsend says. "I would go see him, and with the COVID-19, we would talk on the phone. He kept talking about going back to work. I kept his real estate license active. He would say, 'I'm ready to get back to work.' He was as upbeat as anybody I've ever known."
'I love you more'
Mitchell Gordon Graham died Thursday at Cape Fear Valley Medical Center.
He was 74.
His death took a piece of Shikery Fadel's heart.
It certainly did," Fadel said. "But I told someone, 'This may sound crazy, but a real warmth and peace went through my body. I didn't want to see him suffer any more.' I'm sad, but I'm relieved. He was a special guy, and so much fun to be around. I'll miss just having our private conversations about life and our children. Those one-on-one Mitchell-Shikery conversations."
Family and friends numbering more than 200 would gather Tuesday at Cross Creek Cemetery to remember Mitchell Graham, and where the Rev. Chip Stapleton would remind us that you can learn much about someone by listening to others.
"In my experience as a pastor, there are few people that I have received more calls about than Mitchell," the preacher said before the service. "I know Townsend reality is a tight-knit group, but this goes beyond that. I have talked to probably a dozen people that reached out to me because of how much they cared about Mitchell and how much they thought of him and his family."
Stapleton would remind all of us of Mitchell Graham's "strength of character" in the past 19 months of his life.
"One of his friends reflected on a recent visit they had with him and told me that, 'He was ready.' Not in a morbid or defeated way, but rather confident in hope and faith. I think that is a pretty powerful witness."
Stapleton looked into the faces of those who turned out on this bright and sunny morning of farewell.
"Mitchell loved his life, his family and his career," he said. "He had a profound impact on so many, and he loved Fayetteville. He had made his peace, and he fought the good fight. He was ready to go and meet his God and savior. Now he is at rest from his labors, restored and in the arms of his God."
And before sending Mitchell Graham on his way, Shikery Fadel would offer a word.
"He was my best friend," Fadel said. "Like a brother to me. We never got mad with one another. If we did, we always talked it out and always hugged each other. He would say, 'You know, I love you.' And I would say, 'I love you more.'"
He looked toward the blue-tint coffin.
"You know, Mitchell, how much I love you," he said before later placing his hand upon the casket and bowing his head in a private moment of prayer. "God bless. Love you. Rest in peace."
Mitchell Gordon Graham leaves behind sons Stuart Graham and Clark Graham, and daughter Lindsey Graham, who loved her father more than life itself; brother, Fred Graham and wife, Mary; wife, Virginia Graham; mother-in-law, Gillie Revelle; niece, Rebecca Cabe; nephew, Daniel Graham; and stepdaughter, Anita McLaurin.
And, Mitchell Graham would want us to know … Shikery Fadel, the friend of a lifetime.
Epilogue
So off you go, Mitchell Graham, who always entertained us so often with his familiar reminders that it might be Tuesday, but he didn't have to be home until Thursday. A vodka martini to you, Mitchell, shaken and with the glass lined with vermouth, with a twist of lemon on the rim. A toast to you, and now off you go. Off you go.
Bill Kirby Jr. can be reached at bkirby@cityviewnc.com, billkirby49@gmail.com or 910-624-1961.