You might be thinking that our Cumberland County legislative delegation is walking around in a boastful self-promotion after Gov. Roy Cooper signed the state budget into law in November with more than $402 million heading our way.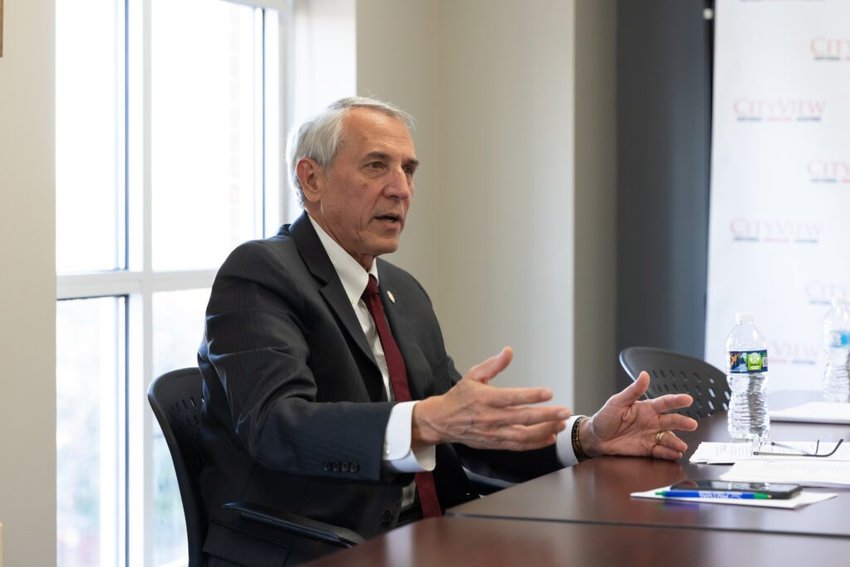 The delegation, you can be assured, has plenty to be proud of, but the truth is the lawmakers are still pinching themselves in some disbelief of their own.
"Cumberland County finally got its share," N.C. Rep. Billy Richardson was saying Dec. 2 as he joined Reps. John Szoka and Diane Wheatley and state Sen. Kirk deViere at the CityView TODAY office to discuss the largest funding in history for this and neighboring communities. "This is unprecedented and will be a game-changer for this community. This wonderful community finally has gotten the resources it needs."
State Sen. Ben Clark and state Rep. Marvin Lucas couldn't make the meeting, but they all will tell you the funding is "transformational" for our community, to include Hope Mills, Spring Lake, Eastover, Wade and Falcon.
You find, because of the delegation's steadfast and unified front, funding for everything from education and teacher pay hikes to health, infrastructure, renovations and historic preservation. There's also money for stormwater issues and water purification, housing and services for the underprivileged and the homeless, broadband, recreation and assistance for military veterans.
"We were so very fortunate to get as much as we did," Wheatley says. "I'm so really excited about the things for this community. All the money for the small municipalities for their projects, too."
Show Me the Money
Give a thought to what this delegation is bringing this community – more than $198 million for higher education to Fayetteville State University to include $63 million for the College of Education, $40 million for a new residence hall, $38.9 million for repairs and renovations and $10 million for a residence hall parking deck. Fayetteville Technical Community College is getting $20 million for a fire training center, $10 million for a truck driver training program and $4 million for a nursing program building.
Add in $15 million for construction of the Medical Education Center for Cape Fear Valley Health, $26 million for the N.C. Veterans Home on Ramsey Street, $9.8 million for Fayetteville PWC stormwater projects, $5 million for the Cape Fear Regional Theatre, $3 million for the Airborne & Special Operations Museum, $4.3 million for city safety improvements, $2.7 million for historic building renovations for the city and a million for a Cumberland County homeless shelter.
And let's not overlook $59.6 million for the proposed Civil War & Reconstruction History Center in Haymount.
You name it, large or not so large, and this delegation was dialing in for dollars when it comes to Cumberland County and the Cape Fear region, and their efforts include $300,000 for the Rape Crises Center of Fayetteville, $250,000 for the Fascinate-U Children's Museum, $200,000 for the Massey Hill Historic Preservation Project, $45,000 for the Falcon Children's Home, $150,000 for the Umoja Group, $450,000 for expansion of the Eastover Ballpark, $55,000 for Falcon Town Hall renovations, $680,000 for Hope Mills Outdoor Park improvements, $50,000 for the Wade Multipurpose field, $321,000 for the Cape Fear Botanical Garden's pandemic mitigation assistance and $1 million for the Myrover-Reese Fellowship Homes for opioid and alcohol addiction.
"I believe every citizen in this community," Wheatley says, "will feel the effects of this budget."
Along The Monopoly Board
If you give it some thought, the community funding is like landing at Park Place and Boardwalk on a Monopoly board.
"For we as a delegation, it was about how we could invest in people," deViere says. "It's not just projects, but about the people we are investing in."
And Wheatley, Szoka and deViere were not about to overlook the budget that exempts retired military folks from state taxes.
"The military being exempted from state income tax," Wheatley says, "should be an incentive to keep our retirees here."
That alone was a priority on Szoka's wish list. He tells the story of a retired veteran who once served on Fort Bragg but opted upon retirement to move to Colorado.
"He called and asked, 'Did it pass?'" Szoka says, and Szoka told him it did. Szoka's eyes welled with tears in telling the story. "He said, 'I'm coming home.' I get choked up talking about it. Sen. deViere made it happen."
Szoka is a veteran himself, retiring as a lieutenant colonel in 1996.
"Veteran tax exemption is a huge piece, and this delegation carried that ball across the finish line," deViere says. "It was just the right thing to do for our veterans."
Billy Richardson listened pensively as fellow delegates shared the bounty of their work toward bringing funding never seen before to this community. It was like he was still pinching himself.
He nodded in agreement as Szoka talked about environmental dollars for Gray's Creek residents concerned about Gen-X water issues and about $220,000 in the budget for "new technology to treat bad water near PWC" from the abandoned Texfi plant and ensure groundwater contaminated with carcinogenic chemicals doesn't encroach on the Cape Fear River. And about $8 million earmarked for Rhodes Pond after a dam breach took its toll on what Szoka describes as a "sportsman's paradise." When it comes to talking about water issues, Szoka isn't only a lawmaker. He is a scholar.
"This ties us into a new experiment on technology, which will hopefully clean it up quicker and cheaper than the older way," Richardson says about the Texfi initiative. "We are hopeful this works, as the alternative is very expensive. Plus, it will get done sooner and we need that site cleaned up to make way for new businesses.  It very well could be a win-win for us. John worked so very hard on this.  I am very impressed with his persistence on this issue and his willingness to allow me to work with him."
Richardson listened, too, as deViere emphasized the significance of up to 5 percent pay increases for state employees, and particularly schoolteachers. And about funding along the Murchison Road corridor, where there is "a lot of momentum happening there" for better days ahead to improve the old Orange Street School and Martin Luther King Jr. Park.
Epilogue
Out of the conference room, down the elevator and into the parking lot, Richardson was still talking about his fellow legislators and this bonanza for the community.
"Being chairman of this delegation has been a great honor," he says. "It's been one of the rewarding things to see people who care for this community and work so hard. We were the only delegation to stick together. The other delegations were fighting and at each other's throats. I marvel at how this delegation attacked these issues. These folks were relentless. They saw an opportunity that comes along rarely, and they came together. It's not just the amount of money coming to this community, but the depth and breadth of it. And being a part of this group was an opportunity of a lifetime."
Bill Kirby Jr. can be reached at bkirby@cityviewnc.com, billkirby49@gmail.com or 910-624-1961.