BY COURTNEY PHILLIPS, November 2021
PHOTOGRAPHY BY RAUL RUBIERA JR.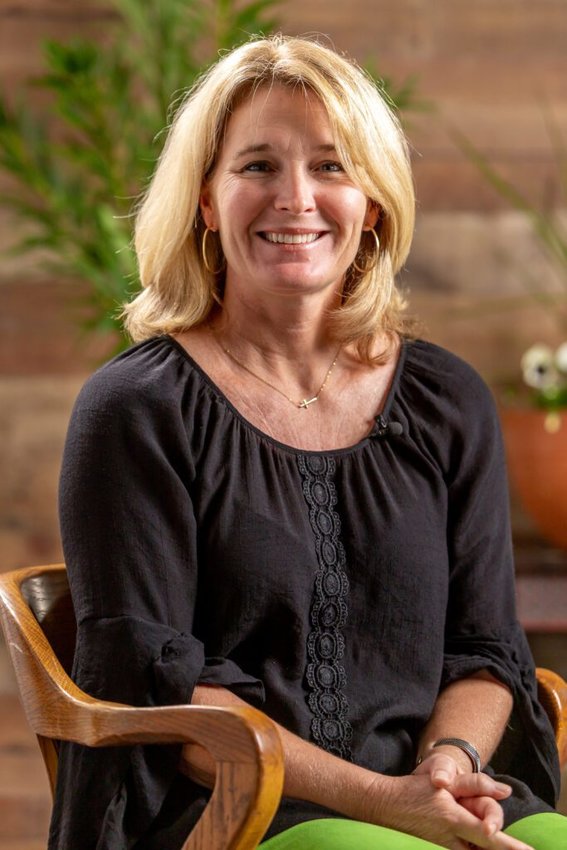 Most mornings, Kim Molnar greets the dawn from the back of a food truck. "I start early, because everything we serve is fresh for every event," she said as she rattled off a list of daily tasks that fuse to create 15-hour workdays. Every second is worth it to her, because the Cooking with the Crew food truck offers more than the grilled peanut butter and jelly sandwiches taking Fayetteville by storm. Miller's Crew serves opportunities.
Every aspect of the mission of Miller's Crew nonprofit, from day camps to the carefully curated menu of the food truck, has been designed by Molnar, a licensed speech pathologist, to help young adults with developmental disabilities learn meaningful job skills and contribute to the community. To hear her passionately chart the goals and program implementation of Miller's Crew is to hear a symphony of hope for local families of children with special needs.
"My husband and I have a son with special needs, but that wasn't even the main reason we started Miller's Crew," Molnar said. "We saw a lack of resources in our community that allowed adolescents and adults to train purposefully and meaningfully in a comfortable setting." In three and a half years, Miller's Crew created or enhanced nine self-sustaining vocational training labs in local high schools and one in Union County. "We set them up, and any profit they make is funneled back into their Exceptional Children's department," Molnar beamed.
While they continue to outfit high school labs, she has always known that Miller's Crew must also address the marked decrease in special needs resources after high school graduation. A notion that began with grant writing and community contributions came to fruition in June – the Cooking with the Crew food truck.
From the stove to the Square system that customers use to pay, every part of the truck is designed to teach a skill. "As a mom of a special needs son and as a speech pathologist, I believe anyone can learn as long as they are trained appropriately. In my therapy mind, it's not a food truck. It's a mobile training lab."
Since retiring from the school system in July to hit the road full-time with her son, Miller, and the crew, Molnar has drawn energy from the many families seeking help. "I am projecting that between November
and April, we will have our programming down pat. By the one-year mark, it will be a
well-oiled machine," she said of the aggressive timeline to meet the needs of the community.
"I have to organize and pace it so that I can get to these families and fulfill their needs, but programming takes a while," she said. "I know we can help them with the growth and development of their special needs loved ones. I want to jump quickly, but I want to do it right."
In the many hours spent coordinating services for eager participants, and in the blistering 105-degree heat of the mobile training unit, it became clear that Miller's Crew will need a brick-and-mortar lab in the next couple of years. Not everyone who needs their help is cognitively ready for the truck, not everyone enjoys the heat, and the truck can train only a few workers at a time.
"We want to provide more people with more opportunities every day, not just on food truck day," said Molnar, who always seems to be ready to tackle the next obstacle with "faith, not fear."
In the meantime, what happens when a crew member has mastered every objective of the mobile training unit? "I always have a plan," Molnar said. This summer, Miller's Crew entered partnership with local Jersey Mike's Subs owners Daniel and Jamie Terracciano to give crew members the opportunity to work real jobs in real restaurants. "We have trained them very specifically to work in the community, and that's why we call it the Community Crew,"
Molnar said, as she proudly recounted a story of one of her faithful workers, JB, and his excitement to soon work in Jersey Mike's. For the Terracianos, who own several locations in the area, it will be a mutually beneficial relationship. "We see the pride and potential in the Miller's Crew team members and are energized by their spirit for work. This partnership is really just the beginning, but through Kim's vision we are excited for the future of what it means to both of our organizations," said Jamie Terraciano.
Amid enthusiastic talk of long-range goals and impact, for now, Molnar is content to welcome chilly temperatures and new items – homemade cornbread, chili and soups – to the regular menu. "November is going to be glorious," she said, as she explained that a respite from the heat will allow flexibility to train heat-sensitive workers and slowly expand the staff.
"We don't say 'no' to many events. We have to keep the revenue coming in so that we can continue the mission," Molnar said of their upcoming schedule. Their website, www.millerscrew.com, is the best way to find their truck and access information on every service that she and her husband Karl have mobilized in our community.
"I want people to know that we are paving a path for families that will give them hope for their little ones. We want them to come up to our truck and see my Miller, who's 21 and has autism, and say, 'Oh my gosh. There is hope.'"