By Earl Vaughan Jr.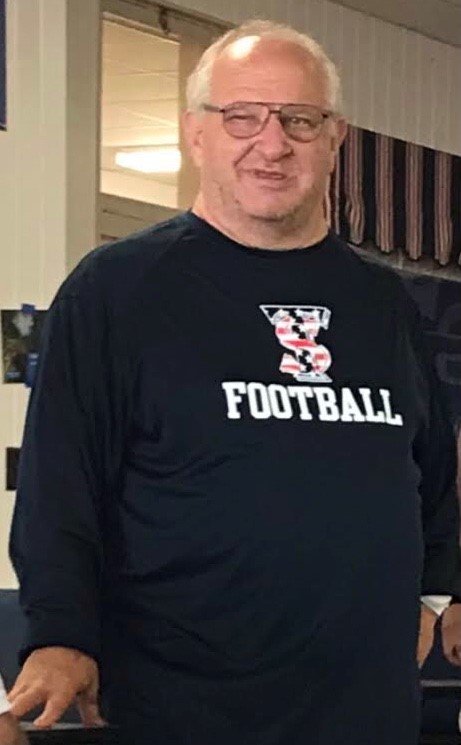 As a shortened, COVID-19 delayed high school football season kicks off this week, a familiar figure who has been on the sidelines at local games for nearly 50 years is absent.
Curtis Wilkes, who served as the ball boy at his alma mater South View for many seasons before shifting his loyalty to Terry Sanford, decided it's time for him to relinquish his job to his son, Curtis Wilkes Jr.
Any player, coach or official who attended a game involving either South View or Terry Sanford during Wilkes' long run will likely remember him, taking charge of providing the officiating crew with clean footballs as the game progressed, yelling encouragement to players and doing whatever he could do to assist the coaching staff.
The person who likely had the longest association with Wilkes was former South View football star Wayne Inman, who coached at both South View and Terry Sanford and is now head football coach at Topsail High School.
Inman first saw Wilkes in the 1970s when the two were students at South View. Wilkes was attempting to be a distance runner for the Tiger track team.
"He was never in a position to compete, but I always admired him,'' Inman said. "He earned my respect.''
The admiration was mutual, Inman said, because each time he walked to the gate at the South View football field to run out for a game with his teammates, Wilkes was always there. "He'd always stand at the gate and say, 'Go get 'em big Wayne,' '' Inman said.
Two others with fond memories of Wilkes at South View are longtime assistant football coach Phil Dean and team statistician Mike Molin.
Dean, who, like Inman, played football for the Tigers, was most impressed by Wilkes' enthusiasm for Friday night football. "He loved interacting with the players and the coaches,'' Dean said. "He just so looked forward to Friday night.''
Dean said Wilkes brought an energy to the football field that was contagious to players and coaches.
Wilkes took the role of ball boy seriously, and had a partner, John "Cowboy" Gasaway, to help him on Friday nights.
"Curtis would get the ball and throw it to Cowboy,'' said Molin. "Cowboy would clean it off and throw it back to Curtis. He was conscientious about keeping the footballs clean.''
Molin described Wilkes as the friendliest person in the world. "He is a warm-hearted guy who would do anything in the world for you,'' Molin said.
In 2006, two years after Inman left South View to become head coach at Terry Sanford, Wilkes called him and told him he was going to join him. The move was partly because of his friendship with Inman, and partly because he lived in an apartment near Terry Sanford, and it was easier for him to get to Bulldog games.
"It gave him a purpose,'' Inman said of Wilkes' love for his role as the ball boy. "It was something he could do and be good at it. Running up and down the field. Being with the coaching staff.
"He hung around us. Came in the coaching room. It was something he felt a part of.''
In addition to his Friday night duties, Inman said Wilkes would seek other jobs like helping with laundry or taking care of uniforms, whatever was needed.
Wilkes stayed at Terry Sanford after Inman departed and was still there when current head coach Bruce McClelland took over some years ago.
McClelland was quickly struck by Wilkes' complete loyalty. "He's 100 percent Bulldog,'' McClelland said. "He's about all the kids and wants to make sure they are taken care of.
"He's almost, like, the dream employee. There's never any problems.''
Wilkes will usually be seen decked out in the same kind of shirts and shoes that the football coaches wear, but he doesn't ask for it.
"It's refreshing to see somebody that wants to give all the time and not ask for anything in return except to be part of the family,'' McClelland said.
When Curtis came to Terry Sanford, his son Curtis Wilkes Jr. took the place of Cowboy as his sideline partner. Now, with his dad retiring from his role with the Bulldogs, young Curtis will be taking over for his father.
"We call them Big C and Little C,'' McClelland said. "He's been adamant that he's passing it down to his son.''
McClelland said the school will eventually honor the departing Wilkes once the situation with COVID-19 becomes a bit more settled after the season begins.
Whatever is done to honor Wilkes, Inman said he's most deserving. "He wanted you to give him something to do,'' Inman said. "Curtis is a good human being, a good person.''