You'll eat, you'll drink and you'll, no doubt, be merry throughout the holiday season, but what will you drink? And what will you give to your friends who like to drink? Fortunately, North Carolina boasts some of the nation's most popular wines, so you won't even have to look outside the Tarheel State to find a fantastic bottle for every meal and for everyone on your list.
"We've come back to our roots," said Sheree Beck-Lopez, the owner of Bob & Sheree's Beer and Wine Shoppes. "The first cultivated grapes in the nation were found here in North Carolina. The mother vine on Roanoke Island is the oldest known vine in the United States. This is our history."
There are more than 400 individually owned grape vineyards spread across the state, producing wines from both the state's native Muscadine grapes and the European-style vinifera grapes, such as Cabernet Sauvignon, Cabernet Franc, Merlot, Syrah, Chardonnay and Viognier.
"Most people who come to North Carolina think we're just Muscadine and Scuppernong," Beck-Lopez said. "Pinot Noir is difficult to grow in North Carolina, but the Yadkin Valley really does all the other grapes well, any are a good bet. Our Merlots will stand up against anyone's and our Cabernets now stand on their own two feet, as well."
The European-style grapes grow best in the Western and Piedmont regions of the state, while the Muscadine grapes grow best here in their native Sandhills. Though many people associate North Carolina wines with only the sweet Muscadines, 65 percent of the wines produced in the state are made from European grapes, like Cabernets and Chardonnays. In fact, the Biltmore Winery, on the grounds of the Biltmore Estate (see page 30) in Asheville, primarily produces wine from European style grapes and is the most visited winery in the United States, drawing more than one million guests each year. Statewide, winemaking is a $1.28 billion industry that provides jobs for about 7,600 people.
History
Not only are North Carolina's wines popular, but they're aged in tradition, according to the state Department of Commerce, Division of Tourism, Film and Sports Development. North Carolina is the home of the nation's first cultivated wine grape, the Scuppernong, which was discovered in 1524 right here in the Cape Fear River Valley by French explorer Giovanni de Verrazano. The first account of these grapes occurs in the logbook of Verrazano, who wrote that he saw many vines growing naturally that "without a doubt would yield excellent wines."
"Scuppernong is Muscadine," Beck-Lopez said. "It's a hybrid. Carlos, Magnolia, Sterling, Nesbitt and Noble are all cultivars of Muscadine."
It took a bit longer — about 300 years — for the state's wine industry to take off, but by 1835 Sidney Weller of Brinkleyville in Halifax county had founded the state's first commercial winery. Five short years later he had named his winery Medoc Vineyards and was making and selling more wine than any other winery in the nation. Others began to take notice and by 1850 there were 25 vineyards operating in the state, happily serving North Carolinians and others, until the Civil War devastated the state's wine industry in the 1860s. In the subsequent years North Carolina's relationship with wine production became a study in stops and starts, often because of national and local prohibition laws. But, by the 1950s, vineyards were again being planted in the state and in 1986 The North Carolina Wine and Grape Council was established.
The industry really started taking off in the state in 1999, though, when the state began granting incentives to former tobacco farmers who made the switch to growing grapes — and the wine industry here has positively exploded in the last decade. In 2005 there were 48 wine producers in 28 counties and by 2010 there were more than 90 wineries statewide and North Carolina was ranked seventh in the nation for wine production.
There are three federally recognized American Viticultural Areas (AVA) in North Carolina: The Yadkin Valley, Swan Creek and Haw River. The Yadkin Valley, located in the northwestern part of the start, was the first to receive the designation and currently is home to more than 30 wineries. Swan Creek, also located in northwestern NC, has five wineries and Haw River Valley, the third and newest AVA, is in the central part of the state, where it is home to seven wineries. But new wineries are opening around the state at the rate of about one per month, so information is apt to change. Duplin Winery, the largest and oldest winery in the state, is the world's largest producer of Muscadine wine.
"There are some vineyards here in North Carolina that are putting out some excellent wines — and they're not all sweet wines," said Teresa Swint, one of the owners of Grapes and Hops, a wine and beer store on Ramsey Street. "I would really love to see people support North Carolina wineries."
Picking the perfect bottle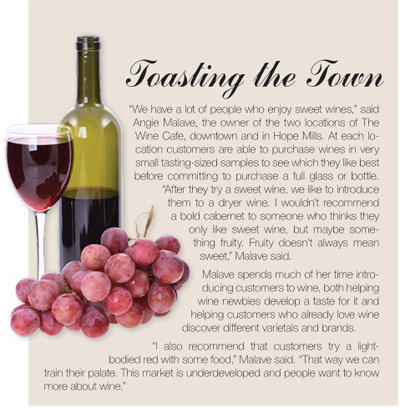 But all of this information is useless if you don't know which North Carolina wine to purchase for yourself or as a gift. If you're looking for a gift, Beck-Lopez said that unless you know that the intended recipient likes sweet wines, you'd best avoid the blended wines made in North Carolina. "It would be safe to purchase any of the better made North Carolina reds or whites, but stay away from the blends because they may be too sweet for some people's tastes," she said.
But if you feel certain the person would appreciate a sweet wine and just aren't sure whether to go for a red or a white variety, Swint says a blend might, in fact, be your best choice. "A blend will cover a lot of people's taste. Blends seem to be the trend these days, more than a single varietal."
In addition, Swint said, many of the state's wineries offer special holiday blended wines with labels and names that are festive and seasonally appropriate, making them ideal choices for gifts.
Beck-Lopez said that if you know the recipient is a wine lover, then don't be afraid to give a bottle known for it's complexity. "Every true wine drinker will normally have a cultivated palate over the years and will want a structured wine, with a well-rounded, full taste."
She said North Carolina-made Rieslings are an excellent choice if you want to give a wine that is somewhat sweet, but not as sweet as a Muscadine wine. She recommends all of the wines made by West Bend, a producer in the Yadkin Valley. West Bend sells 14 different varieties and Beck-Lopez said all are good.
Sparkling wines, which are similar to champagne, are hard to come by from North Carolina wineries, she said. But if a sparkling wine is on your list, Beck-Lopez recommends Duplin's Raspberry Delight and said that Biltmore Estate also offers several types of sparkling wine.
And if you're still not sure what to buy for yourself or someone else, Beck-Lopez said that people who like to drink black coffee, unsweetened tea, ginger ale and seltzer water also tend to like wines with strong flavors, like Cabernets and Chardonnays.
Those who favor sweet tea and very sweet colas like Mountain Dew are more likely to prefer moscatos and chenin blancs.
And those whom she calls "crossover drinkers", people who like slightly sweet tea, perhaps with a little lemon, "will be happiest with a lively Chardonnay, a sassy Pinot Grigio or a fun Merlot." But if you're wine shopping for a party you plan to host, Swint says she'd recommend buying a milder flavored wine, such as a Riesling, a Chardonnay or a Merlot, instead of a stronger flavored wine. The milder flavored wines, she said, are more likely to be appreciated by all.
And how much you buy will, of course, depend on how many guests you plan to have and how much you think they will drink.
"Generally you'll get five to six pours per 750 ml bottle of wine," Swint said. "If you figure each guest will drink two glasses, you can figure from there. If you have some non-drinkers or beer or spirits drinkers, you won't need as much wine."
She also recommends having some sort of container, such as a galvanized steel bucket filled with ice, for keeping white wines cool during the party. This, she said, tends to work better than storing chilled wines in the refrigerator in between pours.
Mostly, though, she said that it's important that the overall tone of your party be a good one and that the wine you pick can only complement the atmosphere, not make it or break it.
"Wine is about taste," Swint said, "But wine is also about atmosphere. Wine can really change with the atmosphere. Good lighting, good food, good company — these are the things that make a good wine really special." For more information about North Carolina's wines, go to VisitNCWine. com.