Barring unexpected major changes from appeals in the next couple of months, it appears the proposed realignment of Cumberland County Schools by the N.C. High School Athletic Association into new conferences for 2021-25 is set.
The NCHSAA released its second draft of new conferences in mid-January, with no changes to the first draft for county schools.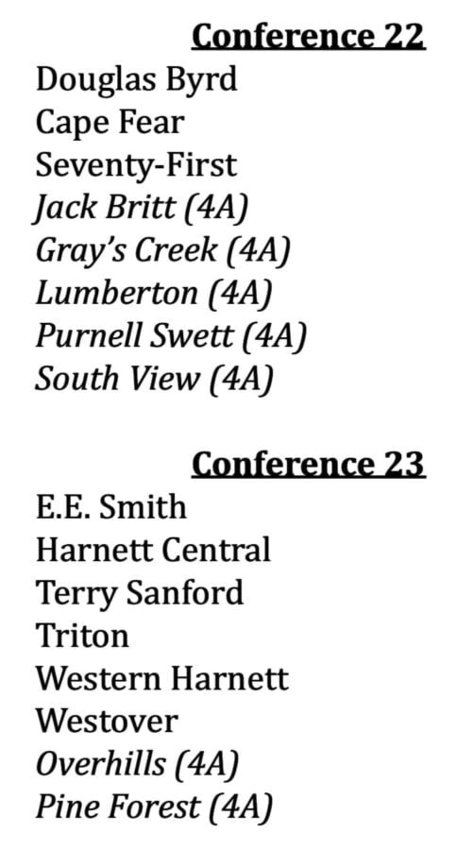 Under the new plan, Cumberland County will be divided into two split 3-A/4-A conferences. The current alignment has most of the county schools in the split 3-A/4-A Patriot Athletic Conference and Jack Britt and Seventy-First in the 4-A Sandhills Athletic Conference.
The proposed realignment, which will be finalized in March, puts 3-A schools Douglas Byrd, Cape Fear and Seventy-First into the same league with 4-A Jack Britt, Gray's Creek, Lumberton, Purnell Swett and South View.
Gray's Creek and Seventy-First are changing classes, with Gray's Creek going up to 4-A and Seventy-First dropping to 3-A.
The other new conference will include 3-A E.E. Smith, Harnett Central, Terry Sanford, Triton, Western Harnett and Westover, along with 4-A schools Overhills and Pine Forest.

Vernon Aldridge, student activities director for Cumberland County Schools, served on the realignment committee as the representative of the N.C. Athletic Directors Association.
Joining him from the Cape Fear region were former Scotland County superintendent Ron Hargrave, Seventy-First principal Myron Williams and Lee County basketball coach Reggie Peace.
Aldridge said Douglas Byrd was the only Cumberland County School to make a formal appeal of its new conference assignment. As the county's second-smallest school in enrollment behind only E.E. Smith, Byrd officials were concerned at being place in a conference with six 4-A schools along with two of the largest 3-A schools, Seventy-First and Cape Fear.
Unfortunately for Byrd, nine of the other 10 Cumberland County senior high schools did not disagree with their new conference placement and no one wanted to trade places with Byrd.
When coming to the NCHSAA with an appeal, a school must not only provide an alternative to where they've been placed, they must find a school agreeable to trade places with them.
Aside from the challenge Byrd will be facing, Aldridge said there are some positives for the county over the existing alignment.

One is that the county teams will be divided into two eight-team conferences. This will give each school four nonconference games to schedule if they play an 11-game football schedule. That will make cross-scheduling games with county schools not in their conference easier.

The new conference will also eliminate longer regular-season trips to schools like Richmond Senior and Scotland and keep more gate receipts within the county.
A big question yet to be answered for all the schools is how they will qualify for the state playoffs. Split conferences have created some headaches for the NCHSAA in determining playoff qualifiers, but they have yet to announce how the process of reaching the postseason under the new alignment will change.
"It could be very much different from what it has been in the past,'' Aldridge said. "We really don't know the answer to how it's going to affect us.''
The major challenge for all schools will be putting schedules together in a short period of time.
The new realignment will be finalized in March and takes effect in August of this year. That will give all the schools across the state barely five months to complete their fall sports schedules.
Aldridge expects most schedules will emphasize proximity and preserving natural rivalries in hopes of being as profitable as possible by limiting travel and ensuring the best gates.