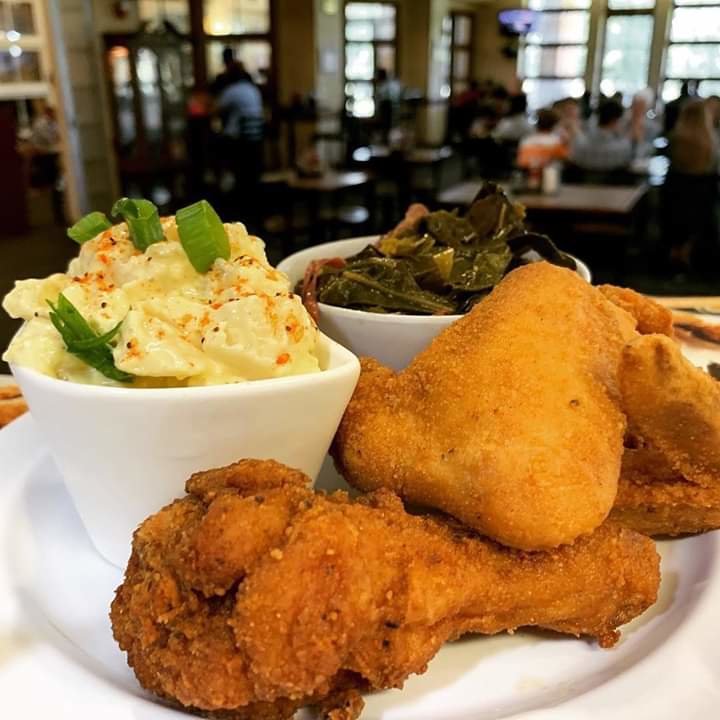 CHEF JUDY'S POTATO SALAD
5 pounds Yukon Gold potatoes 
2 cups mayonnaise (your favorite brand)
1 cup refrigerated sweet pickle relish
2 tablespoons yellow mustard, or 1 part yellow + 1 part Dijon
1 tablespoon apple cider vinegar
1 tablespoon celery seeds
1/2 teaspoon paprika
4-5 hard-boiled eggs, peeled and chopped
3 celery stalks, diced
1/2 cup sweet onion, diced
1 tablespoon sugar
Salt  and pepper to taste
Cut the potatoes into quarters and place them in a large stock pot. Fill the pot with cold water until it covers the potatoes by an inch. Set the pot over high heat and bring to a boil. Once boiling, add 1 tablespoon salt and cook the potatoes for 13-15 minutes, until fork tender.
Meanwhile, in a medium bowl, mix the mayonnaise, sweet pickle relish, including juices, along with mustard, apple cider vinegar, celery seeds, paprika, 1 teaspoon salt and pepper to taste. Stir until smooth. Then chop the eggs, celery, and onions. 
Once the potatoes are very tender, drain off all the water. Remove the loose peels and chop the potatoes into 1/2-inch chunks. It's okay if they are soft and crumbly. Place the potatoes in a large bowl. Gently mix in the dressing until it coats the potatoes well. Then stir in the eggs, celery, onions, and dill. Taste, then salt and pepper as needed. Garnish with fresh dill and paprika.
Cover the potato salad and refrigerate for at least 4 hours. If you have time to make it ahead, it tastes even better on day two! Keep refrigerated in an airtight container for up to one week.
ANGIE MALAVE'S HABICHUELAS NEGRAS GUISADAS 
If you are going to make any kind of stew, you will need sofrito!  If you Google sofrito, it will say that it's a sautée, but Puerto Rican Sofrito doesn't have a translation, and it's the heart of the Puerto Rican cuisine. You can find it refrigerated in the supermarket, but the best sofrito is homemade. My mother Nina taught me how to make it from scratch, but she always made it for me as it's a way to show love. I like to share a jar here and there with our oldest son, who likes to cook.
Ingredients:
one bunch of cilantro
1 yellow onion
4 garlic cloves
2 banana peppers or 1 bell pepper, 4 sweet peppers will also do
1/4 of olive oil
Take the cilantro leaves out of the steams, dice the onion and peppers, blend all the ingredients in the food processor until there are no chunks. You can freeze the sofrito, and many "Abuelas" use ice cube trays to freeze so you can use a cube or two per dish.
ANGIE MALAVE'S HABICHUELAS NEGRAS (BLACK BEANS)
These ingredients can be found in the Hispanic aisle:
1 pound pork, cut in chunks and seasoned with Adobo Goya 
1 envelope of Sazón Goya 
1 can of habichuelas Negras Goya but you can use any brand 1/2 a can of diced tomatoes (I like to use the one with oregano, garlic & basil)
3 teaspoons of sofrito 
Olive oil
Season the pork with Adobo Goya and sauté on medium along with a drizzle of olive oil until it's almost done. Add the black beans, the Sazón, the sofrito and the diced tomatoes and let it simmer, covered for about 20 minutes. Serve over white rice, accompanied by grilled chicken. Buen Provecho!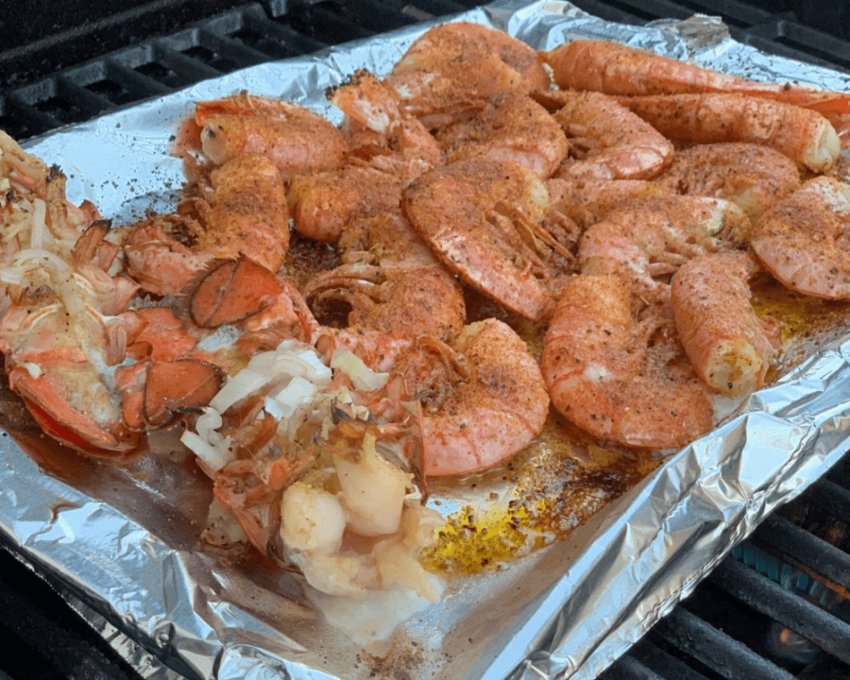 ANGIE MALAVE'S CAJUN-STYLE ARGENTINIAN SEAFOOD
This is a very easy dish and perfect for the summer! We love Argentinian shrimps because they are meaty, and we toss a couple of lobster tails because why not! Leave the shells in the shrimps and crack the lobster tails so you can season them but leave the shell on. It's more flavorful and fun to eat in the backyard all summer long! Toss seafood in plenty of Cajun seasoning and drizzle with olive oil, place in a pan and place in your grill, until shrimp turns white, about 20 minutes. Don't overcook. Serve with a mashed potatoes and fresh corn. Don't forget to pour yourself a glass of rosé! Happy Summer!