By Earl Vaughan Jr.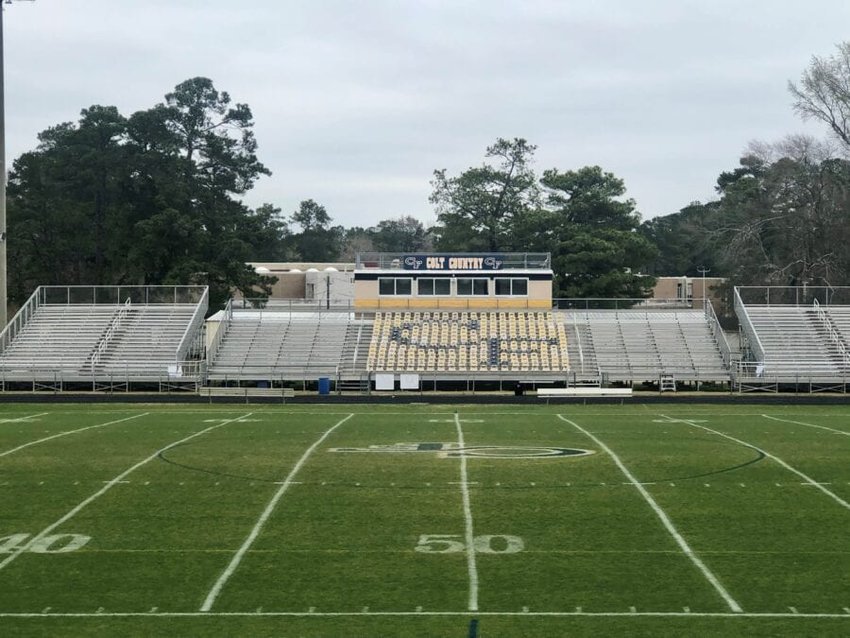 The Patriot Athletic Conference and Sandhills Athletic Conference have announced their all-conference boys' soccer teams for the 2021 season.
In the Patriot Conference, Evan Isenbarger Jr. of Terry Sanford was named the top offensive player while Christian Pferlage of Pine Forest was picked as the top defensive player.
Terry Sanford coach Steven Barbour, who led his team to an 11-1 record that ended with a second-round state 3-A playoff loss to D.H. Conley in overtime, was named Coach of the Year.
First-team players included Eric Chavez, Brandon Monarca and Nicholas Hallis of Gray's Creek; Alex Hinton, Josue Fernandez and Hunter Tighe of Pine Forest; Davis Molnar and Gustavo Navarette of Terry Sanford; Alizdair Ray and Bakari Walker of South View and Tyler Britt and Hayden Willaford of Cape Fear.
Making the second team from Cumberland County were Conner Boyle of Gray's Creek; Graham MacLeod, Blake Barbour, Arjuana Gephart, Bailey Morrison and Owen Szwejbka of Terry Sanford; Lammoth O'Neal and Alex Oetker of Pine Forest; Lawrence Thompson of South View and Nicholas Fonseca of Cape Fear.
In the Sandhills Conference, Jack Britt's Raphael Pelletant was Coach of the Year. Britt was second to first-place Pinecrest with an 11-4 record, losing 3-0 in the first round of the 4-A playoffs to current state finalist Cardinal Gibbons.
First-team players from Cumberland County were Richard Billings, Justin Benson, Luca Duarte, Amin Hassan and Tuker Shank from Britt and Amir Shakeel from Seventy-First.
Congratulations to South View girls' soccer player Kelsey Burge, who was named the United Soccer Coaches Association/MaxPreps soccer player of the week for the state of North Carolina.
Burge was honored for the week of March 15-21. She scored six goals and had three assists in South View's two matches.
Since high school football season in North Carolina will extend into Easter week, some changes are being made to the schedule.
Cumberland County Schools announced earlier this week that all county games scheduled for Good Friday, April 2, would be moved to Thursday, April 1.
The games include Cape Fear at E.E. Smith, Gray's Creek at Douglas Byrd, Pinecrest at Jack Britt, Pine Forest at Westover, Richmond Senior at Seventy-First and South View at Overhills.
One game not originally on the schedule will have Terry Sanford hosting either Goldsboro or Wallace-Rose Hill next Thursday. The Bulldogs had listed the date TBA until they finally were able to find an opponent that would be able to travel to Fayetteville for the game.
According to Bulldog coach Bruce McClelland, Terry Sanford will get the loser between this week's game between Goldsboro and Wallace-Rose Hill.
Both are members of the East Central 2-A Conference, which has a unique schedule during this pandemic season. The league is only playing five regular-season games, and the top four teams will play in a championship tournament the final two weeks of the season.
That leaves the remainder of their schools the option of finding non-conference games to fill the final two weeks. The Goldsboro/Wallace-Rose Hill loser will be knocked out of contention for the tournament and will be able to fill the open date for the Bulldogs.
There could be a lot more fans in the stands at tonight's high school football games. Earlier this week, Gov. Roy Cooper announced changes in North Carolina's COVID-19 restrictions that will allow up to 50 percent capacity at outdoor stadiums in the state beginning at 5 p.m. today.
Vernon Aldridge, student activities director of the Cumberland County Schools, announced Thursday that the county will implement the new restrictions at tonight's games.
Crowds will still have to observe social distancing and wear masks, so the social distancing will likely prevent them from moving to full 50 percent capacity.
LAST WEEK'S SCORES
March 19
Football
Terry Sanford 25, Cape Fear 22
Pine Forest 9, Gray's Creek 7
South View 43, Westover 8
Overhills 54, E.E. Smith 16
Scotland 49, Seventy-First 20
Jack Britt 46, Purnell Swett 0
March 22
Girls' soccer
Terry Sanford 9, Douglas Byrd, 0
Cape Fear 3, Overhills 1
Pine Forest 9, South View 0
Lumberton 2, Seventy-First 1
Richmond Senior 2, Jack Britt 1
Freedom Christian 3, Northwood Temple 1
Baseball
Freedom Christian 15, Fayetteville Academy 1
Softball
Gray's Creek 25, E.E. Smith 0
Cape Fear 31, Overhills 0
South View 7, Pine Forest 2
Lumberton 15, Terry Sanford 0
Richmond Senior 13, Jack Britt 3
Arendell Parrott 12, Fayetteville Christian 1
March 23
Baseball
Northwood Temple 13, Fayetteville Christian 12
Freedom Christian 7, Village Christian 6
Softball
Freedom Christian 17, Village Christian 0
Soccer
Village Christian 3, Freedom Christian 2, OT
March 24
Girls' soccer
Cape Fear 3, Gray's Creek 2
Terry Sanford 5, South View 0
Seventy-First 4, Scotland 1
Purnell Swett 1, Jack Britt 1, 2 OT
Softball
Cape Fear 6, Gray's Creek 4
South View 12, Terry Sanford 0
Pine Forest 10, E.E. Smith 0
Jack Britt 4, Purnell Swett 1
Baseball
Village Christian 6, O'Neal 5
March 25
Baseball
Rocky Mount Academy 10, Fayetteville Academy 2
PHOTO OF THE WEEK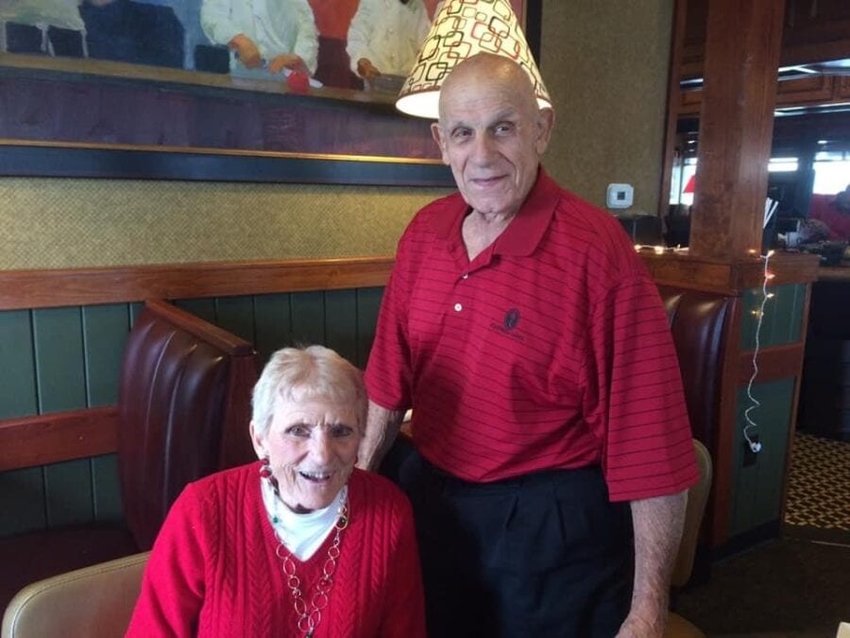 Retired football coach Bob Paroli, who coached at Douglas Byrd and Seventy-First high schools, lost his biggest fan last week as his wife of 67 years, Billie Dove Paroli, passed away at the age of 93. The wives of coaches are special people, but Mrs. Paroli was among the most beloved in the region. She was a regular in the stands at the countless number of games her husband coached over the years and always greeted people kindly with her warm smile and gentle demeanor. Services for Mrs. Paroli were held earlier this week at St. Patrick Catholic Church on Village Drive. Those wishing to make memorials in her memory are asked to donate either to Fayetteville Urban Ministry or Catholic Charities via the Diocese of Raleigh.
Left to right, Billie and Bob Paroli.