Logan Geddie gently laughs when anyone brings up how young women in real estate are often depicted on social media, reality shows and HGTV. "Sometimes I believe that people think I prance around in four-inch heels and go to Starbucks every morning," says the statuesque blonde whose career is on fire.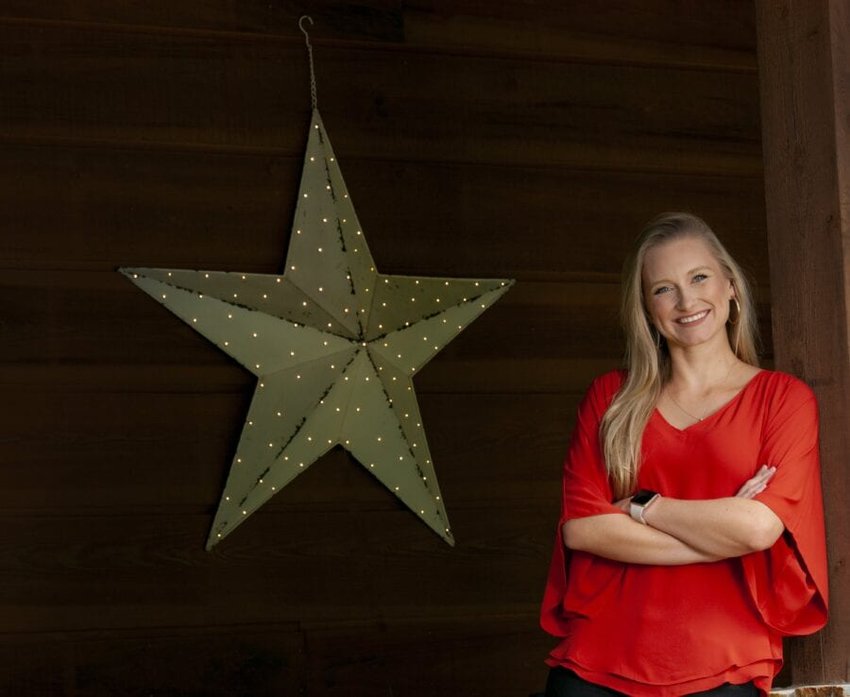 Truth is, when Logan isn't juggling multiple clients and contracts, she is likely to be wearing jeans and dirt-covered cowboy boots while riding horses on the Eastover farm where she grew up. She and husband, Austin Heine, who works in pine tree genetics as the operations manager for N.C. State's Tree Improvement
Cooperative, and the couple's red Doberman rescue, Ruby, live in a nearby ranch home that she describes as "rustic modern." For Logan, there really is no place like home.
The descriptions "down-to-earth" and "personable" often come into play. Add humble to the mix for the Coldwell Banker Advantage agent who applied for and achieved her industry's pinnacle of success for millennials. She was named to the National Association of Realtors annual "30 Under 30" list – the only agent from North Carolina to receive the honor this year.

Logan, who celebrated her 29th birthday on Sept. 24, is pictured with all the winners from throughout the United States on the cover of Realtor Magazine's July-August issue. The coverlines declare: "Bring On The Future. Meet the young go-getters powering through the new reality."
There are approximately 56,000 agents under the age of 30 in the NAR membership. Only 30 were chosen for the 20th annual list by a panel of judges who based their decision on production numbers in 2019, innovative marketing practices, industry leadership and dedicated community service. Logan says the rigorous "multi-step process" also included interviews with finalists.

The magazine notes that Logan achieved $14.3 million in sales volume with 59 units in 2019. The article also focuses on three of her niches: horse farms and rural properties, military relocation and new construction.

Logan says her philosophy is simple: "Put people first. Success is an afterthought." She adds, "I'm truly humbled to be named among this elite group. I know it wouldn't have been possible without the guidance and leadership I have been given at Coldwell Banker Advantage."

Alan Tucker, broker-in-charge for CBA's Fayetteville office says, "The success that Logan has realized is not a surprise. She has built relationships and trust that span from millennials to retirees. Her contagious positive attitude and giving spirit set her apart from the rest."

Logan says that she has known since ninth grade that she wanted to work in real estate. She was already helping her agent mom, Lisa Geddie, with open houses. "I was putting up signs and balloons," Logan recalls, "and I just enjoyed talking with people."
Real estate runs in the family. Logan's late maternal grandfather, Tom Kennedy, a longtime, successful Fayetteville Realtor, was known for his kind and helpful ways. Lisa, who proudly followed in her father's footsteps after owning a successful hair salon, encouraged her daughter to attend college before making a leap into real estate.
While studying business and marketing at N.C. State, Logan gained three years of invaluable experience as a leasing agent for an apartment complex in Raleigh. After graduating in 2013, she moved back to Eastover to help care for her paternal grandmother, Frances Geddie, who had taken a bad fall. It was also during that time that Lisa encouraged her daughter to go to real estate school and become licensed.

Logan joined CBA and came running out of the gate. In 2014, she was named the company's "Rookie of the Year." Regionally, she won "Best Real Estate Agent" in The Fayetteville Observer's 2018 Readers' Choice Awards. And, this just in – for 2020, the global Coldwell Banker franchise system named her to their "30 Under 30" list for a second time. (The first win was in 2017.)

"She's done it on her own," says Lisa, who works as CBA's general manager and is adamant about keeping family and business separate.

Logan says the pandemic is partly responsible for a hot real estate market. Inventory is low, making it a seller's market. Listings, especially those under the "sweet spot" of $200,000, often go within days, if not hours, and with multiple offers. Interest rates also are at historic lows.

Folks are looking for different things in a home these days, Logan observes. They may want designated spaces for classrooms to accommodate home schooling, offices for mobile working, a place for gym equipment, chef-worthy kitchens, and backyards with pools – or large enough to plant gardens or raise chickens. "Whatever your idea of an oasis is," she says.
What's next for Logan Geddie? Likely building a real estate team at Coldwell Banker Advantage, she says, to better serve her clients.

And she's always up for spending more time on the horse farm, making memories with family, including her mom; dad, David; younger brother, Tripp; and her maternal grandmother, Lynne Kennedy, who is cared for in the home. Indeed, with horses grazing in the pasture and a crisp fall breeze setting a peaceful tone, a cup of piping-hot coffee never tasted so good. No high heels required.