By: Kim Hasty
Robert Hines has always staunchly believed in getting up from behind his desk, out of his office and into the community as possible.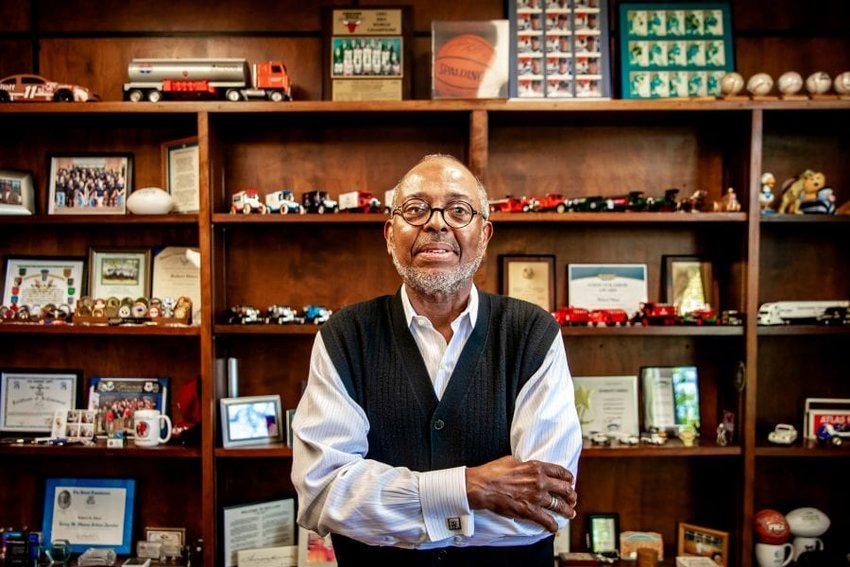 Yet, that office is an undeniable conversation piece.
Challenge coins that were gifts from military leaders are neatly displayed as a colorful set. Collectible toy trucks commemorate his years with Amoco Oil. Sports memorabilia items line the shelves, including souvenir golf balls and signed baseballs. A framed display case on the wall holds a folded American flag that flew in his honor at Bagram Airfield in Afghanistan.
Is that Hines in a photo with Michelle Obama? Why, indeed, it is. Books, certificates and a slew of other framed photographs complete a colorful, collective testament to a long and satisfying career.
This is a man who clearly relishes life's memorable moments. And there have been plenty of them since he came to Fayetteville in 2004 to take on the role of president and CEO of United Way of Cumberland County. In that time, he's worked to strengthen relationships and to draw awareness to the fact that every dime donated to the organization stays in our community.
"I arrived on Friday the thirteenth, and two weeks later we had the luncheon and the kickoff," he said. "It's been a great ride, and we're making a difference in Cumberland County."
It's a ride that is soon scheduled to come to an end. Hines recently announced he'll retire on May 29, though helping the organization traverse the effects of COVID-19 could push the date back a bit. United Way of Cumberland County has a COVID -19 Relief Fund to accept donations to help those affected by the virus.
"Robert's been good for the organization," said Steve Blanchard, chairman of United Way of Cumberland County's Board of Directors. "He's well-liked in the community. I think everyone thinks of him as a very competent and caring person, and it's been fun working with him."
Mary Flagg Haugh, who serves as the board's vice-president, agrees. She said Hines has a gift for putting people at ease.
"He has been such a great addition to United Way and also to our community," she said. "He's always upbeat and positive. And he also has a wonderful smile."
Hines, 69, has been a high achiever his entire life. He was born in Washington, D.C., and his family moved back to their hometown of Rocky Mount when he was 7. He embarked on an academic career in which he didn't miss a single day of school from first grade to his graduation from Booker T. Washington High School.
"I had the measles, mumps and the chicken pox, but I had them in the summer," he said. "I wanted to go to school. I enjoyed school. I enjoyed all my teachers."
When he learned that his school was going to field a tennis team for the first time, he encouraged his buddy Garland Barr to join him in learning the game from a couple of older players who regularly whipped them in doubles.
But the lessons paid off.
"We only lost one match in two years," Hines said.
To this day, Hines and Barr are only two tennis players who are members of the Booker T. Washington High School Hall of Fame. The two were inducted in 1993, joining a number of football, baseball, basketball and track standouts. The school is now the site of a community center, so that's a distinction that will stand.
Hines went on to graduate from then-St. Augustine's College in 1972. When his son, Rob, graduated from Columbia University in New York, a professor there was amazed to learn that he represented the fourth generation.
"My grandfather graduated from Biddle College, now Johnson C. Smith, in 1898," Hines said. "My father graduated from North Carolina College, now North Carolina Central, in 1942."
Hines left St. Augustine's with another achievement: he had won the heart of Dorothy McGhee. The two married Dec. 30, 1972 and headed to Chicago, where Hines embarked on a 22-year career with Amoco, retiring in 1995 as director of the Amoco Marketing Institute.
Hines came to Fayetteville from a United Way office in Albany, New York. He previously worked with special needs children for a United Way agency in Arizona.
He has no plans to make his home elsewhere, but he does intend to visit lots of other places. Dorothy fulfilled a lifelong goal when she became a flight attendant 15 years ago, and Robert plans to travel with her. The two recently visited Cape Town, South Africa on one of her work trips.
"My plan is to visit two countries every month," he said. "That's the goal, anyway."
He has the mementos and the memories to let him know he made a difference in Cumberland County. Under his watch, He said he'll miss the times he spent with all the donors who helped him make a difference.
"It's all about relationships," he said. "I've always liked having the chance to talk to people and to thank them."