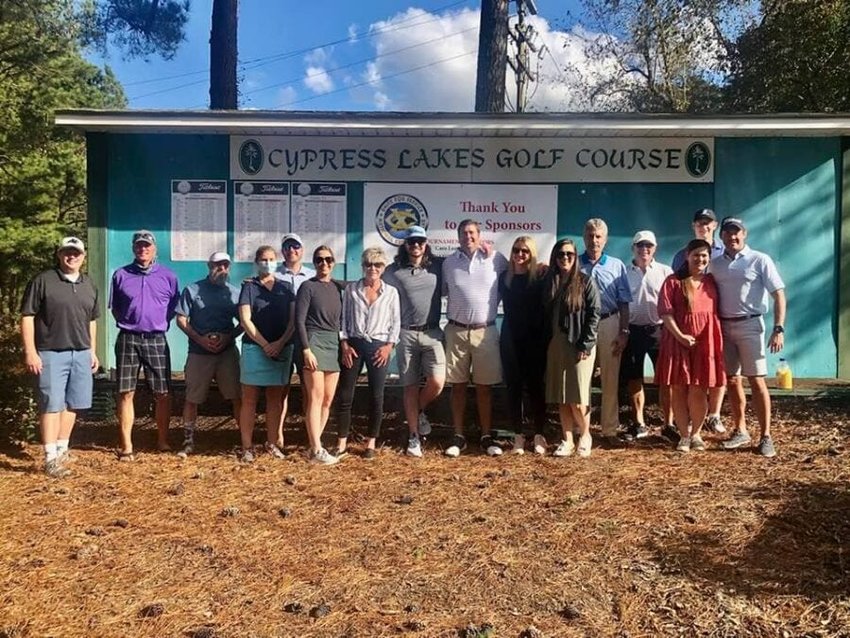 The sun was shining, and temperatures were mild. Saturday was a perfect day for golf and the perfect day for the inaugural S. Scott Stapleton Memorial Golf Tournament.
"Scotty would have been so pleased," said his wife of 42, Caro Lee Stapleton.
And the kind and caring local ophthalmic surgeon, who died Dec. 13, 2019, would have been grateful that his memory will live on in the form of doing good for others. The tournament, played at Cypress Lakes Golf Course and hosted by Stapleton's beloved Exchange Club of Greater Fayetteville buddies, raised $15,000 for the D.N. Geddie Scholarship and various other organizations that help those in need.
The event also honored four other members who have passed in recent years: Wayne Eaton, Mitchell Graham, John Briggs and Floyd Jenkins. Members of each family were on hand for a day that was perfect.
Scott Stapleton, himself a skilled and scholarly medical professional, knew the prognosis was not good as he struggled with the effects of cancer.
"Scott voiced to me that he hoped his life and death might help the less fortunate," Caro Lee Stapleton said. "Of course, he had no idea 2020 would be the year it has been."
In a year when the pandemic has crippled fundraising efforts, Steve Smith said the tournament was a decided success and a satisfying tribute to a man who touched so many.
"Scotty was much-loved," said Smith, a longtime friend. "I can't tell you how many people came up to me that day and said, "Scotty made such a difference in my life.'"
The D.N. Geddie Scholarship is awarded each year in memory of another man who made a difference in the lives of so many. Geddie, who worked his way up from B&H, a discount store on Person Street, to become manager of Belk in Tallywood Shopping Center, gave many a young person a start on the road to employment.
"He was just great with kids," Smith said of Geddie. "He was a great guy and meant so much to so many."
Steve Carter, Brent Carter, Mike Getske, and Brandon Jobe were the official winners of the tournament.
But you have to think there were so many winners this day.
"Such a beautiful day," Smith said. "It was just sent from heaven."