CERTAIN EVENTS ARE SEARED into our national consciousness: The bombing of Pearl Harbor, the assassination of President Kennedy, the space shuttle Challenger exploding. Most anyone who was old enough to remember those events can tell you where they were and what they were doing when they heard the news.
But perhaps no event evokes the sadness and horror for Americans that September 11, 2001 does. Before that awful day we thought ourselves to be impenetrable, perhaps even invincible. And then everything changed.
As a nation, we watched as symbols of our country's great prosperity collapsed before our eyes, crushing 2,753 innocent people in the process and devastating many more thousands of lives. We stood, paralyzed and horrified, in front of our TV sets on that otherwise beautiful morning, helpless to stop the cruelty and stunned in disbelief at the juxtaposition of gray smoke and carnage set against that clear blue September sky. We watched, again helpless, as a flight of ordinary Americans fought back, choosing to crash into a field in Pennsylvania rather than allow themselves to be used as a weapon against their countrymen.
Nearly every detail of life in America changed in the weeks that followed that day. Fort Bragg became a closed post, with soldiers waiting in security lines for hours just to go to work. Air travel became cumbersome and embarrassing. Our national innocence was lost and we entered into a now decade-long war. Within hours of the attack troops with extensive ties to Fort Bragg began to land in Afghanistan, and they continue to fight there today.
It was a day that forever altered the course and mentality of our nation and that forever altered the fabric of this community, where nearly every day service members leave and return from the war that started on September 11, 2001.
Val Applewhite in the Pentagon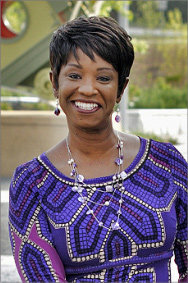 On September 11, 2001 Fayetteville City Councilwoman Val Applewhite was in the Pentagon, where she was assigned to the Air Force Pentagon Communications Agency as the Headquarters USAF Information Assurance Manager from May 2000 until July 2005.
She started her day normally and was briefing her staff on the issues of the day and was preparing to leave the building for an off-site meeting when her husband called to ask if she'd heard about the plane hitting the World Trade Center in New York.
"I had not," Val said. "I worked in a vault, an office designed specifically for classified operations, no radios or televisions were allowed."
She went to another office that had a TV to watch the news, but then quickly returned to her office to get back to work. Her husband called again, this time asking her to leave the building and come home.
"I told him not to worry and that I was very busy. I tried to calm his fears by saying 'Don't worry, I'm in the Pentagon, there is no safer place.' The rest is history," Val said.
When Flight 77 crashed into the Pentagon, Val knew she had to act quickly and she immediately decided to get out of the building.
"We had no central intercom system in the building at that time and didn't really know what was happening," Val said. "I didn't make the connection to what happened in New York, but I knew something was terribly wrong." She directed her staff to implement the evacuation procedures they had practiced many times.
"It was precision," she said. "Everyone knew what to do, what to take, and where to go."
It's fortunate that she and the others in her office were well aware of evacuation procedures because with cell phone towers overloaded by the massive numbers of people trying to place calls, Val and her co-workers were not able to communicate with supervisors or family members. Being able to escape safely and follow protocol instilled a measure of calm in an otherwise chaotic day.
They set up an alternate office in Rosslyn, Va., where they worked for about two weeks before being able to move back into their offices in the Pentagon. Her office, located in the second ring, had only suffered minor smoke and water damage from the fire that burned in the building after the crash.
Val continued to work in the Pentagon until 2005, when she decided to move back to Fayetteville. She says that because of her own military background and her experiences in the Pentagon on September 11, 2001 she understands well the sacrifices military families in our community have made during the last decade.
"Although your sacrifice sometimes seems too much to bear, please know that there is no greater gift to this country than your dedication and commitment," Val said. "You are the shining and visible example of what makes America great. It takes special people to do what you do. I get it and I thank you."
Fayetteville Resident Survived World Trade Center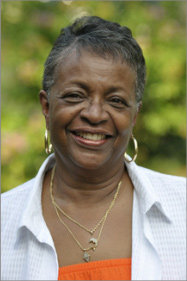 September 11, 2001 affected all patriotic Americans. With so many soldiers serving at Ft. Bragg, the city of Fayetteville was certainly on the edge of its seat as two planes torpedoed the World Trade Centers in New York, initiating the War on Terror. Ten years later, perhaps no one in Fayetteville was impacted by the attacks as much as Bettye Glenn, now a Fayetteville resident, who was in the World Trade Center when the first plane hit.
"You're hearing a lot about it now and it doesn't seem like it's been 10 years," Bettye said.
Bettye, who at the time was a telecommunications contractor for the Port Authority of New York and New Jersey, which she is now retired from, was on the 43rd floor in a cafeteria when the first plane hit the North Tower. She said that the building shook and the sunny day turned to darkness. Debris looking like red construction paper floated down the side of the building. But Bettye and her co-workers didn't think anything about it, because planes often flew very close to the building since John F. Kennedy International Airport is nearby.
"Some man said he called his wife and she said another plane had hit," Bettye said. "Well, what are the chances of that?"
While exiting the building, Bettye saw a fireman coming up the steps sweating profusely with about 40 to 70 pounds of equipment on his back. Two people poured water on him to cool him off. Fayetteville Resident Survived World Trade Center Bettye Glenn recalls that day and the assistance that helped her survive.
"I often wonder about him, whether he made it or not," Glenn said. "I can still see his face."
Bettye and co-workers made it out of the building and then heard what sounded like crushing bricks, followed by a big ball of dust. She ran to the parking lot of a hospital five blocks away, where she stood as the first building collapsed.
A man grabbed her hand and urged her to continue walking. Together they made it into Chinatown. On an empty street, the man asked Glenn if she needed water. She told him no and she turned away for a second. When she turned back around he was gone. Bettye says she believes he was a guardian angel. Many survivors had similar stories.
Bettye eventually made it back to her house and let her family know she was okay. She didn't know exactly what had happened until she saw the news.
Bettye continued working for the Port Authority and, at her retirement ceremony, received an American flag and a World Trade Center flag that flew at the World Trade Center site. She moved to Fayetteville in 2005 to be closer to her son. She flies the World Trade Center flag each September at Fayetteville's Fire Station Number Three. In that show of commemoration, it's clear the American spirit lives on. And it's stronger than ever 10 years later in Fayetteville, America's most patriotic community — where Bettye now calls home.
Navigating Chaos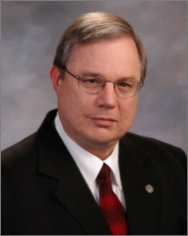 I 'm old enough to remember exactly where I was and what I was doing when it was announced that President John F. Kennedy had been shot in Dallas, Texas. I never dreamed that I would live through yet another earth-shattering event that would sear into my long-term memory my exact location, what I saw and my most detailed thoughts at the very moment the horrific events occurred.
On the morning Sept. 11, 2001 I was on Capitol Hill with a delegation from Fayetteville for the annual U.S. Chamber of Commerce meeting with Congress. I had just reached for a second cup of coffee during an early morning briefing by Rep. Nancy Pelosi and Sen. Joe Lieberman when Fort Bragg Garrison Commander Tad Davis' cell phone gave off a shrill chirp. He grabbed it out of his brief case and left the room. Moments later Lieberman interrupted himself during a story about his father owning a liquor store in New Jersey and announced that an airplane had crashed into the World Trade Center. Within seconds a congressional staffer updated him and Lieberman told the audience in the Canon Building that a second airplane crashed into the World Trade Center and a third into the Pentagon. He urged everyone to evacuate the building.
I grabbed Col. Davis' briefcase since he had not returned and our delegation left through one of the side doors. Outside the building, thousands of people came pouring out of the various Congressional Office buildings just across from the Capitol. We parlayed about what we should do. Fayetteville Chamber of Commerce employee Darrell Vickers said he would try to reach Union Station where he had parked our van. Others decided to hail a cab and get back to the hotel.
We packed the cab quickly, with some having to sit on others' laps. I helped one lady into the cab, handed Col. Davis his briefcase and then closed the door of the cab, and it sped off, leaving me stranded. I watched the cab drive off through the throng of people who had spilled into the roadway and thought that I had just made one of the dumbest decisions of my life.
I tried to get my bearings and decide how to get back to my hotel, the Crown Plaza on 14th and K Streets. I was facing north towards Independence Avenue when I noticed a thick plume of dark metal-gray smoke some distance away to my left. I later learned that was where the airplane had crashed into the Pentagon. Looking at a strip map, I determined my hotel would be on the far side of the Capitol Plaza, but police had set up roadblocks everywhere and rather quickly and there was no way across. My only option was to skirt the entire plaza and head north onto K Street and, from there, try to find my hotel.
That's when I took stock of what was going on around me. The first thing I noticed was all the people staring in disbelief at their cell phones. Apparently, no one's phones were working but people kept trying. I also noticed that many of the female employees were in stocking feet because it made walking easier on the uneven bricks in the older sidewalks south of the congressional office buildings.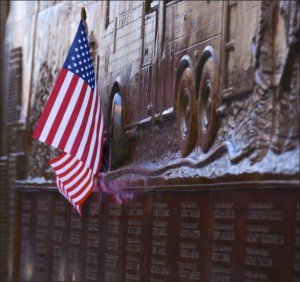 As I skirted the plaza, I saw fighter jets circling overhead, eerily low for that part of the city. I also spotted police, or what I assumed were police or secret service agents, on rooftops, some brandishing what I would guess to be sniper rifles and spotting scopes. It was one of the few times in my life I didn't have my point and shoot camera in my pocket and it would be the last time I ever traveled without it.
After walking for more than an hour in shoes and business attire not meant for hiking, through seedier parts of Washington, D.C. where people apparently had not gotten the word of the crashes and life seemed still unaffected, I reached the hotel where the rest of the Fayetteville delegation was gathered. We debated whether to try to leave town or wait it out at the hotel, which had graciously extended our check out time.
In the end, we decided to leave. Downtown Washington, D.C. was almost deserted; however, once we reached the outlying avenues leaving Washington, it was clear everyone was leaving via the same route. Luckily, Col. Davis previously served at the Pentagon and knew of alternate, less congested routes out of the Capital.
Grannis Field Rolls Forward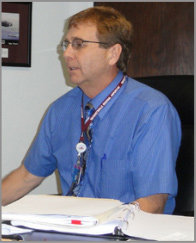 BRADLEY WHITED, the Airport Director of Fayetteville's Regional Airport, shared with us what the day was like on September 11, ten years ago and what changes came about as a result of 9/11.
The day was business as usual at Grannis Field for its 25 employees when one of them called Whited and told him to turn on the television in his office. It was then that Whited saw the atrocities that unfolded on that historical day that no one will forget.
"It was tough to witness," said Whited as he took pause reflecting on the event.
Whited noted the interesting thing that impressed him the most was the reaction time from both the Federal Aviation Administration (FAA) and the government.
"Within two hours the situation was handled," said Whited. "All airplanes were grounded in the U.S. and all the airports were closed to air traffic, to see it executed within two hours was amazing."
This made it easy for them to identify any rogue aircraft out there in the skies, Whited explained.
The FAA set up parameters for what had to happen in terms of checklists for security before airports were allowed to reopen.
"It took us three days to achieve that and we were in the group of the first airports to reopen after the FAA decided they met the criteria," said Whited proudly.
On a global scale and especially in the United States, the airline industry has been in a financial crisis for much of this new century. The problems that began with the economic downturn at the beginning of 2001 reached almost catastrophic proportions after the terror attacks of September 11, 2001. In the United States alone, the industry posted cumulative net losses of over $40 billion from 2001 to 2005, and only in 2006 was it able to return to the black with a total net profit of just over $3 billion according to analysis done by the Global Airline Industry Program.
The recent increased growth of Fayetteville has been nothing but a good news story for Grannis Field.
"The last four years the airlines have adjusted their rate schedules to be more competitive and business has increased by 15 percent as a result," said Whited.
Whited claims it to be a combination of pricing along with more military activity that has created traffic into Fort Bragg as other troops like the Reserve and National Guard Units come through here for training.
"While we have the same security standards, we don't have the volumes of people that larger airports have," said Whited. "The parking and convenience we offer makes us stand out against our competitors. We were the first facility in the city with free Wi-Fi nearly three years ago."
Fortunately or unfortunately, the military moving through Fayetteville has increased business but it also poses an interesting dynamic for the TSA handling all of their baggage seeing as how service members are exposed to weapons and traces of chemicals that other patrons are not.
"Our security requirements do not change, but it's a bigger impact on our baggage personnel handling more bags," said Whited.
The other change that came through the TSA was that the screening process became federalized. Prior to 9/11 it was the airlines responsibility to contract for security screening and now the airlines put the regulations on the federal level and regulatory functions moved over to Homeland Security.