BY: KIM HASTY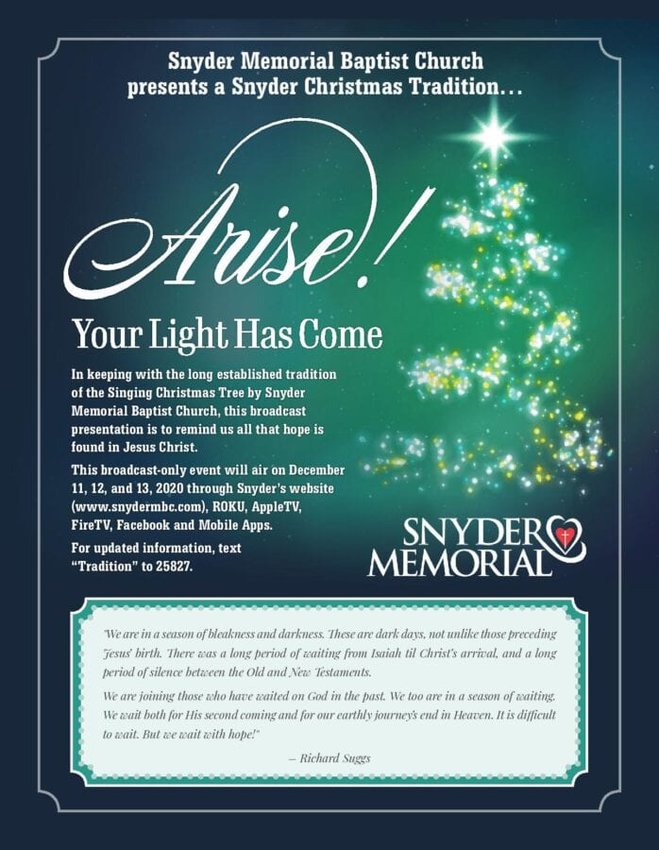 For more than four decades, Snyder Memorial Baptist Church has offered the community a joyful celebration - a steadfast reminder of the reason for the season - in the form of a host of angelic voices emanating from an enormous, sparkling Singing Christmas Tree.
And not even a Grinch personified by a global pandemic can steal this year's event.
But it will be admittedly different.
"For over 40 years, it's been not just a Snyder tradition, but a community tradition," said Todd Coates, Snyder's Director of Worship Technology. "We wanted to find a way to add that part of normal in a year that's not normal."
The result is "Arise! Your Light Has Come," a special broadcast that features new musical productions, choreography and a message from Pastor John Cook mixed with archival footage from past years. The performance will be livestreamed at 7 p.m. on Dec. 11, 12 and 13. It will air through the church's website at snydermbc.com, as well as on Roku, AppleTV, FireTV, Facebook and mobile apps.
"Director of Music Richard Suggs had already picked out the music before the pandemic hit," Coates said. "And oddly enough he had picked that very appropriate title, especially this year. It's a title that reminds us we're still celebrating the birth of Jesus and the hope, love and mercy he brings with him."
The broadcast is certain to kindle fond memories for those who made the Singing Christmas Tree a part of their Christmas season, whether through attending or participating.
"In past years, we would have 700 or 800 people for each showing," Coates said. "That didn't fit this year with the responsibility of keeping our community safe. This way, we can be responsible and still be a spiritual leader for the community.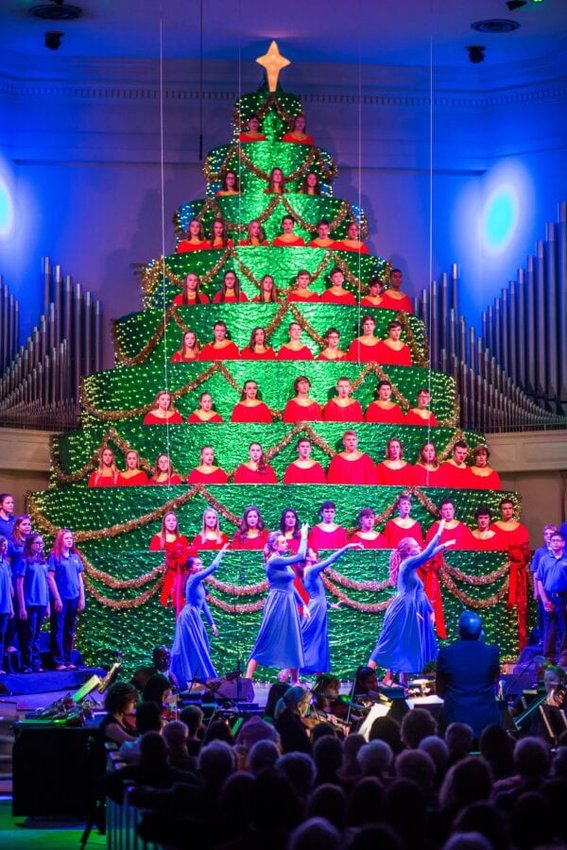 "I know one person whose mother is 92 and has been to all the previous Singing Christmas Trees," he said. "She'll at least have the chance to watch this one"
And livestreaming the production may even offer a few advantages. Families will be able to watch together without worrying about missing out on tickets for their favorite performances.
"Trying to get tickets to the Singing Christmas Tree was sometimes almost like getting tickets to the Super Bowl," Coates said. "This way, we'll be able to reach people from as far away as Maine, California and overseas. Families will be able to watch it at the same time even if they're not all in the same place."
***
Marshall Faircloth, chairman of the Cumberland County Commissioners, relayed a conversation he had while on a Thanksgiving trip to Myrtle Beach, South Carolina.
"I met someone who was telling me that they and their family had come to Fayetteville just to visit recently," he said. "They were saying what a great time they'd had and how nice everyone was. They visited places like the Airborne museum and even went ziplining."
The message that Fayetteville and its surrounding communities are a great place to visit, live and work is behind a new strategic regional brand campaign being unveiled today. Known as "Can Do Carolina," it's a collaboration between Cumberland County, the City of Fayetteville and community organizations designed to increase awareness of the good things the community has to offer.
The initiative is the work of members of the Fayetteville Cumberland Branding Committee. Besides representatives from city and county government, the committee also includes the Fayetteville Cumberland County Economic Development Corporation, the Arts Council of Fayetteville/Cumberland County, the Greater Fayetteville Chamber, Fayetteville Area Convention & Visitors Bureau and the Cool Spring Downtown District.
The initiative promotes four key pillars the committee denoted as positive attributes of the community: We Find a Way, We Care for One Another, We Protect the World and We Always Go Further.
"At the end of the day, this is a referendum on where we are and where we hope to be," said Robert Van Geons, president and CEO of the Fayetteville Cumberland Economic Development Corporation, which has a mission of enhancing the region by attracting new industry and growing and retaining existing industry. "Everyone had skin in the game. It was a great process that brought us closer together."